Fire Destroys Building, But Builds Church and Community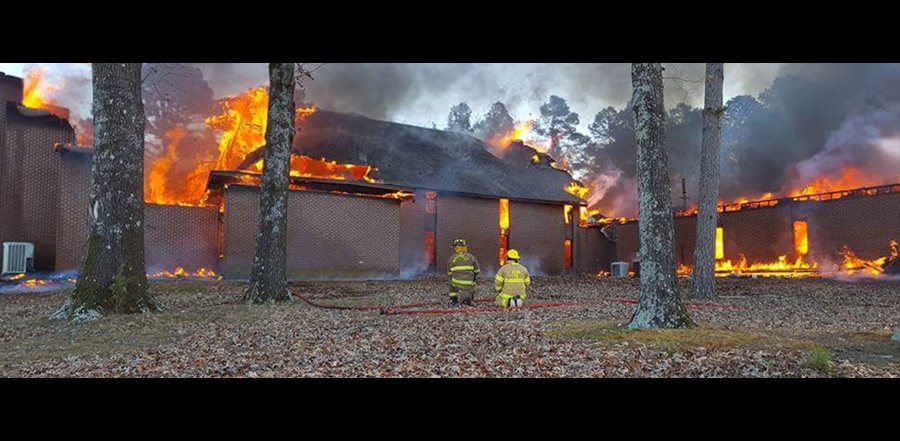 Don't miss any stories. Follow AG News!
At about 8:30 a.m. Friday, First Assembly of God in Nashville, Arkansas, was reported to first responders — smoke was coming from the church's roof. A little more than an hour later, despite firefighters' best efforts, the building was a smoldering heap of charred wood, fiery embers, and blackened brickwork.
Pastor Terry Goff, 54, who has been ministering at First Assembly and the congregation of about 100 for the past nine years, says the fire appears to have started in the attic. Once the fire broke through the roof line, the flames looked like a "firenado" as 25- to 30-mph winds whipped the flames into a frenzy and pushed them deeper into the building.
The building and the contents were insured, but everything was lost. Goff says the sanctuary, church offices, Sunday school classes, and fellowship hall were all under one roof, and the only thing left are some membership records that they had placed on an internet-based database. Although Goff personally lost 30 years' worth of ministry momentos and notes, the loss that sticks out to him are the seven Bibles he's used in ministry.
Yet this disastrous loss may be unlike any loss Goff, the congregation, or community has ever experienced.
"From the time I posted on Facebook [about 9 a.m. Friday], for the next 36 hours, I probably handled a message or text or post or phone call, once a minute, for the next 36 hours," Goff says. "I got a message from a church in Illinois, who I don't know anyone from, that is sending us money. I've been contacted by people and churches from Tennessee, Texas, Oklahoma, Arkansas, Missouri — I even got a message Monday from a church in Micronesia that had special prayer for us. It's been humbling. I've never been more proud in my life to be Assembly of God."
Goff then shares that during his ministry at the church and even within the community, things have not been smooth. The church went through two splits and churches within the community had allowed differences in doctrine to impact working relationships. Healing was needed.
"It has been miraculous," Goff says. "When we met this Sunday, there was such an energy and an electrifying presence . . . everyone is encouraged and excited. It was like the fire brought out all the positive and destroyed all the negative. Even in the community, where there has been some discord, this has erased all of that! Pastors have been reaching out, across ethnic and denominational lines — it's just been amazing!"
Currently First Assembly is using the park commission's training center to meet in on Sundays. However, multiple churches in the community have offered to share their sanctuaries, while the Missionary Baptist church has offered its fully equipped multipurpose building to First Assembly for as long as they need it.
Goff says that the insurance company is working on a settlement, and the congregation is excited to get started — healing has taken place within the church and the community.
"This has been one of the most humbling and powerful things I've ever experienced," Goff says. "It just seems like the building had to burn so that we could see the church [the body of Christ]!"