Four Receive Education Honors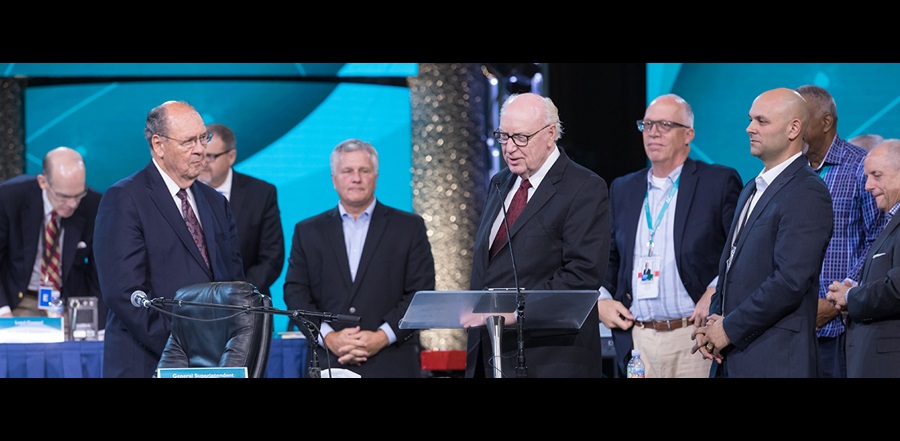 Don't miss any stories. Follow AG News!
Four individuals received Alliance for Assemblies of God Higher Education recognition Wednesday afternoon at the General Council in Anaheim, California, for their contributions to AG schools.
John Davidson, director of the AG Alliance, and General Superintendent George O. Wood presented the awards.
Retired Evangel University President Robert H. Spence received the Distinguished Educator Award. He led the school in Springfield, Missouri, for 40 years, overseeing the transformation of EU to a modern campus. Besides being one of the longest-serving university presidents in U.S. history, Spence earned a reputation for his civic and business contributions to the community.
"You found Evangel with barracks and left it with beautiful brick buildings," Wood said.
"He is as deserving as anyone I've ever seen or known," Davidson added regarding Spence's award.
The General Council honored three other people with Distinguished Educator Awards.
Malcolm R. Brubaker has taught at Assemblies of God Theological Seminary in Springfield, Continental Theological Seminary in Brussels, Belgium, and the University of Valley Forge in Phoenixville, Pennsylvania. Brubaker, an alumnus of Evangel College, earned academic degrees from Trinity Evangelical Divinity School, Westminster Theological Seminary, and Regent University. Brubaker is an ordained minister who preaches and teaches in his home church, Grace Assembly of God, in Spring City, Pennsylvania. Brubaker and his wife, Cathy, have been married 45 years and have four children.
W.E. "Wave" Nunnally has taught at Central Bible College, AGTS, and Evangel University, all in Springfield, for a quarter century. Wood called Nunnally an "incredible scholar" for his depth of knowledge about the Holy Lands.
"He's brought the Bible to life in and outside the classroom," Davidson said.
Nunnally studied at Mississippi College, Jerusalem University, Reformed Theological Seminary, and Hebrew Union College. Earlier, Nunnally served as assistant pastor at Peoples Church in Cincinnati. Nunnally and his wife, Lacey Ann, have two children and four grandchildren.
Adonna Otwell has been a full-time faculty member at Southwestern Assemblies of God University in Waxahachie, Texas, for 40 years. She received academic degrees from SAGU, Tarleton State University, and East Texas State University. Otwell is an ordained minister in the North Texas District and is a sought-after speaker at churches, retreats, and camps.