From Magnate to Magnet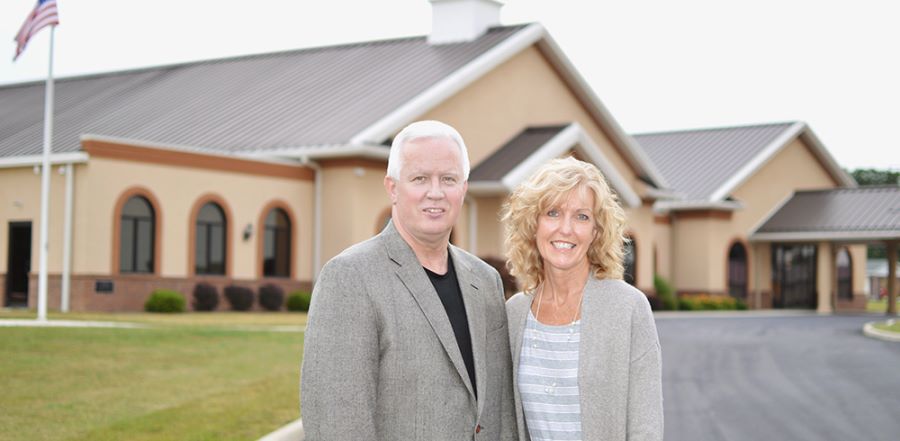 Don't miss any stories. Follow AG News!
Daniel R. Holbrook says the Lord let him know two weeks before his 51st birthday in September 2007 that he needed to resign at the Honda transmission manufacturing plant in Russells Point, Ohio. Holbrook had worked for the automotive giant for 24 years, and with promotion after promotion became the transmission division's highest-ranking non-Japanese executive.
Although his boss, the president of the U.S. transmission division, knew Holbrook had been involved in pulpit ministry for eight years, the reason for the departure seemed shocking: to work as a full-time pastor.
So, too early to retire, Holbrook walked away from a six-figure vice president's salary, impressive fringe benefits, and a bountiful retirement package. In exchange, he took a job pastoring a small, failing Assemblies of God church in Wapakoneta, with no perquisites and an income of $200 a week. Holbrook even needed to buy a car to replace the pair Honda had provided for his use.
While such a middle-age career change didn't make sense financially, Holbrook knew he must be obedient.
"There is peace when you're where you're supposed to be," he says. "Ministry was my passion. It's what I was meant to do."
POSTPONING THE CALL
Earning a good wage figured largely in Holbrook's vocational choice upon graduating from high school. Although he initially planned to be a history teacher and basketball coach, he instead eschewed college when he found a factory job.
Holbrook grew up in a Pentecostal Church of God (PCG) home and at 19 attended a revival, sitting on the back row. Although he hadn't committed his life to Jesus yet, Holbrook already tithed and gave generously to others. During the service, the evangelist stopped, singled Holbrook out, and asked him to step forward.
The evangelist then spoke a word of knowledge: "I have seen your faithfulness in giving and because of that I will bless your life. I will cause you to find favor in others' eyes. As a token of My favor I will elevate you."
Holbrook tucked away the message, and two years later, in 1978, accepted Jesus as his Savior at another revival. The following year, he wed Peggy Fagan, whom he had known since childhood from church.
By the time he reached age 26, Holbrook realized God had called him to preach — but he didn't want to submit. Instead, he switched jobs to work as a laborer in the new nearby Honda plant in Marysville. Although the decision meant he made $6 an hour, just half the earnings from his previous factory position, Holbrook envisioned more opportunity for advancement.
Despite never attending college, Holbrook continually found favor with superiors, and during the next decade received eight promotions. At 32, he became one of Honda's plant managers; three years later, he became a vice president and general manager.
All the while, Holbrook served as a lay leader in his local church. At a couple's retreat, he confided to Peggy that God had called him to full-time ministry. She told him she had known it for years.
"I didn't mention it, because the calling has to be from God dealing with him," Peggy says. "The Holy Spirit has to speak to him."
While attending a church in Texas on vacation, an evangelist prophesied over Holbrook, telling him God would equip and anoint him for new positions he didn't seek.
Soon, Holbrook gained PCG ordination and began filling pulpits on weekends — while working as an automotive executive during the week. The family began attending Abundant Life Assembly of God in Kenton so their children could attend youth group.
BECOMING A PASTOR
As he pondered fulfilling the call to full-time ministry, Holbrook met with Doug Clay, then superintendent of the AG Ohio Ministry Network. Holbrook transferred his ordination to the AG and in the waning months with Honda became interim pastor in Wapakoneta, a town of under 10,000 people 50 miles northwest of Marysville. The dilapidated storefront church had been constructed during the Civil War. Only 20 adults and a handful of children attended the church in the predominantly Catholic community.
Clay viewed asking a neophyte to take over as low risk.
"We were going to close the church," Clay says. "I thought his being there would just buy us some time until we could liquidate what few assets there were. But Dan was so passionate about being engaged in ministry. The call was undeniable."
After six months, because he had grown so fond of the congregants, Holbrook knew he wanted to accept the assignment on a permanent basis. Still, nine months into the venture, Holbrook began to wear down because of the ministry load.
One Sunday morning en route to church he told Peggy they could no longer operate the church by themselves without help. Before the service began, a spiritually mature congregant tapped him on the shoulder and uttered a word from the Lord: "My son, don't fret. Haven't I promised I would send leaders to you?"
Not long afterwards, new talented people began attending and assuming leadership positions.
Holbrook had advanced at the plant, in part, because of his concern for people. He knew all 1,000 employees working under him at the transmission plant by name, as well as details about their personal lives.
But showing compassion in the factory as an executive isn't the same as full-time ministry. Holbrook notes that 10 unchurched people working at the Honda plant when he worked in management have since become faithful attendees at Wapakoneta Community Worship Center.
His resignation at Honda didn't require a huge lifestyle adjustment because the family never wallowed in luxury.
"The job didn't identify us," Peggy says. "We never lived a life commiserate with his prestigious position."
In fact, Holbrook donated back his salary the first five years at the church. Despite his much lower paychecks, Holbrook put his four children through college debt-free.
"We currently have more combined cash in the bank and net stock assets than the day I left Honda," Holbrook says.
Sunday morning attendance at Wapakoneta Community Worship Center now is around 300, half of them under age 40. A new building on spacious property has a value, after a second expansion, of $2.3 million. Work has started on a new children's wing, and the church is among the largest missions-giving AG congregations in Ohio.
The turnaround doesn't surprise Clay, who now is the AG general treasurer.
"Initially, I saw in Dan all the key characteristics of an executive, including being confident and articulate," Clay says. "I thought he would make a great executive pastor, but the Lord gave him the capacity and favor to be the lead pastor and to rebirth a church."
As he himself has experienced, Holbrook encourages adherents to listen to the voice of God, both on their own and through others.
"God speaks directly to people through His Word or dreams," Holbrook says. "When that word is confirmed through someone else, then it has an impact. God uses messengers, but you have to hear from Him for yourself, in your spirit, to step out in faith."
Clay is heartened that Holbrook heeded God's tug in midlife, and notes he has become a district presbyter and a mentor to younger ministers.
"The call of God is not limited by age," Clay says. "Once Dan said yes to the call of God, he continued to be effective in his God-given gifts, but now he is recognized as a leader among his peers."
Peggy obtained her AG ministerial credentials in May. She has done every job at the church, from driving the church van to teaching children. But now she is ready for pulpit ministry.
Long after he began serving as pastor in Wapakoneta Holbrook discovered an intriguing connection. An elderly uncle told Holbrook he had been in the church before — in his mother's womb. When the church launched in 1956, Holbrook's evangelist grandfather preached the opening weekend revival. Holbrook's mother, then six months' pregnant, accompanied the evangelist as a vocalist and guitarist.