Gospel Legacy Continues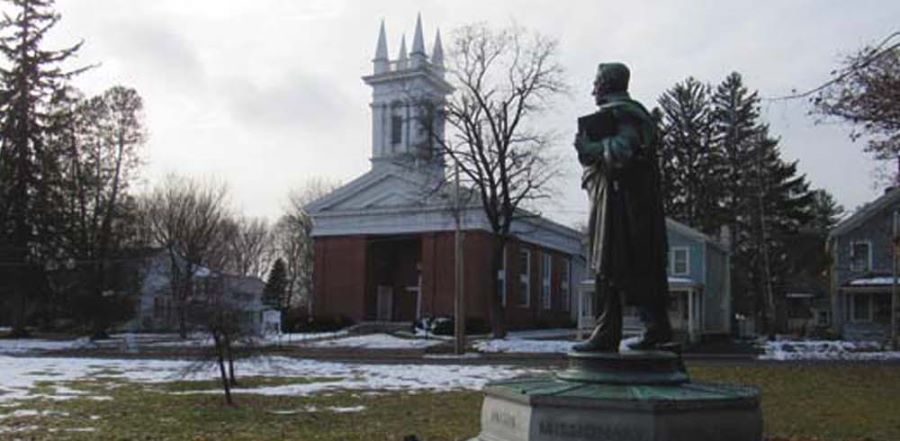 Don't miss any stories. Follow AG News!
Once gloves fell from national fashion, the economy of Gloversville, New York — where 90 percent of them were crafted — began a slide from prosperity into the industrial rust belt. Thousands of residents moved away. Today, the community, with a dwindling population of 15,000, is full of abandoned, derelict houses of worship.
The former Kingsboro Congregational Church, founded in 1793, was Gloversville's oldest church; its building, constructed in 1838, remains the community's oldest structure. Elisha Yale, its famed pastor born the same year the church started, launched a ministry school and led revivals.
The church became Presbyterian in 1853, the year Yale died. By the time
Kingsboro Assembly of God
bought the historic property in 1986, the building itself was crumbling. In a town where 90 is deemed a large congregation, with few congregants the AG church's coffers barely supported daily expenses. Maintenance went by the wayside.
By the time Matthew Splittgerber became its pastor in 1998, the congregation had a weekly attendance of only 12. The church building's four spires were gone; pigeons flew through the side of the steeple, itself on the verge of toppling. The church took in $25,000 annually, but needed $40,000 just to fix the steeple.
"God did a miracle for us," Splittgerber says. "God provided (the money) within a year." That repair transformed the community's perception of the church.
In 2013, when Splittgerber stepped down from leading the Kingsboro church,
John H. Proske
attended
Northpoint Bible College
in Haverhill, Massachusetts. The next year, Proske, who had grown up in that church, returned there as "maintenance pastor" on Sundays and Wednesdays.
"The church was going through a very tough time," says Proske, 27. It proved to be his training ground. "God wanted me here."
Proske became assistant pastor when the church hired Jeff Tyler as the new lead pastor and launched new ministries, including a Wednesday night meals and evangelism program. But soon Tyler sensed Proske's calling. In response, Tyler mentored Proske in spiritual ministry as well as leadership, conflict resolution, business meetings, office administration, and taxes. "He trained me up to take over," Proske says.
Today, Kingsboro AG has grown from a congregation of 20 to a multigenerational/multiethnic one of 40. Those in the youth group of 14 come from non-Christian homes; they connected to the church when friends invited them to barbecues and other events for teenagers. New Christians are among the nine most recent adherents of the church.
The church's outreach programs meet needs in Gloversville, among the poorest cities in New York. Many residents receive government assistance. Wednesdays are Compassion Night, which features a free community dinner followed by a family Bible study and kids church. The church "compassion closet" provides diapers, cleaning supplies, and other necessities.
While ministering as assistant pastor, Proske worked as a caregiver at a state residential program for people with developmental disabilities. His departure to the full-time pastorate prompted the home's leaders to ask him to design a church program for its residents.
Proske created a special Monday Scripture stories and lessons program for the residents, who range in age from 30 to over 50. "They're applying the Bible to their lives," Proske says.
Splittgerber
, now pastor of
Vineyard Assembly of God
in Martha's Vineyard, Massachusetts, regards Proske as a natural successor to Elisha Yale.
"He really understands the heartbeat of the community," Splittgerber says.
While the Kingsboro church moved from Congregational to Presbyterian to Assemblies of God, Splittgerber says, "It's the same gospel, just different congregations."