Harbor in the Neighborhood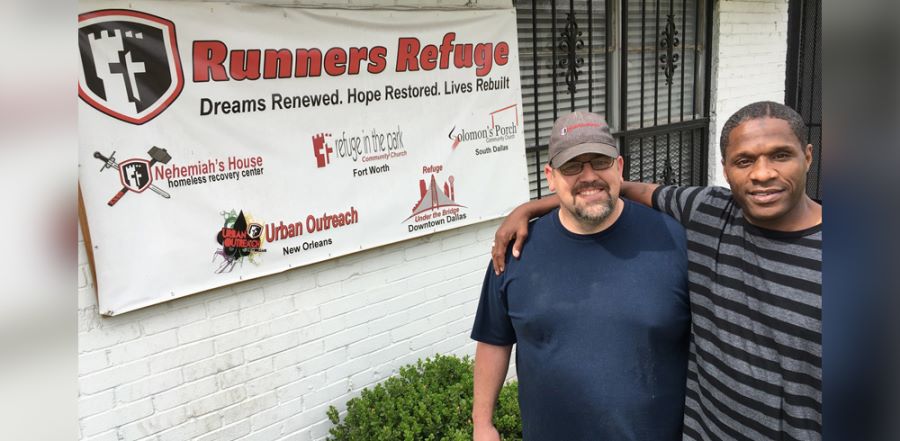 Don't miss any stories. Follow AG News!
DALLAS — Kevin E. Brown was mad. Mary, his girlfriend, had disappeared off the streets. Both were heroin addicts. The word around Cleveland Street in South Dallas was that AG
U.S. missionary
John A. Stout
knew something about it.
Stout was preaching to those gathered on a lot vacant for the past three decades because the city bulldozed a crack house. Brown interrupted Stout's sermon: "It's not gonna go well for you."
"I'm not gonna die today," Stout, 44, told Brown. "If you want what Mary has, I can get you that."
The Holy Spirit moved Stout to hug Brown, who cried.
Among callings of Stout's ministry,
Runners Refuge
is helping the homeless and destitute by providing meals, church services and discipleship, and reaching families in poor areas. The ministry connected Brown, a 53-year-old New Yorker, to
Adult & Teen Challenge
where, like Brown's girlfriend, he came to faith in Christ. In February, Brown graduated from the Assemblies of God-founded residential drug and alcohol
recovery program
in Texas and now is interning for Runners Refuge.
Brown is the kind of guy God called John and his wife, Rachel, to serve. In 2014, Stout saw homeless people under a bridge and wondered who fed them.
"When you tell God there's got to be somebody who can do something about this, it's usually you," says Stout, who serves with
Intercultural Ministries
. "Next thing you know, I'm under the bridge, feeding people."
Using
Matthew 25:35-36
to define the outreach, Runners Refuge reaches people in crisis with Jesus' love through biblical hospitality: food, clothing, showers — and prayer. In 2019, between Runners Refuge campuses in Dallas, Fort Worth, New Orleans, and Alamogordo, New Mexico, the ministry served 16,000 meals per month, six days a week.
Often the ministry provides "situational intervention," such as interceding with a landlord on behalf of a tenant unable to afford rent, or advocating before a judge for a prostituted woman about to receive a lengthy prison sentence under the "three strikes" law. The name of the program is derived from 1 Samuel 21, which tells of David fleeing from Saul.
"Everybody we minister to is running from something: a lost job, addiction, lost social status, a pimp, a dealer," Stout says. "Our responsibility as a ministry is to provide a place where the people who are running from life can come and be fed and equipped, both spiritually and pragmatically, and then released into victorious living."
A Runners Refuge arm called
Nehemiah's House
helps nonaddicted men who lack job and life skills, which they receive through mentoring and apprenticeships. The Nehemiah's House Recovery Center is a work in progress. The apartments, constructed in the early 1960s, later became a crack house, doubling as the headquarters of drug-dealing criminals who once ran South Dallas. In an infamous act still remembered in the metroplex, gangsters in 1990 rounded up teenagers in a second-story bathtub and opened fire on them.
Stout is overseeing a gutting of the building, which will accommodate 40. Training is tailored to their aptitudes and what they enjoy doing. During remodeling, Stout and volunteers dug bullets out of the wood in the walls.
"Because of the significance the building played as the headquarters of the Jamaican gang, its restoration will be a testimony of God's redemptive power," Stout says. "If He cares enough to restore a building, how much more a person created in His image." Today the structure sits amid vacant lots, like the one across the street where Stout preaches sermons on Saturdays. Each plat of land represents apartments razed by the city.
Down the street is a homeless camp that popped up a couple of weeks after police cleared it out. Prostituted women walk the block, waiting for customers, often men in newer-model vehicles from better neighborhoods.
On the sidewalk next to the recovery center, a worker picking up trash finds a plastic bag with a broken crack pipe and shard of a mirror, used to consume the drug. The neighborhood is traditionally low-income, lacking places that sell groceries, yet with an abundance of liquor stores and pawn shops. Stout says he hears gunshots daily. Unsurprisingly in such a milieu, bullet holes pock the ministry's van.
"People live like they live because nobody told them there's another way," Stout says.
Nonaddicts in the neighborhood typically struggle with inability to stay employed because they lack job skills or have difficulties managing anger. Some held jobs that no longer exist, such as mechanics who know only older cars that lack computers.
The
Living Free
program, which Stout describes as Christ-centered men walking through life's problems together, begins with phase one students working on themselves, learning who they are in Christ and insights for Christian living. In phase two, men develop leadership and life skills, which they use to lead new inductees in phase one. In phase three, program participants learn job skills while living in an off-campus apartment and working in "labs." That includes the
Ugly Heifer Grill
, which Stout created to provide venues for learning while
raising funds for the ministry
. In March, Brown began working part time at the restaurant.
The battle begins with convincing those in the neighborhood that their lives matter to God. Stout says that every night on the streets of Dallas, 400 teen girls are bought and sold. Often they become stuck for years. Mary had been on the streets 17 years, in bondage to addiction.
Brown doesn't like to dwell on his life before Christ. His activities included peddling dope.
"At one time, I ran the streets," Brown says. "Now I want to be used of God."
Brown senses the Lord calling him to vocational ministry. Runners Refuge will help him become equipped through
SUM Bible College & Seminary
or
Berean School of the Bible
.