Horses and the Gospel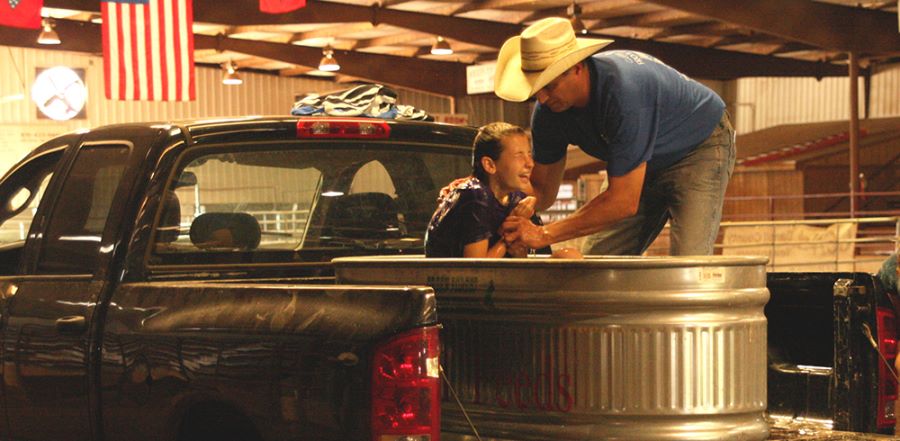 Don't miss any stories. Follow AG News!
Jesus entered Jerusalem on an unbroken colt.
There are the four horsemen of the apocalypse.
And at the trumpet's sound, the Lord will return on a white horse.
Between the Bible and cowboy life, comparisons are plentiful, according to Joe Kissel, an Assemblies of God U.S. Missions missionary associate chaplain. With his wife Kayla, Kissel is spreading God's Word through rodeo outreach.
"What if we could take that same level of commitment it takes to ride that bucking bull to our relationship with Christ?" he asks.
To that end, the Jasper, Arkansas-based Kissels have launched From the Arena To The Cross Rodeo Bible Camp for youth ages 12 to 18 and cowboy/horsemanship camps for adults. The traveling event often partners with cowboy churches across the country as an outreach to youth.
They're part of a growing cowboy church movement that appeals to farmers, ranchers, and folks who love rural America.
"We're taking the Bible and, very similar to what Jesus did in teaching in parables, trying to put Scripture that Jesus was teaching into cowboy terminology," says Kissel, 44. The ministry's mission statement, "Come ride with us as we follow Jesus," is a cowboy paraphrase of 1 Corinthians 11:1.
Earlier this year the Kissels transitioned from Chi Alpha ministry at North Arkansas College in Harrison to full-time rodeo ministry. Kissel also serves as an informal chaplain to Sankey Rodeo Schools, a nationwide skills workshop for rodeo cowboys.
He knows the rodeo life, competing nearly two decades as a bareback rider. In his native Colorado, his grandfather was an avid horseman; his father, who taught secondary math, spent summers participating in roping events. Kissel remembers as a 10-year-old boy sharing the gospel at rodeos with other children. Eventually he and his dad helped produce rodeos. The family also affiliated with Fellowship of Christian Cowboys.
As a young man, Kissel himself began competing in bucking horse events. His favorite event is bareback riding. Kissel and his dad participated in their first rodeo Bible camp in Colorado in 1989.
In rodeo Bible camps, the Kissels teach kids how to rope and ride a horse, but they also share about Jesus  and salvation.
"It's like a Christian sports camp," Kissel says. Days during the four-day camps are split between chapel and meals and specific rodeo events, such as goat tying; barrel racing; break away and team roping; bareback and saddle bronc riding; and steer and bull riding.
Camps are for kids of all levels of skills. While most participants come from rural backgrounds and have some experience riding a horse, a few have no familiarity, such as eight foster children who attended a recent camp.
"Kids love horses," says Kayla Kissel. Campers who are rodeo competitors can improve on their skills and also hear about Jesus, she says, adding that many are unchurched. "If we can do something the kids are interested in, such as rodeo activities, we can share the gospel with them."
Through the Kissels' years in Chi Alpha, a growing number of international students have become participants. Former campers keep in contact via social media, which has spread word about the camps worldwide, even to countries otherwise closed to the gospel, Kayla says.
Paul Scholtz, a pioneer AG rodeo missionary who often collaborates with the Kissels, describes them as "dynamic people and serious Bible students."
"Joe's blazing his own trail and making some great innovations in ministry," Scholtz says.