Instilling Youthful Hope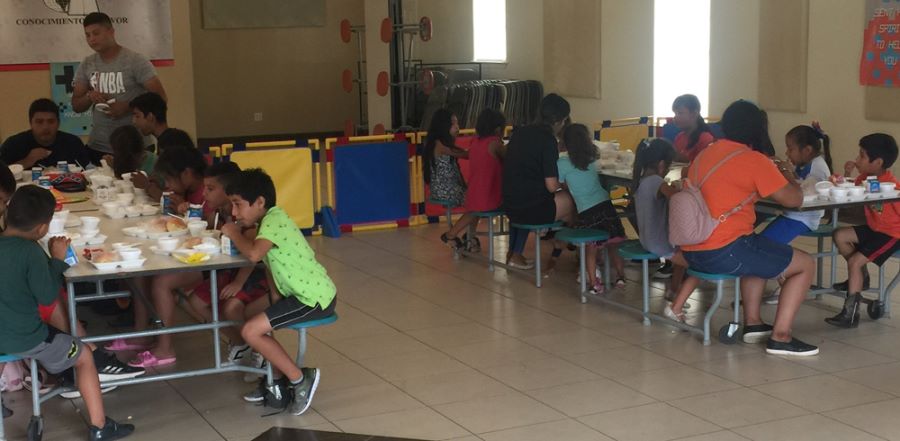 Don't miss any stories. Follow AG News!
Cynthia was among 18 children living in a house she shared with her parents, siblings, aunts, uncles, and cousins in a hardscrabble barrio of Peñitas, Texas, the Rio Grande Valley community of 5,000 less than 500 feet from the U.S. border with Mexico.
Maricela H. Hernandez
knows Cynthia's area well. The director of
Flames of Fire Bible School
visits families and hears their struggles, often involving their immigration status — and living in fear and uncertainty.
Hernandez
, 50, invited Cynthia and her extended family to
Family Christian Assembly
, where her husband, Rafael Hernández Jr., pastors. She also got the word to the family about the summer feeding program funded by the local school district and held at the church for children and youth through age 18. Apart from serving the free meals, the church conducts vacation Bible school.
In the feeding program's 12 years, Hernandez has watched small children grow up. She's seen the Lord move in countless hearts. Earlier participants, such as Cynthia, have become adolescents and young adults, even as new kids connect with the program.
Many not only have come to know Christ as Savior, but also plugged into the church and become active in Assemblies of God Texas Gulf Hispanic District youth movement, according to Hernandez, the district's
secretary-treasurer
.
As a 9-year-old girl, Cynthia, her siblings, and cousins began taking part.
"We went for the food and to be with our friends," says Cynthia, now 15. She started going to the VBS.
"I learned more about God and got closer to Him," says Cynthia, who began attending youth services. Three summers ago, she went to the district's
youth convention
, where she made a commitment to serve the Lord completely.
Like many others who connected with the church via the feeding program, Cynthia is active in church life, becoming equipped to serve the kingdom of God through Wednesday youth services and other activities. Short-term teams sent from churches across the U.S. come to Peñitas to teach the youth specific skills, such as playing musical instruments. Cynthia learned to play the keyboard. She and others from the program are now part of the church praise and worship team.
"I share my faith with my teachers and friends," she says. "They share problems with me and I pray for them."
This summer, Cynthia is taking Bible classes at Flames of Fire.
"I want a strong foundation to be able to share the Word of God so everybody can know how to know Him," she says.
That's the purpose of the program, Hernandez says.
"We want our young people to keep studying so they can achieve their dreams, to know that God is with them," she says. One advantage is that they're bilingual. "Maybe the conditions around them place limitations, but when they hear other ministers who challenge them to dream, they begin to dream."
Those 15 and older may enroll in Bible training through Flames of Fire, a three-summer program through which students complete Bible courses required for AG ministry credentials. They gain ministry experience by helping with vacation Bible school, soccer clinics, and other outreaches.
Four Flames of Fire graduates, equipped with AG credentials, have gone on to
Southwestern Assemblies of God University
. Two have graduated and are now are active in ministry.
"The program has helped us a lot and many are growing in their faith," Cynthia says. "We're being inspired and going for a right path."
Hernandez notes that Cynthia's parents aren't Christians. Cynthia is praying for them.
While limitations — especially financial — abound for students dreaming of continuing their education, God is making it possible, Hernandez says. It's essential to instill hope in the next generation of Christ followers, she says.
"We're rescuing these young people at a critical time in their lives," Hernandez says. The Bible institute program immerses students in Bible instruction and ministry opportunities. "In their early teenage years they feel the call of God."