Intern Investment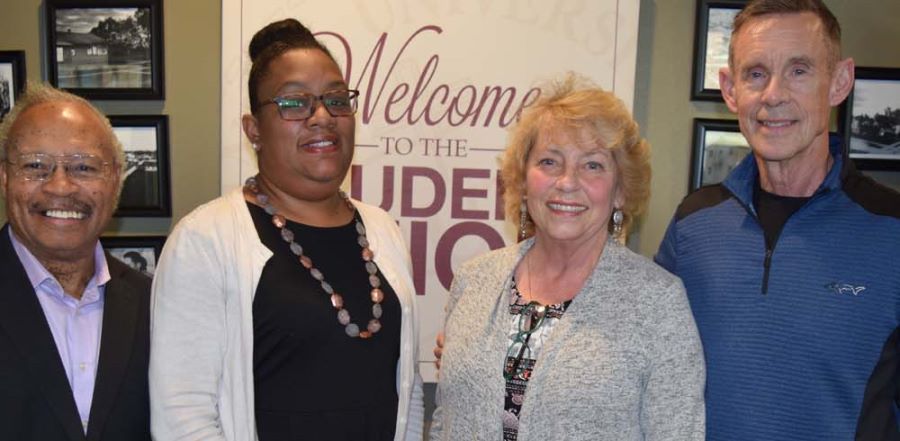 Don't miss any stories. Follow AG News!
Frank W. Davis helped a group of fellow Central Bible College (CBC) students run a neighborhood outreach to children. Today, nearly half a century later, he's still involved in the local Springfield, Missouri, ministry.
"They kind of just left the keys with me," says Davis, who worked with children for seven years, starting in 1971. Tampa Assembly of God became an official church in 1978 when enough people 18 and older constituted a voting membership.
Davis, now 71, has been the only full-time pastor at the church for more than four decades. But he's had plenty of help from not only CBC students, but also
Evangel University
and
Assemblies of God Theological Seminary
enrollees as well. Many of those students over the years have been headed to the
chaplaincy
, and Davis provided the forum for them to fulfill a two-year prerequisite to be on a church staff.
During his tenure at the church, 15 prospective chaplains have served internships. Some of those Davis mentored already are retired.
Before graduating from CBC, Davis served in the Vietnam War in military intelligence, interrogating prisoners and sending coded information to field units. The son of a Missionary Baptist pastor from North Carolina, Davis rededicated his life to the Lord while in the U.S. Army and heard the call to ministry. An Army acquaintance recommended he attend CBC.
Davis grew up in Rocky Mount, North Carolina, where the majority of the residents are African-American. When he arrived on the CBC campus, the only other African-American student was Spencer Jones, an AG
U.S. missionary
who pastored Southside Worship Center in Chicago for almost four decades.
At CBC, Davis met his extroverted wife, Nancy, who already had graduated from Zion Bible College (now
Northpoint Bible College
) and served as a missionary school principal in Liberia.
Interns at Tampa AG gained practical experience by learning about everything from church administration to taking care of the church grounds.
Scott McChrystal, current military representative and endorser for U.S. Missions Chaplaincy Ministries, served an internship at Tampa AG alongside Ric Wilkins, who recently retired as a U.S. Navy chaplain.
Few AG churches at the time had staff openings for chaplain candidates. Davis did, but not exactly in McChrystal's field of strength: music.
"He agreed to be worship leader, even though he couldn't carry a tune very well," Davis recalls with a chuckle. "But during those times, the Spirit of the Lord moved wonderfully in the congregation. There was a tremendous freedom to worship."
McChrystal credits the musically talented students at the church who sang and played instruments. He believes that Davis, who majored in music at
Winston-Salem State University
, before his Army and CBC days, could have been a worship leader anywhere.
"Frank believed in Ric and me," says McChrystal, 70. "He gave us all kinds of opportunities." McChrystal's 15-20 weekly hours of ministry included not only leading worship, but also nursing home visitation every Sunday afternoon and preaching an occasional sermon.
"He taught me what a genuine man of God in a pastoral position looked like," McChrystal says. "Tampa developed a reputation as a way station for the down and out. Frank and Nancy rolled up their sleeves and got their hands soiled."
MODELING MARRIAGE
While some people took advantage of their generosity, McChrystal says the grace and patience demonstrated by the Davises transformed many lives. The couple modeled ministry partnership, which has helped McChrystal and his wife of 46 years, Judy. The Davises often invited chaplain candidates to their home for meals or activities.
"We often emphasized the importance of healthy marriage with chaplain candidates," Davis says. "It's difficult to keep a strong marriage when you're unsure when and where you will be relocated."
Of course the Davises had to overcome more challenges than most couples. Nancy is Caucasian. Only 3 percent of newlyweds were of
different ethnicities
when they wed 47 years ago, compared to
17 percent today
. They wed in an era when a majority of Americans
disapproved of interracial marriage
.
"Marriage is marriage," Nancy Davis says. "You need the foundation of the Lord, whether or not it's interracial."
David P. Hillis, a retired AG U.S. Army chaplain living in Springfield, is among the seminarians that Davis mentored. Preaching experience is a requirement to reach the chaplaincy field, but those opportunities sometimes are difficult to find for trainees.
"Frank always opened his pulpit for us to preach," says Hillis, 62. "We were able to enter active duty sooner than we would have otherwise." Hillis says the fact that many of the mentees — including McChrystal and himself — retired as colonels is a testimony to the investment Davis made in their lives.
LAST INTERN
Danielle Poulson-Jones, an Air Force reserve captain chaplain, in 2017 finished an internship at Tampa AG, which included pastoring youth, teaching Bible studies, and coordinating missions conventions. She says Davis remains a mentor to her and Damon Jones, her husband of 10 years.
"I call him often with ministry concerns, even doctrinal questions," says Poulson-Jones, who also is commuter coordinator at Evangel University. "He's my go-to person."
Poulson-Jones, who graduated from Evangel and AGTS, says Davis helped her gain confidence about the ministry call on her life. She says Davis continually challenged her to know why she believed theological perspectives.
"He gave me every opportunity as a young female," says Poulson-Jones, 36. "He gave me authority to make decisions and made me feel like my opinion mattered."
But what impressed Poulson-Jones the most was when Davis watched her 1-year-old son for six days when she needed to be hospitalized for the early emergency delivery of her second child.
"He's not afraid to go out of his way to help people," Poulson-Jones says. "That's the type of minister I want to be."
Poulson-Jones in her duties as a chaplain reservist, primarily at
Whiteman Air Force Base
outside Knob Noster, Missouri, supports active duty chaplains. Last year she spent 68 days in chaplain activities, doing everything from coordinating a vacation Bible school to holding a women's retreat.
Poulson-Jones is the last chaplain candidate to serve as an intern at the church. These days, Tampa AG, located in a residential neighborhood, is populated not by college students but rather residents of the economically challenged vicinity. Old-fashioned worship and an informal give-and-take banter with the racially diverse congregation are marks of the Sunday morning service.
Frank and Nancy Davis still are involved in ministry to children. Grandsons Joseph, 12, and Aaron, 7, are living with them.
Lead Photo:
Frank Davis (left) helped Danielle Poulson-Jones (second from left) and Judy and Scott McChrystal get their chaplaincy careers going.
Bottom Photo: Nancy and Frank Davis have ministered at Tampa Assembly of God since the 1970s.