Is Parenting in Your Church's Future?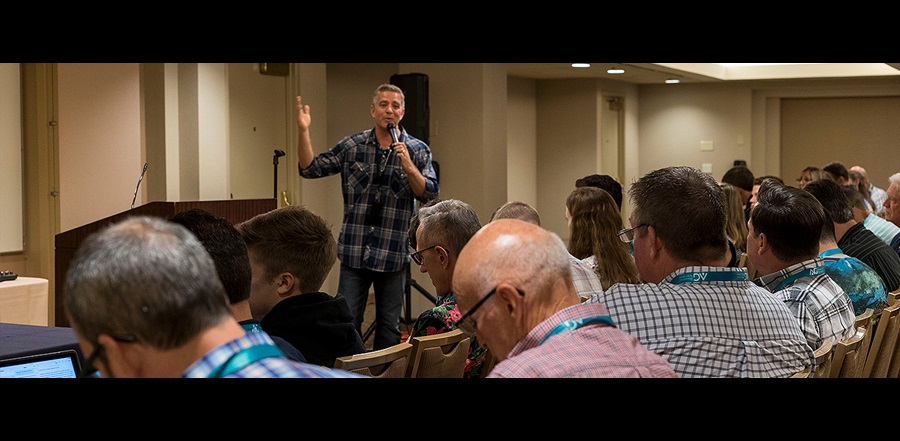 Don't miss any stories. Follow AG News!
Jeff Leake, the lead pastor of Allison Park (Pennsylvania) Church for 26 years and a member of the Church Multiplication Network Lead Team, is well known for planting churches, having followed and exceeded the God-given goal of planting 100 churches in 10 years.
"Some people see me and say, 'Hey, you're the church planting guy,' but I'd rather be known as the kingdom of God guy," Leake said.
But in a Monday afternoon Influence Conference breakout session, Multi-Site Parent Affiliated Churches (PAC), Leake said that his church, once almost entirely focused on planting churches, has now expanded to include multiple sites for Allison Park Church. By spring 2018, they will have five locations.
Leake explained there were no "formulas" to knowing when and where to either plant or add another church location as God has a unique plan for every church. "There is no right way, but there are a lot of ways," he said. "It's about hearing what God is saying to you and obeying His voice."
Providing seven steps and trends in multiplication, Leake explained that before adding another location, churches should first start by going to multiple services as that begins to expand their volunteer ministry staff. The next recommended step is to move to a multi-venue service that offers a service of different style or language to further expand and prepare staff. Trends then include churches moving to multi-campus (one church that meets in several locations), multi-church (more independent than multi-campus), micro-sites (ideal for rural and military locations), and PAC (planting a church and growing it to independence).
In responding to a question, Leake admitted that he is constantly looking for leaders and training leaders. "You have got to have an Antioch atmosphere so the Apostle Pauls can get their start . . . where they can find grace and be given room to make mistakes," he advised.
Multi-site/PAC also offers something many people find appealing. "You have the quality teaching and quality worship of a big church, but you don't lose the connectivity of a smaller venue," Leake said. He also found that although multi-site was more responsibility for the senior pastor, his fear that the "screen" would drive people away was unfounded.
Although Leake said there isn't a formula for knowing when to add another site, there are signs to watch for, including: when a church leader starts to feel a burden for a part of the community, when God provides a facility, and when God is doing something significant in an area of the city.
"God is at work in advance of us," Leake said about parenting and planting churches. "When he was ready for me to be a part of the solution, something was already there."
Larry and Jeanne Burgbacher, pastors of Faith Assembly in Summerville, South Carolina, for the past 33 years, said Leake is one of the best when it comes to church planting and parenting. "We have multi-sites and I'm always wanting to learn more about keeping the same DNA and raising up leaders," Larry said.
Ashley Knepper, who is the associate pastor at Grace Community in Cedar Falls, Iowa, said she and her husband, Nick, who is the lead pastor, are in the midst of a church revitalization, where the church has grown from about 30 to 85 in the past year.
"The session helped us to think 'big picture,'" Ashley said. "We may be small now, but we have rural communities around us who don't have a vibrant expression of the kingdom of God and we've been thinking about how to reach these communities down the line . . . I can see a small group transforming into a micro-site."
Leake, who encourages prayer before any step is taken, stated it simply when it comes to God's plan for each church: "There is no formula, there is only followership."