Jiu-Jitsu Pastor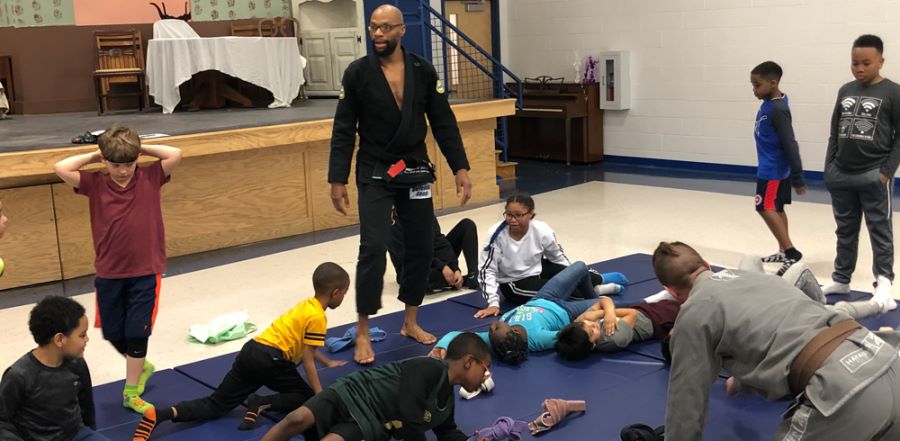 Don't miss any stories. Follow AG News!
Staring down at 30 anxious youngsters and ready to roll, Kyle G. Watkins looks menacing in his martial arts gi kimono wrapped with the coveted black belt. His serious expression quickly changes into a smile as he prays over his students.
Watkins is a mild 190-pound, 6-foot, 2-inch athlete teaching Brazilian jiu-jitsu (BJJ) self-defense on Friday afternoons at the Boys & Girls Club of the Bellport Area on Long Island in New York.
"I want to impact kids by weaving in the gospel when we train," he says.
Ranked by the International Brazilian Jiu-Jitsu Federation, Watkins is a two-time world champion (2017 and 2018). The defensive sport, called a gentle art, helps weaker contestants use leverage and joint locks to defend against larger opponents.
Watkins, 34, serves as point pastor of Axis Church Patchogue, a parent-affiliated church in East Patchogue, New York. A former member of the Brooklyn Queens Murder Unit (BQMU) gang, a branch of the Bloods street gang, he knows how gangs trap at-risk youth.
The lure of sleek cars, fancy clothes, illicit drugs, easy money and simply belonging ensnared him at 13. Raised mostly in a single-parent home, he terrorized the minority community where he lived.
"I was falling behind scholastically and recognized that the horrors of gang life would lead me to jail or death," he says.
In 1999, his alarmed mother forced her 14-year-old son to attend church, practically welding him to his seat. Watkins sensed the pastor speaking directly to him in the packed santuary. Heeding the altar call, Watkins repented. The Holy Spirit gave him the courage and supernatural strength to quit the gang life.
Soon after, he approached the BQMU leader, confessing, "I'm a new man, a born-again believer filled with the Holy Spirit."
Not many walk away from violent gangs without retribution — or alive. The gang leader surprised Watkins, allowing him to leave, but warning him to never come back.
After graduating from high school and sensing a call to ministry, Watkins enrolled in Nyack College in New York, earning an associate degree in pastoral counseling and psychology in 2006.
Marrying a year later, Watkins and his wife, Rachel, found secular jobs. While visiting a cathedral on vacation in Mexico in 2011, God impressed upon them to establish a church in Long Island. Their obedience transitioned from a weekly home Bible study with five people to planting Safe House Ministries in 2013 in a leased community space.
In 2015, Watkins experienced another life-changing detour, meeting Assemblies of God minister Anthony L. Pelella at a local clergy gathering to plan a neighborhood evangelistic event. Pelella, the New York Ministry Network Long Island presbyter and lead pastor of Axis Church in Medford, oversees a trio of congregations.
The two pastors bonded through their mutual zeal for evangelism and athletic training. Pelella, 50, began mentoring Watkins, and in 2017 invited him and Safe House Ministries, the 50-member congregation Watkins led, to merge with a dwindling AG congregation. The body became Axis Church Patchogue and Watkins obtained AG ministerial credentials.
Watkins faced tensions moving to the larger Patchogue sanctuary. Some parishioners from the former church disrespected him or stopped attending, criticizing his youthfulness and balking at being led by an African American. A few inserted earplugs during worship led by Rachel Watkins, calling the music "too black."
"While I felt inadequate at times, I knew my calling was greater than the kickbacks I initially received," Watkins says.
Today, Axis Church Patchogue shines as a revitalized multiethnic church. It ministers to more than 100 congregants weekly and excels at creative evangelism. The church's 2018 Christmas Spectacular reached 450 people, resulting in 40 salvation decisions for Christ. The church served lunch and gave away 708 pairs of pajamas plus 900 toys.
In June, Axis Church Patchogue joined other area congregations for a Hope Day Network humanitarian event that yielded 37 salvation decisions for Christ from the 771 people attending. Participants received hot lunches, health screenings, and hair styling.
Watkins continues leveraging his jiu-jitsu expertise. Joe McCoy, 34, is impressed that his son Abijah, 8, is learning respect and integrity in the classes, not to mention the biblical lessons.
"Pastor Kyle speaks the truth and has helped me grow in my faith as a man and father," McCoy says.
Other parents with children in the program have deepened their faith as well.
"It's a natural Matthew 20:19 Great Commission tool to reach our community," Watkins says.