Keeping Former Inmates Fully Free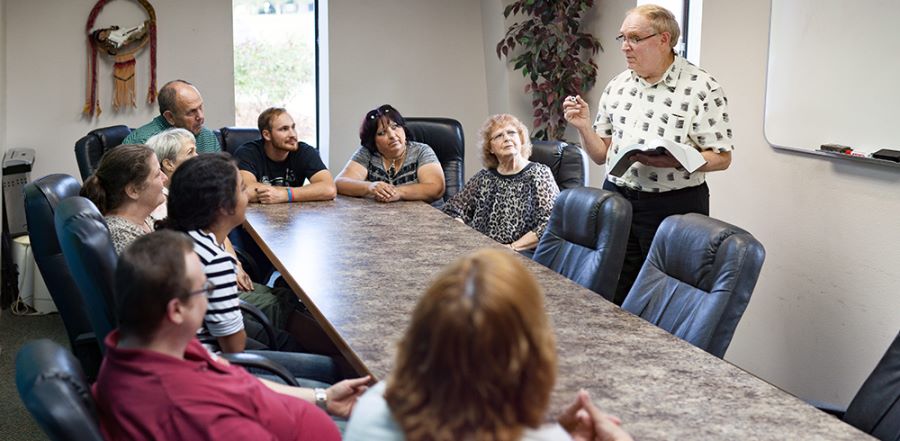 Don't miss any stories. Follow AG News!
Joe Fauss believes nobody is beyond hope, no matter what happened in their past, if that person makes a commitment to follow Jesus Christ.
Fauss, an Assemblies of God U.S. Missions chaplain, is founder of Calvary Commission in Lindale, Texas. The ministry, based 100 miles east of Dallas, provides an environment that enables parolees to achieve their quest to stay out of prison — although many return as ministry volunteers. At the 186-acre Creekwood Ranch, Calvary Commission provides a place where former inmates eat, learn, work, and live. Joe Fauss founded the ministry in 1977, and Charlotte, his retired schoolteacher wife of 58 years, is office manager. They began with a group of 14 parolees.
In almost 40 years, more than 2,000 residents, mostly former prisoners, have graduated from Calvary Commission to become living testimonies of redeemed lives.
A "discipleship trainee" still might face restrictions, such as wearing a Department of Corrections tracking device or being confined to a dorm during nighttime hours. Yet these former prisoners are employed in responsible community jobs.
Fauss owned four grocery stores and three restaurants in nearby Tyler before he exchanged financial security for ministry uncertainty. For seven years, Joe and Charlotte operated a Teen Challenge center in Tyler, modeling God's love, forgiveness, grace, and mercy to youth whose lives had been decimated by drug and alcohol addiction. But then Joe sensed a calling to care for prisoners after their release.
So Joe and Charlotte obediently sold their four-bedroom brick dream house where they lived with their four sons and moved into a mobile home. Initially, the Fauss family manufactured and sold wooden containers for plants to finance the new ministry.
Although aftercare today is recognized by the government as a valuable and necessary element in preventing prisoners from reverting to a life of crime, nearly four decades ago the visionary Fauss had to convince state officials of its benefits. When he began Calvary Commission in 1977, parolees legally couldn't stay under the same roof.
"The same boldness and energy that was used for the enemy can be used for God," says Fauss, an Assemblies of God U.S. Missions chaplain. "With a biblical education and on-the-job training, former prisoners can do something great for a great God. God can turn a prisoner into a preacher, a murderer into a missionary."
TREASURE HUNT
Fauss is a trusting father figure to many who had no adult male role model growing up. The 75-year-old Fauss remains stoked about finding "treasures" among society's outcasts. His calm demeanor, kindheartedness, unassuming personality, and good-natured joking are just the balm Calvary Commission residents need.
"The grid they look through is often a father who beat them or a spouse who abandoned them," says Fauss, who tells his story in the book Challenging the Impossible: Discovering Beautiful Trophies for Jesus.
To qualify to live at Calvary Commission, an ex-inmate — whether having just finished a one-year sentence or completed a commuted life term — must have been actively serving the Lord in prison plus have a chaplain's recommendation.
The goal at Calvary Commission is to receive a completion certificate after one year of spiritual mentoring and life application. Classes include biblical counseling, anger resolution, church planting, and world missions. Students are allowed to remain a second year if they want to obtain an associate's degree, or a third year for a bachelor's degree through Calvary Bible Institute.
Buildings on the campus are efficient, not extravagant. Men live in unadorned dormitories. A library, computer lab, and prayer chapel facilitate learning and spiritual growth. Several on the Calvary Commission voluntary staff of 20 lead morning chapels, as do pastors from the community.
When Fauss began Calvary Commission, the Lone Star State had 18,000 people locked up. Now the figure is 150,000.
"Released inmates must suddenly adjust to making thousands of decisions every day in the free world," Fauss says. "Some of the younger offenders have never paid their own bills."
Many ex-convicts, faced with real-world choices for the first time in years, stumble along the way. Transition can be jarring and it doesn't take much for an inmate to wind up behind bars again.
However, Fauss clings to John 10:10, firmly convinced that Jesus can provide abundant life even to those whom Satan has managed to nearly destroy. Calvary Commission provides the family atmosphere that many discipleship trainees lacked when growing up in dysfunctional homes.
The majority of Calvary Commission parolees complete the nine-month phase of structured classes, followed by three months of ministry practicum in conjunction with Church of the Living Hope, an Assemblies of God congregation 11 miles south in Tyler. Fauss is senior pastor.
But some leave only a few weeks into the process, unwilling to comply with rules such as no dating and no smoking. On the Calvary Commission campus, there's no watching Game of Thrones on TV or listening to Taylor Swift on iPods.
While affirming that God has a great plan for everyone, Fauss advocates a gradual shift into everything, especially ministry.
"They really need mentors and discipleship to discover their purpose," Fauss says. "The temptation for many is getting distracted with dreams of success, money, and romance immediately."
At Calvary Commission, parolees can work up to 25 hours a week at jobs around Lindale such as home remodeling, landscaping, and computer programming. Students pay no more than $100 per month to cover tuition, room, and board. Calvary Commission doesn't recruit any residents; it's all by word of mouth. Applicants who are primarily seeking a job instead of a ministry purpose are turned away.
"We don't want to create another failure in their life," Fauss says. "We don't want to just take care of their humanitarian needs." Currently 50 students are housed on campus, with another 220 preapproved once they are released from prison.
LOW RECIDIVISM RATE
The recidivism rate for those who graduate is extremely low — only 2 percent for those who have stayed at Calvary Commission two years or more. Instead of winding up back in prison, they are more likely to become pastors, missionaries, or entrepreneurs. Some end up working for the ministry, passing on what they have learned.
One such person is Robert E. Fenton, who came to Calvary Commission in 1989 after serving a 2½-year prison sentence for driving while intoxicated and causing a wreck that resulted in a fatality. He continues his involvement on the support staff and leadership team, volunteering 12-16 hours per week.
"Joe and Charlotte's ministry is to help people develop into what God has called us all to do — to be witnesses wherever we are," says Fenton, who also is an elder at Church of the Living Hope. "They want to get men and women involved in ministry and mission work."
Fenton, 51, became interested in medical missions on a Calvary Commission outreach to Mexico in 1999. He earned a family nurse practitioner's master's degree in 2015 from the University of Texas-Tyler.
"Joe is a very merciful man," Fenton says. "God uses his gifting to mightily redeem people's lives, including mine."