Minnesota Surge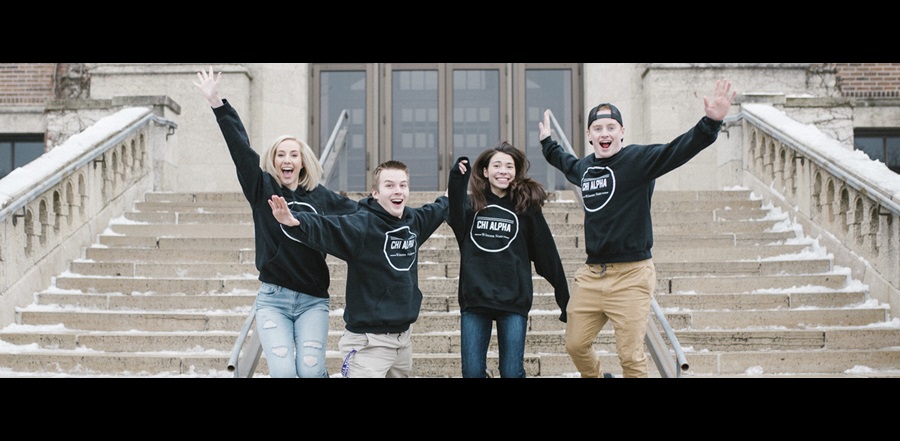 Don't miss any stories. Follow AG News!
When Steph J. Peterson held her first Chi Alpha planning meeting at Winona State University a decade ago, the group numbered 10 students — barely enough to qualify as a campus club.
Her daunting task focused on restarting the Winona State Chi Alpha chapter, one that had included as many as 200 students on the Minnesota campus of 9,000 in the 1990s and early 2000s. But after the departure of previous leadership, membership had dwindled to a solitary student.
Peterson began her time on campus by connecting with one football player, and day by day she introduced herself to more students. The small group began meeting in October 2008 with 18 students and grew to over 50 by the end of the first year.
This September, 10 years after that initial meeting, Peterson counted more than 200 students at the kickoff service for the new semester. Thirty-one accepted Jesus as Savior that evening.
"This is completely a move of God," Peterson says.
Winona State is among several Minnesota colleges and universities that have seen widespread increases in Chi Alpha attendance lately. As a result, state leaders are hearing more reports of how those ministries are changing lives.
Founded in 1953, Chi Alpha Campus Ministries is a U.S. Missions network on secular college and university campuses. Minnesota has active chapters at 10 "hub" campuses throughout the state and ministries on eight extension campuses.
Minnesota Chi Alpha Director Mike F. Amiot, 47, says last year several chapters experienced large gains, including Winona State, University of Minnesota-Duluth, and Bemidji State University. Others maintained strong attendance, while a few more chapters are in the process of restarting under new leadership.
In 2017, Minnesota Chi Alpha counted 467 salvations, 102 water baptisms, and 40 healings statewide.
"We're seeing some growth in ways we haven't seen," Amiot says. "We've been planting, planting, planting — and now we're starting to see some of the fruit come off the trees."
Amiot says he believes the work of the Holy Spirit on the state's college campuses has been supported by strategic prayer and planning. Leadership has focused for several years on raising up strong campus pastors, especially equipping them well and keeping them from burning out.
Consistency has paid off on campuses such as Winona State, where Peterson — who shares Amiot's passion for raising up healthy leaders — now has a dozen full- and part-time staff members, as well as 45 student leaders.
Grant R. Reimer, a 21-year-old senior communication studies major who serves as a ministry leader, says he has been amazed to see the average weekly attendance double from 100 to 200 since he first started attending in 2015.
"You can tell there is a buzz around campus on Thursdays," he says. "Everyone you bump into is asking, 'Hey, you going to be at Chi Alpha tonight?'"
Peterson says recent factors in the growth have included a move of Chi Alpha meetings from an off-campus church to the school's Somsen Auditorium, which has brought the meetings closer to students and may appeal to those hesitant to walk inside a church building.
The chapter has increased visibility on the campus at large after being asked two years ago to partner with school staff to put on welcome week activities for 1,600 incoming first-year students.
"When I ask freshmen if they know about Chi Alpha, most of them have heard about it and have great things to say," says Lizette S. Salazar, a 21-year-old senior social work major who also serves as a ministry leader.
This year, the university included a line for Chi Alpha in its budget, providing the group $4,000 for its work on the campus welcome activities. Peterson says a Chi Alpha chapter receiving school money is unprecedented.
"They have been throwing the door wide open," she says. "We're going to continue to foster that relationship as long as we can."
Sept. 30 is Chi Alpha Day in the Assemblies of God.