More Than a Week of Lessons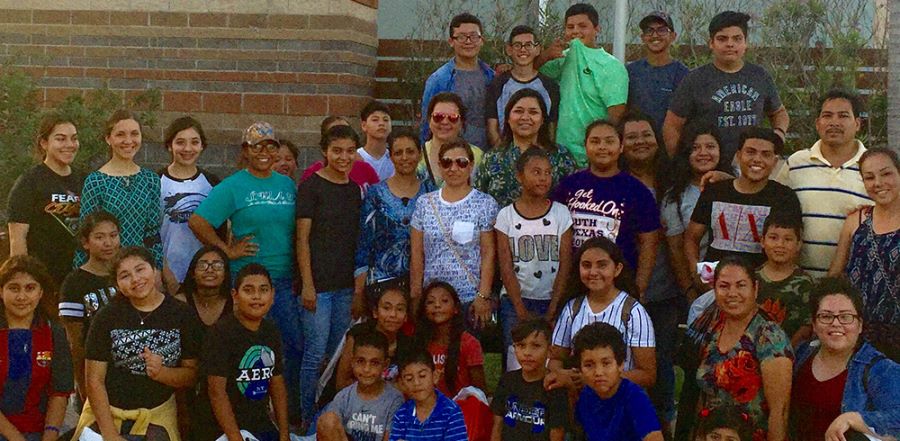 Don't miss any stories. Follow AG News!
A decade ago, one thing about typical summer vacation Bible school bothered
Maricela H. Hernandez
, so much that she decided to do something about it.
"Vacation to me means the whole time you're off from school," says
Hernandez
, associate pastor of Family Christian Assembly (formerly Centro Cristiano Familiar Paraiso de Palmas) in Peñitas, Texas, two miles from the Mexico border. In the Texas Rio Grande Valley, summer break lasts all of June and July. It's a prime opportunity for children in the community's hardscrabble working-class neighborhoods to learn that Jesus loves them. And with 44 percent of Hidalgo County children living below the federal poverty level, they need access to meal programs those two long months.
Hernandez, who also is director of
Flames of Fire Bible School
in the town of 4,600, took her burden to the Lord: Help us do something for the children while they're on vacation.
Family Christian Assembly
partners with rotating teams from Assemblies of God churches and other congregations on short-term mission trips for the summerlong VBS tailored to low-income families. Meals, sports, crafts, and Bible classes serving 100 to 120 children are provided each day. Kids come to faith in Christ, become part of the church, and get equipped for ministry. And as most VBS participants are from large families where older children often act as caregivers for younger siblings, this VBS offers care for babies so their brothers and sisters can take part.
"The first thing God provided was the food," says Hernandez, who also is secretary-treasurer for the
Texas Gulf Hispanic District
. "The school district worried these children wouldn't be eating and knocked on our door asking if we would open our facility all summer to offer a place where our children would be fed." Daily, the school kitchen cooks breakfast and lunch. The school sends its own cafeteria employees to the church to set up, serve, and clean up. (Texas schools may partner with faith-based charities, such as Family Christian Assembly, for community projects.)
Hernandez, 49, visits colonia families, both churched and unchurched, learning needs, offering prayer, and asking parents' permission for their kids under 18 to attend the VBS. A church bus picks up the children.
In July, Sonia Bermudez, associate pastor of Emanuel Assembly of God in Lufkin, Texas, brought the church's third team to Peñitas to teach Bible. She says the Holy Spirit convinced her to postpone an international mission trip to answer Hernandez's call for help.
"VBS participants are seeing that they matter to someone," Bermudez says.
Sergio Robles,18, the oldest of his eight siblings, began going to VBS eight years ago after Hernandez visited his home. Neither parent attended church. At first, learning about the Bible didn't interest him; he went because of the meals and to play soccer. By age 13, his friends began taking illegal drugs. Their arrests scared him, and he started going to Wednesday youth and Thursday family services at the church. His brothers and sisters began attending VBS.
At age 16, Robles gave his life to Christ. He has attended the Texas Hispanic Gulf District
youth
convention three times and leads fundraising for Family Christian Assembly's
Speed The Light
ministry. He also is involved in children's church and meals outreach.
Today, six of his siblings remain active in the church. After ongoing prayer by those visiting from Family Christian Assembly, other relatives and neighbors also attend the church. In contrast, two of his friends arrested on drug charges five years ago remain locked up.
"Here there's a lot of opportunity to get into trouble," Robles says. "Nobody else really is coming to help the community but the church of the pastora. She invites families to church and gives them food. They come to know the Lord."
Robles knows the outreach made an impression on him.
"Without it I would be into drugs, in jail, lost," he says.
Youth who come for short-term ministry discover God's call on their lives. Kimberly Balderas, 24, from Eagle Pass, Texas, attended Flames of Fire Bible School for three summers and helped with VBS. She remembers a hardened 6-year-old named Amy who initially refused to listen. Now 8, Amy and her mom are both part of Family Christian Assembly.
Syria Solano, 26, came to Peñitas from another denomination for a short-term mission to work at VBS. She connected with
Flames of Fire
, was baptized in the Holy Spirit, and, like Balderas, went on to
Southwestern Assemblies of God University
. Solano has graduated and is now Hispanic pastor in a church in East Texas.
"She's our firstfruits of those kids here in Peñitas," Hernandez says of Solano. "I know there's a lot of work here, but the Lord is raising up an army of workers that are now blessing other districts."