Mothers of Hope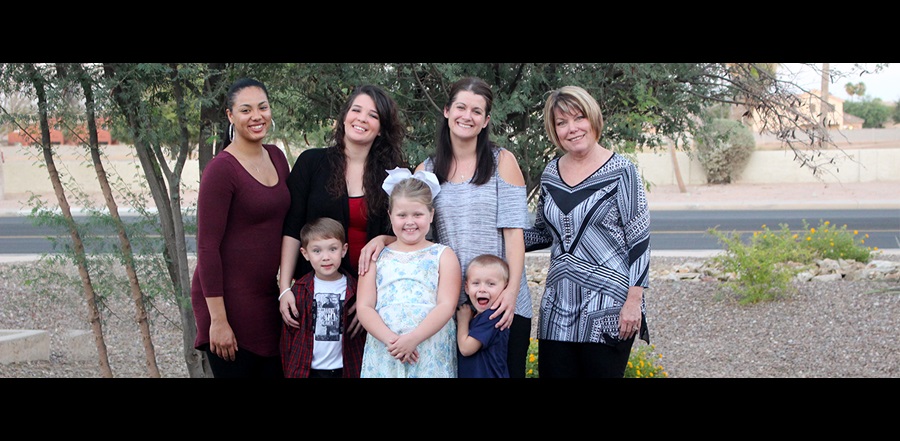 Don't miss any stories. Follow AG News!
Danielle Gentry's father went to prison when she was 12 years old; her mother's incarceration followed five years later. By that time, Danielle cared for four younger siblings every day in their Hawaii home. Her older sister left at 14 when she had a baby.
Life grew worse for Danielle, a girl of Filipino, African-American, and European heritage.
Danielle got in an abusive relationship with a man she barely knew, and at 17 prematurely gave birth to a stillborn son. Danielle moved to Arizona, became involved in another relationship, and got pregnant again. Undergoing an emergency Caesarian section birth, again prematurely, her daughter lived only five days.
At 18, Gentry already had lost two children.
"Raising my siblings was hard, but watching my son and my daughter die ruined me," says Gentry.
Her downward spiral progressed with drinking alcohol before noon to numb the emotional hurt. The depression and trauma intensified when Gentry repeatedly revisited the deaths of her children in her mind.
Gentry plunged into heroin addiction, and conceived a child again. Unlike the first two pregnancies, she didn't care for her body physically, figuring this baby would die, too.
An early birth indeed happened, in Gentry's 30th week of pregnancy, nine weeks before full term. Yet Noah emerged in May 2016 as a healthy 5-pound boy, showing no ill effects from the drugs in his mother's system.
The joyous occasion didn't stop, or even curtail, Gentry's opioid abuse. Noah's father suggested Danielle seek help in a substance abuse recovery program.
Now 24, Gentry has been at the Teen Challenge of Arizona Home of Hope in Casa Grande for 10 months.
Noah, now a bubbly 15-month-old toddler, stays with his mother on weekends and with his father during the week. Gentry says she plans to marry following graduation.
"I was broken when I got here as a grieving young mother," Gentry says. "I assumed no one would understand the extent of my pain."
Yet Gentry says God has healed her heart and is molding her for His purposes. She eventually wants to help Syrian refugees.
SEEING TRANSFORMATION
Director Teresa Logue has been at Home of Hope since 2010. She attends Casa Grande Assembly of God, across the street from Home of Hope. Attendance at the church is mandatory for women enrolled in the 12- to 15-month program. Over and over Logue witnessed the transformation of the women from the time they became residents until graduation. That spurred her to leave her career as a quality supervisor in a high-tech industry company to come work at Home of Hope.
"No woman grows up deciding she's going to be a drug addict, destroy family and friend relationships, and lose her children; women do this as a result of the broken places of their heart," says Logue, 58. "For the most part, if a student stays past the first 30 days, she will make it through the program. Jesus heals those broken places. We teach and disciple so they can be delivered from all the things that bind them and learn to properly parent their children."

Currently, Home of Hope has 33 mothers and 17 children in residence. The center features a beauty salon, arts and crafts room, and library. Women with children have their own living spaces, frequently a modern, furnished studio apartment.
There are no television sets in the facility for moms to plop their children in front of during the evenings.
"We want bonding to occur between mother and child," Logue says. She struggled with addiction as a youth and raised five children as a single mom before marrying a man with four children 11 years ago. Logue has 14 grandchildren.
Before their daily studies, mothers drop off their children at the home's Christian child care center, which is open to the community and can accommodate 100 children up to age 11. The center also provides vocational training for the mothers under a state-certified trained teacher.
Residents choose to live in the facility and agree to comply with program guidelines.

"Most of the young ladies have had tragic events in their lives," Logue says. "A self-evaluation process helps them to drill down and identify the root cause of the addiction."
The center is financed by various private means, including donations from churches and businesses. Implementation of $40 per month individual sponsorships has proven popular, with donors receiving a monthly newsletter written by the resident. Sponsorships have blossomed in part because the women typically visit regional congregations three times a month to share their testimonies.
TURNAROUND FROM TRAGEDY
Shanan Reed can't remember her parents living under the same roof. She does recall moving practically every year with her mom, who repeatedly found new boyfriends. The Illinois native starting taking drugs in sixth grade, initially Xanax after a manic depression/bipolar diagnosis. Marijuana and cocaine followed. After being raped in front of her newborn son at 20, Reed turned to heroin.
The murder of the father of her son triggered further depression, plus half a dozen drug overdoses. Eventually, Reed lost her job, car, house, and custody of her son, Kayne. A cousin's plea for prayer on Facebook on Reed's behalf led to a contact who suggested Teen Challenge.
"I was broken when I came to Home of Hope," says Reed, 26. "Although I blamed God for all my troubles, He kept me alive."
A month into her stay, pastor Chris Holmes visited Home of Hope and prophesied over Reed that the enemy's assignment had been canceled, and the spirit of depression and suicide rebuked.
"Joy spilled into me and I never felt so free," Reed recalls. "I knew it was God, because this man didn't even know me."
Reed has lived at Home of Hope for four months. She regained custody of Kayne, now 5 years old, in September.
LEADING BY EXAMPLE
Sarah Butler, 32, graduated from Home of Hope in September. She is a student services coordinator intern at the facility.
"God has used my tragic story to come alongside these ladies to help them walk through their grief," says Butler, who grew up in Arizona.
That story involves using alcohol and marijuana in her early teens, methamphetamines by high school, and opioid addiction subsequently. A blur of jail sentences and rehab stints dominated early adulthood. Butler met her husband in a court-mandated drug rehab program at the age of 21.
Despite an addiction to pain pills, the married couple held steady jobs, he as a construction foreman and she as a physical therapy clinician. They sent their two children to Christian school.
But then her brother-in-law came to live with the family after release from a penitentiary. Butler, her husband, and brother-in-law all started using heroin. The men burglarized houses to fuel the dependency. Police raided their home in December 2015, and Butler's husband and brother-in-law went to jail. The brother-in-law committed suicide shortly after being arrested by jumping off his second-story jail cell. Her husband, out of jail on bond, committed further crimes and fled from authorities. He killed himself in front of Butler in February 2016.
Butler had lost her automobile, job, home, husband, and custody of her two children. Friends had abandoned her because of the drug lifestyle. Her family prevailed upon her to enroll at Home of Hope. While growing up, Butler's mom always made sure her daughter went to church and youth camp. But Butler says she never made a personal commitment to Christ during her formative years. That changed once she entered the Teen Challenge program.
"I thought my life was utterly over, but God has done a complete heart transplant," Butler says. "I feel joy and purpose again." Within three months of entering Home of Hope, Butler regained custody of Abigail, now 7, and Isaac, 4.
UNUSUAL MINISTRY
Such narratives warm the heart of Snow Peabody, executive director of Arizona Teen Challenge since 1975.
"These mothers would never darken the door of a substance abuse recovery program if they couldn't bring their child," Peabody says. "Most states don't provide any such programs."
Only 11 of the 66 U.S. Missions Adult & Teen Challenge women's centers in the U.S. allow children ages 7 and under to live with their mothers.
Home of Hope, one of five Teen Challenge centers in the state, opened in 2003 in Casa Grande, a growing community of 55,000. A total of 248 women have graduated, and 167 child safety cases have been closed by the state as a result of mothers turning their lives around. Peabody says 35 percent of Arizona Teen Challenge graduates go into full-time ministry.
"I can't highlight enough the importance of this kind of program, which just isn't available elsewhere in the church at large," Peabody says. As the metamorphosis of the women in the program encouraged Logue, Peabody is most inspired by the impact on the kids.
"These poor children have been traumatized, especially if their mother has been addicted for years or living on the street," Peabody says. "Often when the children arrive they are afraid of any adult. But by the end of the program they are loving and smiling."
IMAGE - Those at Home of Hope include (from left) Danielle Gentry, Shannan Reed (with Kayne), Sarah Butler (with Abagail and Isaac), and Director Teresa Logue.