New Leaders Consecrated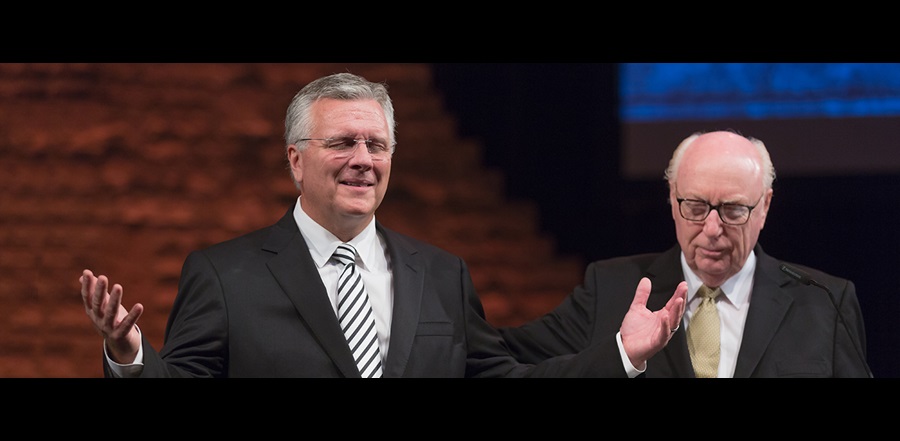 Don't miss any stories. Follow AG News!
Three national Assemblies of God officials, half of the Fellowship's Executive Leadership Team, are working in new positions following a consecration service Tuesday morning in Springfield, Missouri.
Doug E. Clay, 54, is the new general superintendent. Rick W. DuBose, 60, takes over as general treasurer. Malcolm P. Burleigh , 66, is now U.S. Missions executive director. The trio received formal commissioning charges at installation ceremonies.
Clay, a third-generation Pentecostal preacher, becomes the 13th general superintendent in the 103-year history of the U.S. Assemblies of God. George O. Wood retires at 76 after a decade in the post, the fourth lengthiest tenure for a general superintendent. Only Thomas F. Zimmerman (1959-85), Ernest S. Williams (1929-49), and Thomas E. Trask (1993-2007) served longer.
Wood read a commissioning statement to Clay, whose wife, Gail, joined him on the platform.
"You have been chosen to serve in a time of great opportunity and promise, but also a time of great need and challenge," Wood said. "May you use the gifts and talents granted to you by God to lead this Fellowship in a spirit of unity and compassion."
Trask, 81, prayed for Clay to be blessed with godly faith, a spirit of discernment, a tender heart, and courage to be strong in his convictions. Trask also exhorted Clay to keep the gifts of the Holy Spirit operative in the Assemblies of God. After Trask's prayer, a congregant uttered a word in tongues and another interpreted the message, which affirmed God's provision for Clay as general superintendent.
"I understand the need to steward this sacred Movement and this sacred assignment," Clay said in brief remarks after the dedicatory prayer. He revealed he has been praying daily for God's wisdom, discernment, and anointing since his August election.
Noting that the 500th anniversary of the Protestant Reformation occurs this month, Clay said he wondered what a Pentecostal reformation might look like. If he could nail theses on the doors of Assemblies of God churches, Clay said the values would include:
The Holy Spirit is a person, not an it.

The Bible is absolute truth, not just a book full of pithy sayings.

Character matters, regardless of title.

Avoid getting sidetracked, and continue focusing on evangelism, church planting, and compassion ministries.
"We're called to minister to a fractured world," Clay said. "This fracture is a result of being alienated from God. Only Jesus can heal that fracture."
Gospel Publishing House just released Clay's biographical Ordered Steps: A Life Prepared to Lead. In the book, Clay indicates that biblical literacy, including a scriptural understanding of human sexuality, will be among his priorities.
Clay, a graduate of Central Bible College, had been general treasurer since 2008, when he succeeded James K. Bridges. Clay previously served as superintendent of the Ohio Ministry Network (2004-08), senior pastor of Calvary Church in Maumee, Ohio (1997-2004), national youth director (1995-97), and Ohio youth director (1989-95). Doug and Gail Deardorff Clay have been married since 1985. They have two daughters, Ashley B. Grant and Kaylee Frogley, plus five grandchildren.
Clay's father, Art, died of a heart attack when Doug was only 9 years old. His mother, Audrey, now 87, raised him as a single mother while she served on staff of Bethany Assembly of God in Adrian, Michigan.
OTHER LEADERS INSTALLED
Leadership changeovers in the recent past typically have occurred during a chapel service at the Assemblies of God national office. This consecration service, opened to the public and with a broader constituency invited, took place at Central Assembly of God, adjacent to the AG national office.
The 45-minute gathering looked somewhat like a family get-together, with relatives, friends, and co-workers of the officials attending. A majority of executive presbyters and a smattering of district officials from around the nation also turned out, bringing the crowd to around 1,500 people.
Assistant General Superintendent L. Alton Garrison read the charge for both DuBose and Burleigh. Rita Stratton DuBose and Maria Burleigh joined their husbands on stage.
"As a new chapter begins, may you experience the fullness of God's blessing in what God wants to accomplish through you as you are willing to submit yourself to Him and to be a servant," Garrison said.
DuBose arrives as general treasurer — replacing Clay — at the national office after a decade as superintendent of the North Texas District.
Burleigh replaces the retiring Zollie L. Smith Jr., who held the U.S. Missions post for 10 years. Since 2009, Burleigh has been senior director of Intercultural Ministries, one of the seven departments of U.S. Missions.