Night to Shine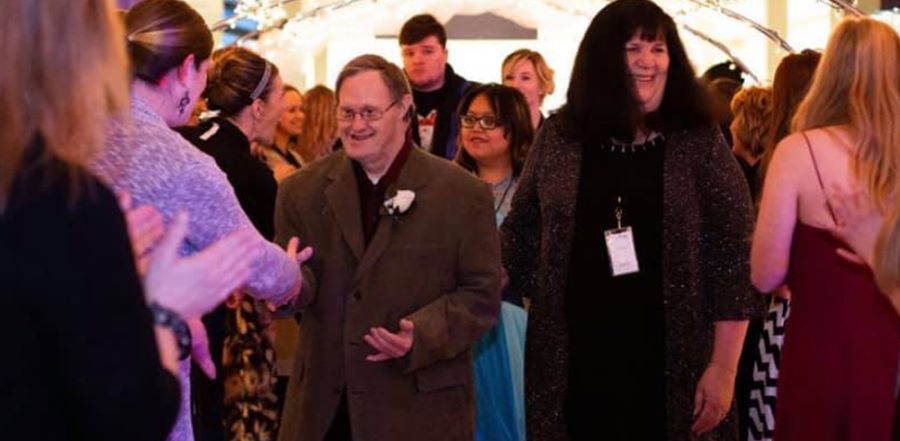 Don't miss any stories. Follow AG News!
Last month,
Bethel Church
in Rapid City, South Dakota, welcomed 230 individuals with special needs at a Night to Shine. A total of 385 volunteers participated in the prom night gathering organized and hosted by the Assemblies of God church.
Guests 14 years old and up, as well as 100 of their parents and caretakers, took part in the second annual church-sponsored event Feb. 8, held in conjunction with the
Tim Tebow Foundation
.
Diane L. Rensch, 54, watched joyfully as her 14-year-old daughter, Molly May Rensch walked down the red carpet in her first pair of high heels.
"She had such confidence," Rensch says. "It's what every parent wants to see their child experience."
Earlier that day, Molly had been so excited about the evening's festivities that she wore her gown to a hair and makeup appointment. For Molly, the highlights of the night included spending time with several of her special needs friends, dancing, and riding in a limousine.
"It really brought a smile to her face," Diane Rensch says. "Molly is already talking about going again next year."
Keith P. Culver, campus pastor at Bethel Church Rapid City, says the church wants to minister to those who may be marginalized in society.
"Special needs people are often forgotten or pushed aside, with the idea that someone else will take care of them," says Culver, 41. Church leaders began looking into creating a ministry for individuals with special needs last year, when 200 people attended the inaugural Night to Shine event at the church.
After seeing the positive impact the event had in 2018, various Rapid City residents rallied around the AG congregation this year to help make Night to Shine possible. Roughly $20,000 worth of services were donated for the February extravaganza. Last year, Night to Shine packed out the church gymnasium, but this year the local mall allowed the church to use the space recently vacated by Sears. A local disc jockey, restaurant, photographers, videographers, and others offered their services for free or drastically reduced rates.
Special needs attendees had personal volunteers to escort them throughout the evening, rode in limousines, wore formal apparel, had hair and makeup treatments, ate a formal dinner, and danced the night away as the stars of the evening.
"It's nice to see the kids that aren't always included in events like prom be included and have an event to call their own," Rensch says. "It makes me very happy that my daughter has her night to shine."
Individuals with special needs weren't the only ones who received first-class treatment during the evening. A respite room for parents and caretakers featured large sofas, comfortable spaces to watch television or a movie, chair massages, lattes, and dinner. Diane Rensch and her husband, Patrick, unwound in the atmosphere.
"Just the two of us rarely do something alone together," she says. "We could relax knowing that Molly was having fun and was in good hands."
Culver says the church not only wanted to treat children royally, but also to give adult caregivers a break. The experience also reinforced the truth to volunteer helpers that everybody is important, he says.
"We get lost in our little bubbles of life and have to look outside ourselves sometimes," Culver says. "So many people need to be cared for. If just for one night we can show them that we love them and God loves them, that can make a difference."