No Greater Story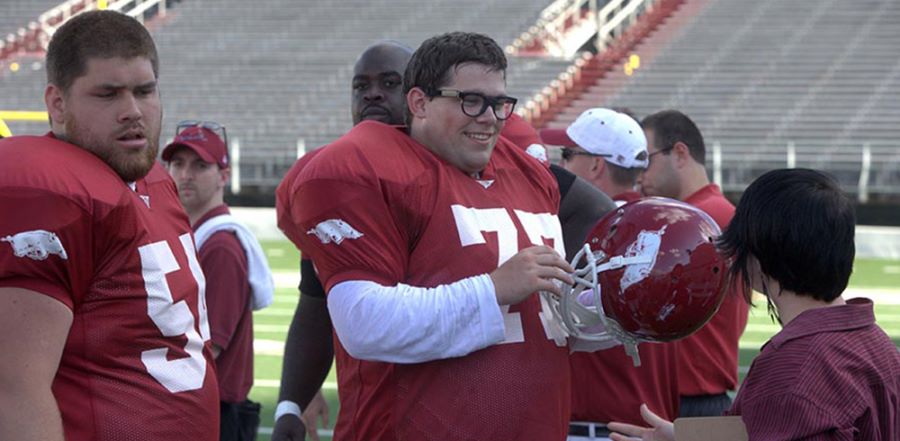 Don't miss any stories. Follow AG News!
All-American Brandon Burlsworth was one of the greatest walk-ons to ever play the game, but not many football fans are familiar with his story.
That will change this weekend, with the release of Greater, an independently produced, PG-rated movie that will premiere in more than 400 theaters nationwide, primarily in the South.
Considerable attention will focus on how a once-awkward small-town kid who attended an Assemblies of God church worked his way into the National Football League draft. But his former youth pastor is more impressed with Burlsworth's walk of faith.
Soon after joining the staff at First Assembly of God in Harrison, Arkansas, Rick Watts baptized the 11-year-old boy. Watts also organized "Super Church," a Sunday School held on Saturdays and modeled after one started by AG Pastor Tommy Barnett.
Burlsworth quickly became a faithful volunteer with the Super Church bus ministry. Over the next four years, Watts watched the young convert grow into a dedicated Christian.
"He was very devoted to what he believed in, which was leading others to Christ, especially children," Watts says. "I don't think he realized that, at the same time, he was becoming a role model just through his faithfulness."
The pastor reconnected after he learned that Burlsworth had earned a scholarship at the University of Arkansas. The news floored Watts because Burlsworth was so uncoordinated.
Burlsworth said he had been inspired by a sermon Watts had preached about Philippians 4:13. Burlsworth had determined that he could do all things through Christ who gave him strength.
Indeed, he went on to become a starting guard, an All-American, and a 1999 third-round draft pick of the Indianapolis Colts. Eleven days later, on his way home to join his mother, Barbara, for a midweek church service, Burlsworth died when his vehicle collided with a semi-truck.
Little Rock, Arkansas, businessman Brian Reindl, founder of Greater Productions, produced the inspirational motion picture. On Tuesday, the company released an updated version of a 2001 book about Burlsworth, Through The Eyes of a Champion.
The movie also received a major boost recently from the Pro Football Hall of Fame in Canton, Ohio. In addition to several screenings, the Hall showed the trailer during early August induction ceremonies that included a concert by country singer Tim McGraw. It is promoting Greater through its website, social media, and other venues.
"Our mission is to honor the heroes, the game, preserve its history, and promote its values," says Hall of Fame Executive Vice President George Veras. "Brandon's life and story do that. That's why the movie resonated with us."
Marty Burlsworth, who formed the Brandon Burlsworth Foundation to honor his brother, calls the gesture an honor. Marty believes Brandon would have gone on to wear the gold jacket bestowed on inductees if he had been able to play out his career.
"When the Pro Football Hall of Fame gets behind you and is excited about it, that's huge," says Marty, CEO of the foundation and a real estate broker in Harrison. "We're extremely grateful and humbled by what they're doing."
Brandon's hometown is joining the excitement. Barbara's home church, Harrison Faith Assembly, showed the trailer at Sunday's services.
While the film will bring attention to the story many Arkansas residents are familiar with, Watts says people should never forget why Burlsworth achieved what he did.
"One time a leader on the team asked, 'What's the secret?'" Watts recalls. "Brandon pulled the Bible off the shelf, pointed it at him, and never said another word. At his funeral, (then-Arkansas coach) Houston Nutt said being around this young man revolutionized his life."