Our Church, Our Family Blessings Continue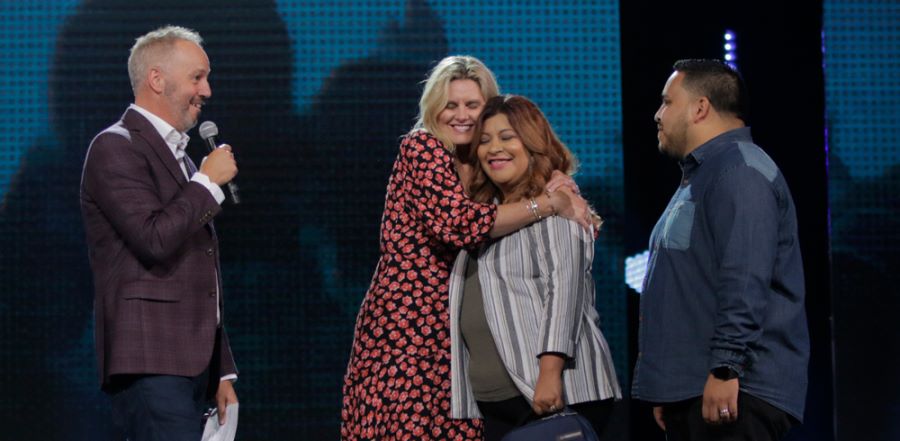 Don't miss any stories. Follow AG News!
ORLANDO, Florida — For the third consecutive night at the General Council being held in the Orange County Convention Center, a member of the Assemblies of God family was blessed with a ministry-enabling gift.

Rod Ketterling, founder and lead pastor of River Valley Church in Minneapolis, introduced George and Rocio Carballo, who are planting a church, Vive Houston, with Church Multiplication Network (CMN).

As a church planter himself, Ketterling listed a few of the challenges church planters can face. His wife, Becca, then presented the Carballos with a backpack that contained a certificate for a two-night stay at the Rosen Centre in Orlando and $250 for the couple to enjoy some time together, compliments of the city of Orlando, the Orange County Convention Center, and partner hotels.

"There's a lot of pressures when you plant a church, we know, we were there," Ketterling said to the Carballos "One of the things you've been living under is the pressure of your college debt. And it's our church, our family and so we've chosen you, for the church here to eliminate your college debt — so you step in without that pressure."

As Ketterling announced the gift, the Saturday-evening audience clapped and cheered as tears of gratitude filled the Carballos' eyes.

"We believe in you, we stand with you . . . we love you," Ketterling said.

An offering was then taken to allow church family members to be a part of paying off the Carballo's school debt and other good things at General Council.