Plea for an Imprisoned Pastor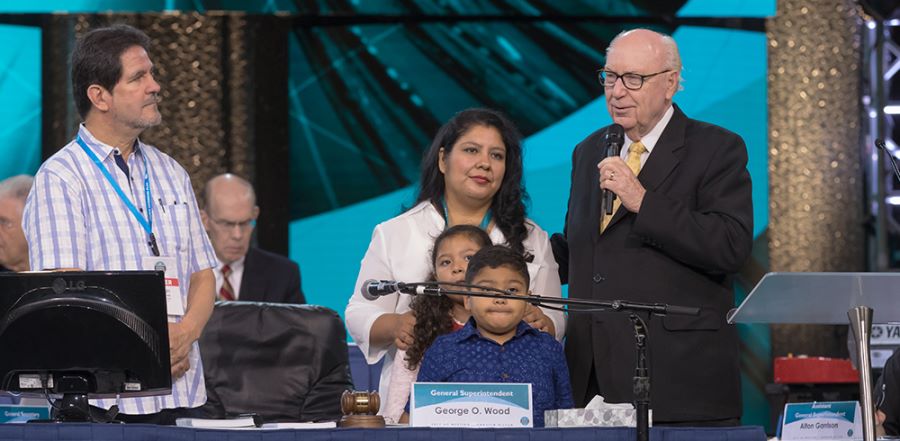 Don't miss any stories. Follow AG News!
ANAHEIM, California — Assemblies of God officials are continuing to seek the release of an immigrant pastor who has been incarcerated since July 24 and faces deportation.
Guatemalan native Noe Carias, 42, pastors an AG church in Los Angeles. He has lived in the U.S. the past quarter century. His California-born wife of 14 years, Victoria, is an American citizen, as are the couple's two children, Nylah, 6, and Abraham, 5.
"My husband is not a threat," Victoria told PE News. "He loves this country and believes in protecting it."
Victoria and Noe met as teenagers at a Los Angeles AG church. Noe converted to Christ at the age of 17.
Six years ago, Noe and Victoria started Iglesia Pentecostal Cristo la Roca de Poder Asambleas de Dios in the living room of their Los Angeles home. The church has grown to 75 attendees, and now leases commercial space. Noe has taken courses through the AG's Southern Pacific District Bible school.
Victoria says when she and Noe first married, they sought legal advice about him becoming a U.S. citizen. However, the path seemed implausible. Attorneys told them that Noe would need to leave the country for a decade before being allowed to return for permanent legal status.
Finally, two years ago, weary of living in fear, Noe started the citizenship process. He obtained a work permit and secured a Social Security number. Subsequently, in 2015 and 2016, the government granted him stays of removal.
But last month federal officials denied his renewal petition for a stay of removal, resulting in his detention — and potential deportation.
U.S. Immigration and Customs Enforcement (ICE) officials contend that Carias is a repeat immigration violator who has assumed multiple identities and nationalities in the past to evade immigration enforcement.
Carias contends the subterfuge stemmed from his desire to track down his parents. He says he was kidnapped by guerrillas in his native Guatemala at the age of 7, and held captive until he escaped at the age of 12. Meanwhile, his parents, believing their son had been killed, fled to Mexico.
Eventually, Carias found his parents in Mexico. He initially entered the U.S. at the age of 13 as an undocumented worker seeking a better financial future. He returned to the U.S. after being deported twice as a teenager to Mexico. The current deportation order stems from 1995, when Carias was 20.
Carias has pending legal motions to remove his deportation orders, as well as a motion to reopen the case.
ASSEMBLIES OF GOD EFFORTS
U.S. AG General Superintendent George O. Wood has been in contact with White House officials seeking the pastor's release.
In a pointed letter sent the day after Noe's arrest, Wood made it clear he views the case as a justice and morality issue.
"This is an unjust situation," Wood wrote. "It also betrays what the president has said about going after criminals who are here illegally. This pastor is as far from a criminal as anyone can be."
Wood found ICE's intention to deport a pastor who has lived in the country for 25 years, is married to an American citizen, and who has two children born in the U.S. to be absurd. Wood suggested the administration disaffecting a base that is aligned on so many pro-life and pro-family issues makes little sense.
"The administration is risking serious erosion, if not complete loss, of support from evangelical Spanish-speaking believers," Wood continued. "It's this kind of mindless, insensitive, and unjust deportation that angers and alienates Spanish-speaking evangelicals."
The issue arose Aug. 10 in a business session of the General Council, holding its biennial national convention in Anaheim. Wood told delegates that the president isn't promoting family values by deporting a nonviolent husband from his American citizen wife.
"I implore this administration to take into account the special circumstances surrounding the case of Pastor Noe Carias, and grant a stay of deportation for him to remain with his wife and children and continue to be a voice of hope in Los Angeles," Wood said.
Nearly 300 AG General Presbyters prayed for Vicky Carias after Southern Pacific District Superintendent Sergio Navarrete invited her to meet with them just before General Council got underway.
Last month, Navarrete sent a letter to ICE officials in Los Angeles, stating that Carias is a pastor in good standing, and has been a faithful and dedicated Christian for 25 years.
"He has shown to be greatly dependable and serves as a great role model," Navarrete wrote.
All 14 AG U.S. Hispanic district superintendents have urged Wood to intervene on behalf of Carias. The U.S. AG has almost 750,000 Hispanic adherents, or 22 percent of the Fellowship's overall attendees. In 2006, the Executive Presbytery adopted an official statement on immigration.
At the beginning of the Aug. 11 business session, Wood introduced Victoria, Nylah, and Abraham Carias to attendees.
"They are the face of what is happening to so many of our families in this country," Wood said.
Victoria has been relying on love offerings to survive. However, Wood, after a brief consultation with AG General Treasurer Doug Clay, announced at the Aug. 11 business meeting that the Fellowship would donate $10,000 to the Carias family. Victoria wiped away tears at the news.
In addition, attendees at the business session took up an offering. Contributors also may give online or on the GC17 app by texting "Carias" to 95577.
Convention delegates also crafted a unanimous emergency resolution to send to the White House, urging the release of Carias from incarceration and requesting he be granted legal residency status. The resolution also calls on the government to release other pastors with no criminal background that are being detained by ICE.

Wood told PE News that in his waning days as general superintendent — his term ends in October — he will continue to increase efforts for the pastor's release.
EMOTIONALLY DRAINING
Victoria Carias and the children are allowed to see Noe behind bars at Adelanto Detention Center periodically, with physical contact limited to a hug and kiss at the beginning and end of visits.
"For my children it is hard emotionally," Victoria told PE News. "They need the presence of their father at home." Nylah snuggled with a miniature stuffed animal and Abraham fidgeted with a plastic tractor during the interview.
"We just want to continue our work in the church," Victoria says. "That's been our whole life together."
Mary Duong of the Los Angeles-based Clergy & Laity United for Economic Justice, has been actively advocating for the Carias family. Duong, whose father is superintendent of the Vietnam Assemblies of God, has been one of many partners helping to raise awareness of Carias' status. SoCal Matthew 25 has been leading these efforts.
Individual congregations in the Southern Pacific District have committed to supporting the Carias family in practical ways for 35 successive weeks. Navarrete says Carias started Bible classes in detention, and 14 people have accepted Jesus as Savior as a result.