RV Volunteering Without the RV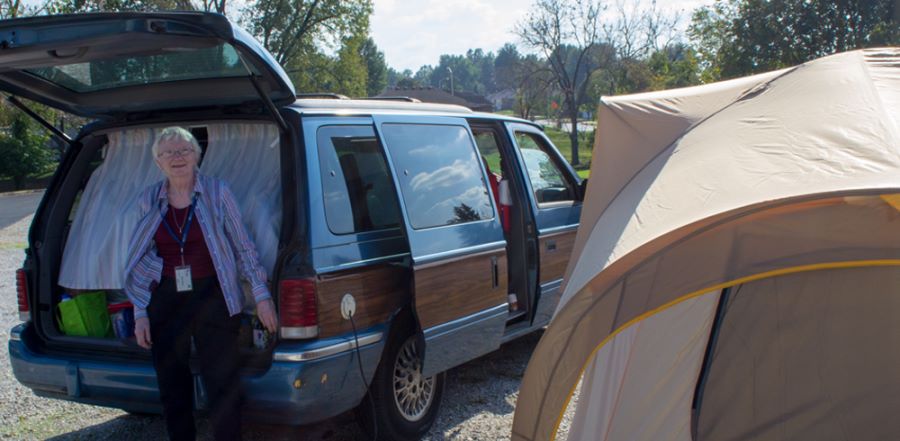 Don't miss any stories. Follow AG News!
Despite failing vision, Eliza Morse's faith held steady.
In 2010, Morse learned she needed cataract surgeries and that she had Fuchs Endothelial Corneal Dystrophy, a degenerative eye disease, which further contributed to her loss of vision.
When surgery became an option, Morse faced the prospect of a total loss of eyesight if it failed.
Thankfully, Morse's surgeries have gone relatively well, although she had five operations in an 18-month period, including cornea transplants, plus another operation in 2014. Three years ago — at the age of 69 — she became an RV Volunteer for Assemblies of God U.S. Missions, and has worked with U.S. Mission America Placement Service (MAPS) ever since.
Morse grew up in Lee, Massachusetts, the daughter of a woodsman. She gained outdoors experience as part of Girl Scouts, Royal Rangers, and National Girls Ministries.
"Camping was always in my blood," says Morse, who nearly had to give up the avocation because of failing eyesight. Yet she kept one prevailing phrase paramount in her prayers that made her vision for the future clear: God is in control.
Over the years, Morse worked as a Christian elementary schoolteacher and church children's program staff member. She also worked for a government program, visiting parents of preschoolers in their homes.
Throughout, she learned to trust God's plan, even when a potential eye surgery could have resulted in blindness. But God continued to allow her to see, and Morse has been active in ministry in an unusual way.
Most recently, Morse drove from her Green Creek, New Jersey, home to Springfield, Missouri, for three weeks of volunteering at Life360 Fairbanks. She conducted grant research, restored exposed brick walls, and prepared the walls for painting. Campus pastor Jeremy Hahn, a U.S. Missions Church Planters & Developers missionary associate, estimates Morse's work saved the church about $10,000 in labor costs. Hahn says Morse showed a special propensity to learn as much as she could about Fairbanks Life360.
Morse is an unconventional RV Volunteer, however, considering she doesn't use a recreational vehicle. She drives a small, 1993 wood-paneled minivan, with no trailer in which to sleep. Instead, she brings along a tent for a kitchen and has converted the third seat of her van into a bed.
The smallness of her living space is evident compared to the luxurious tractor-trailers equipped for over-the-road travel. Yet Morse says her scaled-down accommodations are designed to reduce costs. Morse estimates she spent no more than $500 — including gas — on her three-week venture.
"You don't have to have a big rig, and it doesn't matter how old you are," she says. "Where God leads, He provides."