Reaching the World with Existing Tech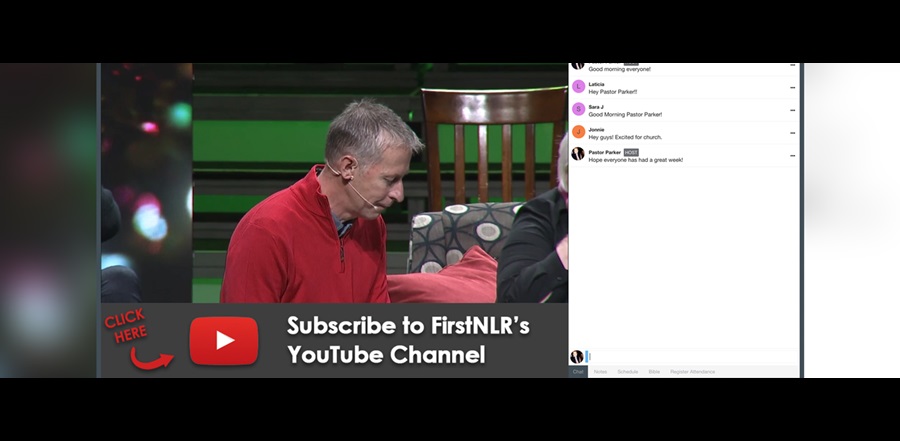 Don't miss any stories. Follow AG News!
The first monitor on Parker Loy's desk shows a weather map of a snowstorm predicted to sock the northeastern United States. The second is opened to Facebook's ad-buying interface targeting cities in the storm's path.
The third displays YouTube, the video-sharing service where First Assembly North Little Rock, Arkansas, also livestreams and archives its sermons.
Loy, First NLR
online pastor
and the son of lead pastor
Rod Loy
, is getting ready for the coming weekend's services. He's discovered that surprisingly inexpensive click-on social media ads (costing one to two cents per click) aimed at people stuck at home due to inclement weather will bring in thousands of viewers, both churched and unchurched.
Since 2015, when the church shifted Parker Loy from pastoring youth to overseeing online ministry, weekend online attendance has grown exponentially from just over 1,000 to approaching 35,000.
No matter the church size, he's convinced the approach First NLR has taken will work. What's more,
Parker Loy
wants to teach others how to do it.
Like most millennials, Loy grew up immersed in high tech that permeates modern society. Computers have been ubiquitous all his life. During ninth grade, his parents allowed him to have a smartphone. Even so, he found a sharp learning curve in the transition to shepherding the online/tele community, which at First NLR now includes five platforms: the
church website
, its app (search FirstNLR in any Appstore), its
main online campus
,
kids online campus
,
YouTube
,
Facebook
, and old-fashioned
television broadcasts
on stations around Arkansas. And through his
blog
, Loy walks churches through the how-tos so others can go and do likewise.
"I'm teaching people from our mistakes," Loy says. "People are seeing the importance of churches doing it right, just simple things that not only grow their church, but also the Assemblies of God and the movement for Jesus."
Loy is helping a church each week, coaching, answering easy questions, encouraging, and simply being available. His blog, with
entries
such as "How to start an online campus with little to no budget," does much of the heavy lifting.
While First NLR has had an online ministry for 10 years, Parker Loy had no prior training for it. He visited conferences such as VidCon, held annually in Southern California since 2010, where he learned from the best in the field. As Loy applied the knowledge — VidCon equipped him with tools he used to launch his weather-map ad blitz — the online campus began to grow. Today, First NLR nearly always has YouTube and Facebook ads promoting the church.
In December, Loy followed the map pinpointing areas where the storm would bring heavy snow and force people to stay inside. He pushed Facebook ads to those markets on Saturday and Sunday. Total cost: $50.
"You might find 10 people not following Jesus who are so bored they might just watch church," Loy says.
The possibilities of promoting online church are endless. He categorizes sermons with descriptor tags such as "peace," "depression," "anxiety," or "alcohol," which enable those doing internet searches to find relevant messages. "Here's how Jesus can speak to the specific thing people are struggling with," Loy says.
Social media is the largest mission field in the history of the world, Loy declares. Paid ads help get the word out, but they're not essential.
"Never have there been more people in one location who need Jesus," Loy says. "There are billions of people using the platforms of Facebook, YouTube, and Twitter and all we have to do to reach those people is to show Jesus from our personal Facebook pages."
JT Espejo, Loy's assistant, notes that English-learners in Mexico comprise a large audience for First NLR as Rod Loy, who preaches most of the church's messages, enunciates well and speaks slowly. The sermons streamed into Mexico include auto-generated Spanish subtitles.
While the church places YouTube ads targeting Mexico, often IP addresses reveal viewers in places nowhere near the reach of the advertisements.
"We'll randomly see people around the world watching," Espejo says. "How do people from Pakistan randomly find First NLR?"
Espejo emphasizes that anybody can use Facebook live to broadcast messages, "although to look good, you don't want to use your iPhone 4 to stream live services because it doesn't reflect well," he says of that older device's camera. Parker Loy says that any current smartphone would work, from iPhone 5 and its equivalent in other mobile operating systems to the latest makes.
"We have the largest mission field available to every one of us, and that's online," which exists almost everywhere, Espejo says. "The goal is to figure it out so churches all over the nation and world can reach the world."