Refueling for Marriage and Ministry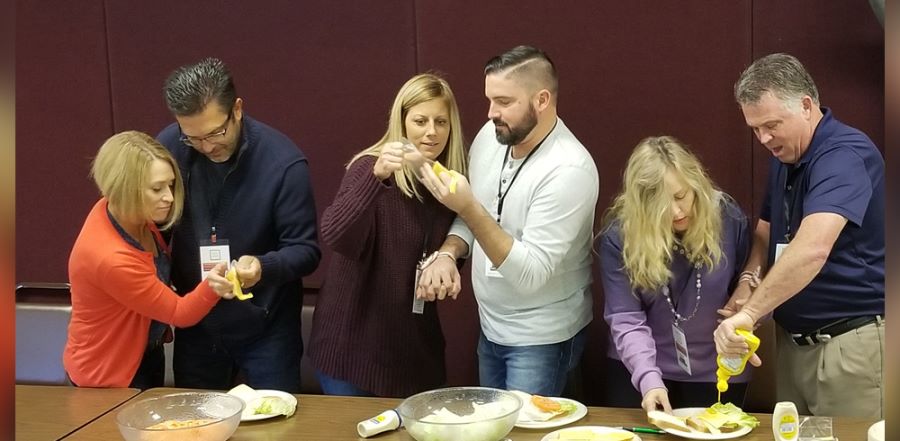 Don't miss any stories. Follow AG News!
ODENVILLE, Alabama — Couples huddle around round tables, pouring their hearts out about the stresses of married life, particularly the rigors of pastoring a rural church. Their concerns are heard by mentors — a married husband and wife who have been in the ministry at least 40 years.

The mentors offer advice not only at the four-day Rural America Ministries Network retreat near Odenville, Alabama, but also agree to stay connected with the couple during the next year.

A maximum of nine married pastor and spouse couples attend the invitation-only retreats. Many are bivocational, meaning getting away for any length of time is a feat in itself. Medical emergencies kept two couples at home instead of attending this late October gathering.

But for those who did attend, the hideaway provided a respite, at least temporarily, from the daily grind of church and family responsibilities. RAM Network picked up the tab for the lodging and meals, and even helped with travel costs for those driving a long distance (AGTrust and several congregations help finance the get-togethers). District/network superintendents are instrumental in recommending potential attendees to RAM Network.

Although the Springville Camp & Conference Center in the foothills of the Appalachian Mountains provides various recreational opportunities, Tropical Storm Olga put a damper on outdoor activities. Nonetheless, many of the married partners found the tranquil setting of a 30-acre lake surrounded by pine trees to be just the ticket to chill out. Often chirping birds or quacking ducks account for the only noise. Participants did manage to squeeze in a lakeside barbecue dinner and campfire before continuous downpours.

MENTORING APPROACH
Wes Bartel started RAM Network in 2017 as a way to invest in the lives of pastors serving in areas with under 15,000 people. Bartel, who notes that around half of U.S. Assemblies of God churches are in rural areas, inaugurated the retreats last year. Three have been held so far.

"Our approach is that healthy homes make healthy churches," says Bartel, 71. "We want this to be an enriching experience, to let rural pastors know they are important." Bartel and his wife, Dianne, have been married 51 years. They drew on their experience pastoring rural churches in four states in supporting spouses at the retreat. A few days away spending time with each other, alone, is rare for some of the busy wedded mates.

Couples attended six sessions on spiritual laws of a healthy marriage, led by Mark and Linda Clementz of Honor Impact Ministries. The Bradenton, Florida-based couple, married 34 years, received training at Southwestern Assemblies of God University, pastored a rural Idaho church, and struggled early on with the ups and downs of matrimony.

At the retreat, mentoring couples do daily devotionals with the younger counterparts, oversee assigned discussions, and commit to pray for the pair for one year after the conference. The mentors also contact the couple monthly and are available for counseling.

"Rural pastors are some of the most dedicated people in our Fellowship," says Jack Strom, a 78-year-old mentor with his wife, Barb. "We believe in the objective of RAM Ministries in helping these couples." The Stroms have been married for 58 years and they still counsel couples at Living Waters Church in Naples, Florida. Jack is a former president of the AG's Trinity Bible College. Ed and Sharon Crawford of Nixa, Missouri, as well as Michael and Debra Sharp of Montgomery, Alabama, also served as mentoring couples.

EXCEEDING EXPECTATIONS
For J.D. Dorton, pastor of Carrollton First Exciting Assembly of God in Missouri, the conference served as an enrichment experience that helped align his priorities.

"I've seen a lot of pastors' lives fall apart," Dorton says. "If it could happen to them, it could happen to me."

LaDonna Hampton, whose husband, Brandon, pastors Hannibal First Assembly of God in Missouri, says the content of the Scripture-based seminar pleasantly surprised her.

"I like the honesty of the stories they tell," Hampton says. "It hits home not only with us, but with the people we work with. I'm glad it's not about being the perfect wife."

Alisha Harding, whose husband, Shawn, pastors Caruthersville First Assembly of God in Missouri, likewise found the conference to be more useful than some others she's attended in the past.

"I enjoyed the opportunity to immediately have discussion and put what we learned into action," Harding says. "Mentors further applied the concepts to our situation and the big picture."

The event also featured fun activities, such as a Newlywed Game-type contest in which husbands must determine answers to questions such as their sequestered wife's favorite color and describe what outfit she is wearing.

"It's important to know the state of our flock, but it's just as important to know our spouse," says David Overstreet, pastor of Whitney Lane Family Worship Center in Kensett, Arkansas.

Through it all, husbands and wives felt free to vent about depression, disillusionment in ministry, and disappointment in each other.

The Stroms spoke in a powerful session about how Jack's adultery in 1991 nearly derailed their marriage. Jack went through a three-year rehabilitation process to regain his ministerial credentials. For every night during the past 28 years, the couple has recited 1 Corinthians 13 to each other.

"The one I hurt the most is the one who helped me the most," Jack said.

"The one who hurt me the most became my biggest healer," Barb said.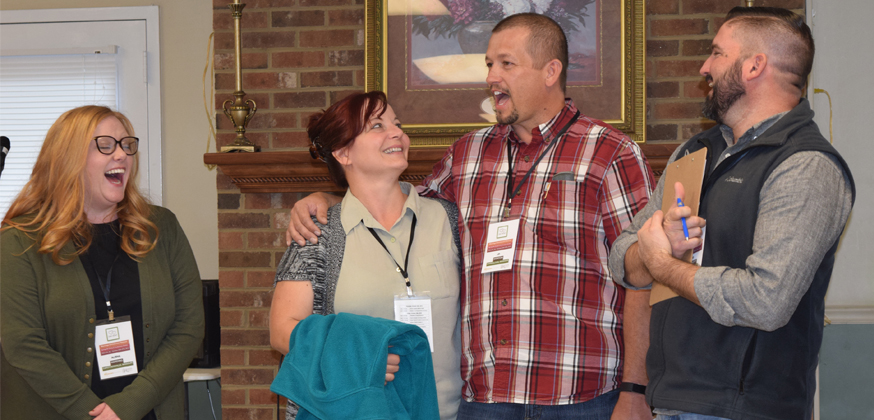 Lead Photo: Married couples (from left) Lisa and Karl Alspach, Kim and David Overstreet, and LaDonna and Brandon Hampton learn to work together by making sandwiches with one hand.
Bottom Photo: Shelly and J.D, Dorton (center) react to a "Newlywed Game"-type of activity at the retreat as Alsiha Harding and David Overstreet look on.