Respite from the Deep Freeze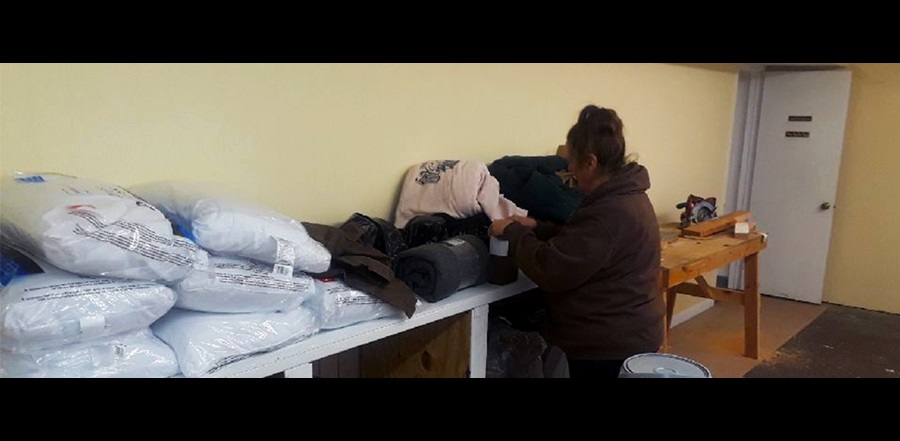 Don't miss any stories. Follow AG News!
When freezing temperatures seized the East Coast in December and January, homeless residents of Toms River, New Jersey, found refuge in local churches, including First Assembly of God, that had created "warming centers" in response to 2017 legislation allowing nonprofits to operate overnight emergency shelters.
More than 100 people over the course of a month found a safe place at First Assembly's converted lower level to sleep, eat dinner, and relax away from the deadly weather.
"The homeless situation in Ocean County was a growing problem, and it was time for us to answer the call," says Pastor Paul Gifford, 41, about the establishment of the center. "I knew that part of our mandate was to be a place of love and warmth for people."
Gifford and Paul J. Hulse, 38, director of operations for the nonprofit HAVEN/Beat the Street, which supervises the shelter, had been teaming up for three years to bring sandwiches to homeless men living in the woods, and hundreds of coats to the homeless in nearby Atlantic City. When New Jersey created its Code Blue project in May 2017, Gifford and Hulse saw an opportunity to do more.
"We knew we had to act," Hulse says.
An unusually long cold snap threatened lives up and down the coast, including in this seaside community of around 92,000 people.
"Everybody's coming in from tents, abandoned buildings, alleyways," says Hulse, speaking from the shelter as people arrive seeking warmth. "One guy called and said he had his propane heater on in his tent to survive, and it's still like an ice chest."
Jeff, 53, who did not want to give his last name, has been living in a nonfunctioning car in a hotel parking lot. A police officer pointed him to First Assembly's warming center.
"Rather than wander around outside, I came here," Jeff says. "I've eaten as good as I've ever eaten, and everybody's so nice. It's really life-affirming."
With the thermometer dipping below zero, staying overnight in his vehicle no longer seemed viable.
"I absolutely thought there was a possibility of something real bad happening, because it was so cold," he says. "I'd get an extra blanket around me, and an extra jacket, which wasn't cutting it, as brutal cold as it was."
John, 41, who also preferred not to give his last name, spent multiple nights at First AG's warming center. He had been sleeping in his automobile, waking up throughout the night to run the heater. He worried at times he wouldn't wake up.
"Someone froze to death not far from here," he says. John wanted help, so he called the Code Blue hotline and found First AG.
"I had to humble myself because I never had to do this before," John says. "If it wasn't so unbearable, I would have just toughed it out. They welcomed me with open arms, even though they didn't know any of us from a can of paint. The people, the warmth, the food, everything here is great."
Overnight residents are background-checked, then led downstairs to their assigned cot. In a common room they eat, socialize, watch television, and play board games. They also can clean up and shave. Dinner is served at 7 p.m. — chicken thighs, homemade macaroni and cheese, rolls, and salad on a recent night. Up to nine "clients" stay per night, with half a dozen volunteers. Men and women sleep in separate areas.
First AG was well positioned to serve during the crisis. Gifford, lead pastor since 2010, says Superstorm Sandy in 2012 "catapulted us into our destiny of serving and embracing the community." The church partnered with Convoy of Hope to bring tractor-trailers of supplies, and became a distribution center for the Red Cross and the Federal Emergency Management Agency as well.
Since then, the church of 300 adherents has opened a food pantry and thrift store.
Before accepting Jesus as his Savior, Gifford himself was a homeless drug addict for two years before enrolling in a U.S. Missions Adult & Teen Challenge program.
"I slept in alleyways, bus and train stations, abandoned buildings," Gifford says. "It was a terrible situation."
At Zion Bible College (now Northpoint Bible College) he met and married his wife, Deena. They have three children. Last week, Gifford and one son slept over at the warming center and played board games with the men there.
The warming center offers more than short-term help. Several people have decided to follow Jesus, says Gifford. Others went to social services offices for assistance, and one woman gained acceptance into a Teen Challenge center in New York.