Returning Ever So Slowly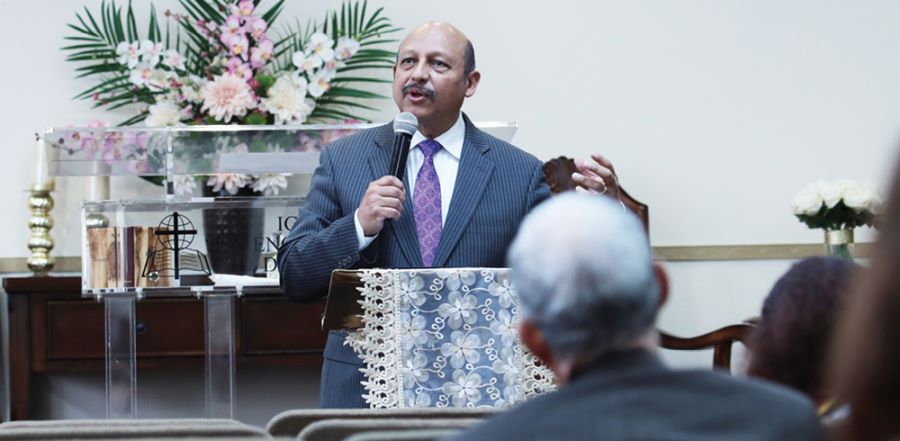 Don't miss any stories. Follow AG News!
First of two parts.
The area hardest hit by COVID-19 in the Assemblies of God is the Spanish Eastern District, where seven ministers have died from complications related to the novel coronavirus.

Spanish Eastern District Superintendent Manny A. Álvarez Sr. recovered after being sick for two weeks in late March and early April.

"Any of us could have been under the ground with this virus," says Álvarez, 61. "We've lost a lot of soldiers, but we haven't lost the war."

Álvarez recuperated at home and suspects the antibiotics still in his system from an earlier bout of bronchitis may have aided in his recuperation. Even so, he suffered with chills, fever, stomach pain, and anxiety attacks that he never experienced before. He lost 17 pounds during the ordeal.

"The virus weakened my whole body, even my bones," says Álvarez. "I felt tired much of the day." By Easter, however, Álvarez felt well enough to record an encouraging video ministry message on Facebook.

However, since the pandemic hit, pretty much all district functions have been canceled, from camp activities to the district convention. Via snail mail, ministers in the district approved resolutions to extend the tenure of the executive leadership team, presbyters, and departmental leaders.

"We've had to find a different way of leading," says Álvarez, who has been district superintendent for seven years. "Seminaries and Bible institutes don't really prepare you for how to lead in a pandemic."

Virtual communication is in vogue for the district and its 498 churches, with plenty of meetings held via Zoom and Facebook. The district, headquartered in Old Tappan, New Jersey, stretches from Maine to Tennessee and encompasses 16 states plus Washington, D.C. All travel and events have been canceled at least until September. The district office has been open daily since June 15, with the staff reporting to the office twice a week and working remotely from home the other three days.

At some point, Álvarez says 99 percent of AG churches in the district closed due to government orders. The district superintendent is exhorting pastors to follow guidelines before reopening, including keeping distance between congregants and wearing masks.

"We're not angels, we still need to take precautions," Álvarez says. "That's not a lack of faith. People must remember they can get sick from close contact, and our people love to hug and kiss."

Seven ministers in the district have died, including five serving as pastors:

— Cesar B. Cruz, 43, Iglesia Cristiana El Redentor, Jamaica, New York
— Arturo Requeno, 73, Igelsia Cristiana Segunda Siloe, Yonkers, New York
— Antonio Espino, 47, Iglesia Cristiana Restauracion, Ardsley, New York
— Mauricio J. Tapia, 64, 2nda Iglesia Pentecostal, East Windsor, New Jersey
— Fernando Gomez, 73, Genesis Assembly of God, Westbury, New York

Álvarez says the congregations are carrying on virtually, with spouses, interim pastors, and district presbyters handling preaching duties.

In addition to the pastor deaths, 80-year-old retired minister Norma Jackson succumbed in a New York nursing home, while 55-year-old certified minister Milca A. Hernández, whose husband David Hernández is pastor of Spanish Assembly of God in Long Branch, New Jersey, also died from the coronavirus.

Some district ministers continue to struggle with COVID-19, but Álvarez reports two long-serving pastors have emerged from lengthy hospitalizations.

David Mercado, pastor of Coney Island Tabernacle in New York for 49 years, is still rehabilitating more than 100 days after being infected with the disease. He spent 88 days hospitalized, part of it in a coma, with collapsed lungs and failed kidneys.

Rafael Olavarria, pastor of Iglesia Misionera in Brooklyn, New York, for 37 years, also is on the mend after 77 days of hospitalization.

"It will be some time before we fully recover," Álvarez says. "I hope there never will be a crisis worse than this."

Next: The near-fatal fight of two pastors.