Ross Calls Church Family to Live in Jesus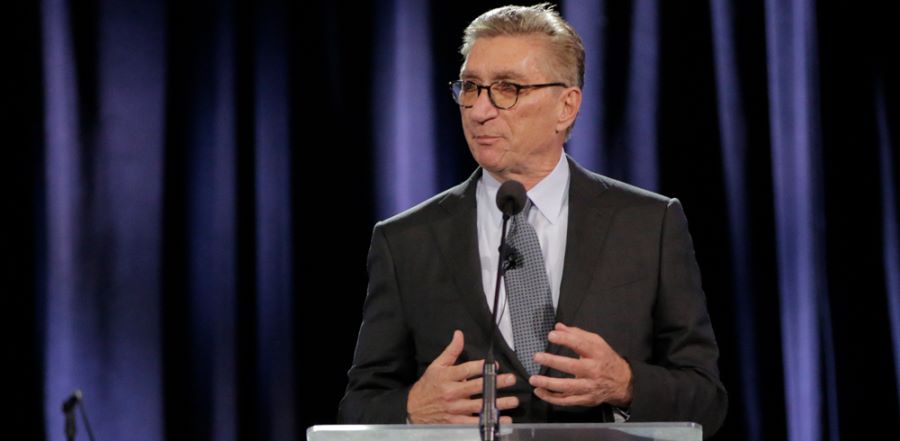 Don't miss any stories. Follow AG News!
ORLANDO, Florida – Filling the hearts of those attending the Sunday morning General Council service with hope and a fresh understanding of Scripture, Randal Ross, the lead pastor of Calvary Church in Naperville, Illinois, shared about Paul and his powerful words to the Philippians, "For to me, to live is Christ and to die is gain (Philippians 1:21)."

As the scroll of the names of the more than 860 ministers who have passed away since the last General Council scrolled on the video screens on either side of the platform, Ross read Philippians 1:19-21, explaining that verse 21 was Paul's purpose statement — his passion, what he lives for.

Ross explained that in the hard times, like Paul was experiencing, "you're going to need to remember what you are, who you are, and why you're doing what you're doing."

Paul's words, "to live is Christ" is the very heart of Christianity, Ross said, and when it comes to ministry, if Jesus is placed in the right place everything else works well; get Jesus out of the right place and nothing is going to work.

Sharing how that even though Saul was highly educated and regarded, he was frustrated because something was missing. "He's going out to kill Christians because sometimes you start hating people who are different than you."

But Saul's encounter with Christ on the road to Damascus turned his life around and gave him purpose. From that point Saul, now Paul, wrote nearly two-thirds of the New Testament and spread the gospel of grace through faith throughout the world. Ross said Paul's words explained how he was able to do all that — he believed that Jesus is life.

"Sometimes we make the mistake that the first step you do is live for Jesus," Ross said.

Ross then shared the testimony of his young life. As a teen, he turned his back on God. He entered college, majoring in pre-med. He started doing LSD and it took over his life. But then he overdosed and couldn't come down – he couldn't separate real from unreal. He called his father, a Teen Challenge director at the time, to come get him. After he was home, he decided to commit suicide.

"Something just said kneel down. I knelt down . . . and said, God if you are who you say you are you do something right now . . . the Holy Spirit came in, my mind went totally back to normal, and I found Jesus inside, the joy and love of Jesus overwhelmed me." Ross became a fanatic for Christ.

"I discovered something then . . ., I can't live for Jesus by myself," Ross said. "As hard as I try, I'm not good enough, I'm not smart enough, I'm not religious enough — the only way I could exist is to abide in the Lord Jesus Christ. Because Jesus is not just Savior or Lord, Jesus is life."

Ross says that sometimes Christians are concerned about selling out for Jesus because they're afraid they can only love Him, but that's not what the Bible says — place Him first. When you do, you become a better person to those around you.

"When Jesus is living inside of you, His life flows and everything starts happening that you've been working in the flesh to get done," Ross says. "To live is to live in Jesus Christ!"

Ross then challenged the audience to finish the sentence, "To me to live is . . ." He said money, family, ministry all don't survey the test — if you have anything but Jesus, you're making a mistake because Jesus doesn't take; He gives.

Moving to the second half of Paul's life purpose, to die is gain, Ross explained that means: life now, better life later.

"Heaven is the most misunderstood doctrines in the church today," he stated. "If you take the future out of Christianity, you don't have Christianity."

Ross went on to share how that heaven — standing before God and being welcomed — is the future, though Paul doesn't say to "hurry up and die" because God still has things for people to accomplish.

"But we see and we know some day something great [heaven] is going to come," Ross said.

Ross then shared a story of when he conducted his father's funeral how a woman told him of a vision she had — she saw his dad dancing with Native Americans, happy and excited to be in the presence of God. What the woman didn't know, is that for years, Ross' father had supported missionaries to Native Americans in Oklahoma.

"The Bible says we have not seen, we have not heard those things He's prepared for us," Ross said.

As Ross shared a final story of how Jesus revealed in a dream the joy of presenting gifts to Him on that day, he pointed to the scrolling names on the video screens and said, "One day, when I'm on this screen, I want you to think that is the best day of my life, and the greatest reward and greatest honor I will ever have will be Jesus was in it all."

Closing in prayer, Ross prayed for those who lost loved ones, praying for God to fill hearts with joy and peace.

Following a time of worship, General Superintendent Doug Clay led the congregation in communion. Clay also let those in attendance know that the morning's offering will be distributed to AG schools to use as scholarships to assist students whose parent is a widow or widower.
To watch the full Sunday morning service, see the General Council website.