Seeking to Diversify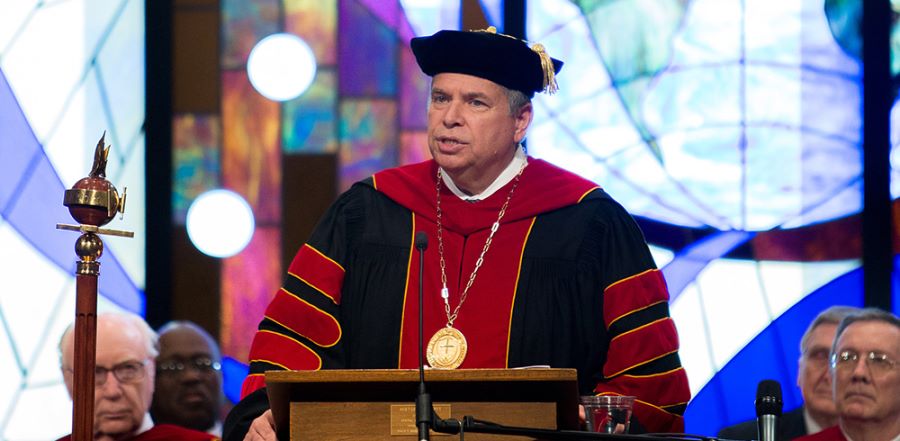 Don't miss any stories. Follow AG News!
Assemblies of God Theological Seminary President Mark A. Hausfeld is emblematic of the type of faculty who are teaching and, he hopes, the caliber of students who are studying at the Springfield, Missouri, school.
The former Assemblies of God pastor, church planter, and missionary believes the seminary provides comparable opportunities as when he attended in the early 1980s.
"That same ethos, pathos, and logos has continued," Hausfeld says. "This school is still about equipping women and men to be effective ministers and missionaries."
Hausfeld is nearing the end of his first year leading the AG seminary, succeeding Byron Klaus as the sixth president in the school's 43-year history.
In the future, Hausfeld expects AGTS to draw more students from the evangelical world at large, as well as from the nonwhite Pentecostal world. Beyond the economic necessity of diversifying, Hausfeld says many evangelicals are hungry for more of a Spirit-filled life.
"They recognize the Assemblies of God and this school are distinct because of what we teach about the Person and work of the Holy Spirit," says Hausfeld, whose seminary office bookshelves are stuffed to the brim. "We are a Pentecostal seminary, with a correct biblical theology of the Holy Spirit, and they want our pneumatology."
Hausfeld, a native of Dayton, Ohio, says enrollment personnel at AGTS are working hard to make the student body look more like the Fellowship overall. Currently just 15 percent of the 327 students enrolled are ethnic minorities, compared to church adherents who are 42.5 percent nonwhite.
"We want to diversify the faculty," Hausfeld says. "More students of color will come when they see different races and ethnicities represented."
As such, Hausfeld says he is working to build relationships with the AG National Black Fellowship and the Church of God in Christ, the largest traditionally black Pentecostal denomination in the U.S. AGTS recruiters also are in regular contact with representatives from the AG's 13 Hispanic districts.
Hausfeld is active in various roles at the seminary, wanting to keep engaging with students and potential students. The onetime church planter served alongside Spencer Jones of Southside Tabernacle Assembly of God in inner-city Chicago continues to teach an intercultural urban ministries course that includes a weeklong intensive in the Windy City.
He also oversees a contextualized theology course, where his background as an urban church planter and pastor in a multiethnic context, as well as pioneer of Teen Challenge in Pakistan, comes in handy.
And the years he spent as Central Eurasia area director for Assemblies of God World Missions assist his doctoral level instruction of an evangelism, discipleship, and church planting class.
Various AGTS professors have similar backgrounds in both leading churches and being on the mission field.
"Our greatest strength is our scholar practitioners," Hausfeld says.
In every phase of ministry, Hausfeld has been assisted by Lynda Lestarjette-Hausfeld, his wife of 32 years She is an AGWM missionary leading Say Hello: Serving Muslim Women. Lynda, a missionary kid who grew up in the Dominican Republic, heads the initiative, which encourages Christian women to develop redemptive relationships with Muslim women.
Mark Hausfeld continues to direct the Center for Islamic Studies, which he founded at AGTS. Focusing on interacting with Muslims will be a priority during his tenure leading the seminary, Hausfeld says.
"We want to be about engaging the world with the gospel," Hausfeld says. "We want to see world changers graduate from here."
Hausfeld contends Springfield is a great place for AG students because AGTS is a mere two miles from the AG National Leadership and Resource Center. Seminarians can regularly interact with the Fellowship's executive leaders, as well as missionaries, church planters, and international AG leaders who stop in the city, he says.
"In the realm of Pentecostalism, this city is really a Rome that all roads lead to — a hub more than any other school in the country," Hausfeld says.
Still, Hausfeld recognizes the changing dynamics of education. By the fall of 2017, students will be able to study online for a Master in Theological Studies, a Master of Pastoral Leadership (with a required hybrid face-to-face learning cohort), and a Master in Christian Ministries.
"Nothing beats the classroom experience as far as learning goes," Hausfeld says. "However, we want to create venues where people can get an online degree from AGTS."
Hausfeld credits his parents for providing a strong home environment that led him into ministry. His mother, Phyllis, brought her young son to what is now Bethel Christian Assembly of God every Sunday morning, Sunday night, and Wednesday night, where he made a decision to follow Christ while in Royal Rangers. However, by the time he reached high school, Hausfeld preferred to drink alcohol rather than go to church. At his mother's persistence, he relented and agreed to attend the first night of a revival service. The evangelist called the 15-year-old boy out from the back row and pressured him to sit up front.
"That night I was totally broken before the Lord," Hausfeld recalls. The following night he was baptized in the Holy Spirit and a month later called into ministry. At the invitation of his youth pastor at West Carrolton Assembly of God, Hausfeld decided to attend Evangel University in Springfield, Missouri, in 1975.
Hausfeld's father, Bob, a newspaper pressman, worked overtime to save money so his son could attend Evangel. His father, although not a churchgoer, paid for his entire undergraduate education and also helped him financially to obtain his Master's in Divinity from AGTS. Hausfeld earned his doctorate from Northern Seminary in Lombard, Illinois.