Serving All Ages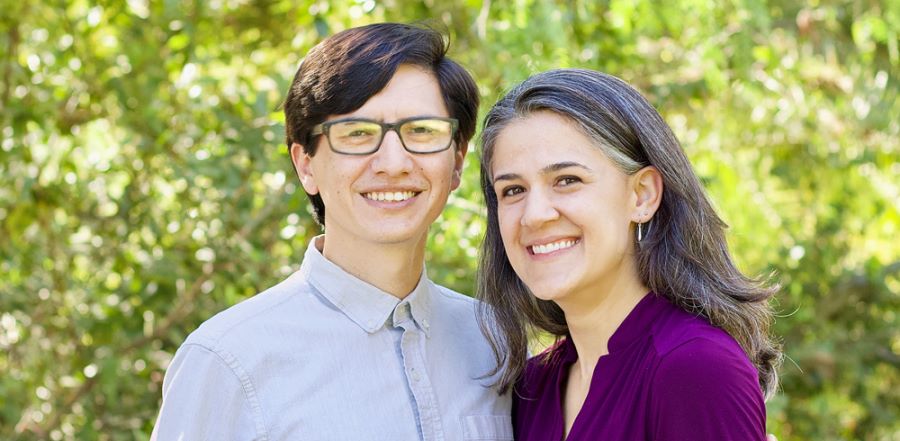 Don't miss any stories. Follow AG News!
Marc A. Madrigal's road to ministry with
Church Mobilization
in Winston-Salem, North Carolina, has been long and winding, but he values each step along the way.
Madrigal
, a California native, attended the University of California-Davis. Though already a Christian, he learned about the gifts of the Holy Spirit through
Chi Alpha
campus pastor and U.S. missionary
Will A. Klier
. Through the
Chi Alpha Davis Fellowship
, Madrigal got to know his future wife,
Semra
.
After graduation, the couple in 2008 completed Chi Alpha's
missionary in training internship
in the Assemblies of God
Northern California-Nevada District
, received ministerial credentials, and became U.S. missionary associates. Married the following year, they continued serving at UC-Davis Chi Alpha and then moved to the Chi Alpha at the University of California-Berkeley. They remained on the campus for eight years.
"Berkeley was a tough place, with all sorts of people," says Madrigal, 35. "There was a big protest every semester, always something different."
While at Berkeley, the couple rented a large house and sublet rooms to international students. They hosted dinners and Bible studies in their home and got to know students from all over the world and from all walks of life.
Following a year with
Chico State Chi Alpha
, the Madrigals traveled to North Carolina to serve with
Triad Chi Alpha
, on a team dedicated to planting chapters on three campuses in the Winston-Salem area.
As Madrigal learned more about Winston-Salem and its high child poverty rate, he began to look for ways to help. At the end of 2019, the couple applied to serve with Church Mobilization, one of the
seven departments
of AG
U.S. Missions
.
"I knew in my heart I needed to learn how to be more involved in serving the community," Madrigal says. "I wanted to help bridge the gaps between the churches and the people."
Madrigal's new ministry began to take shape after he met with
Chuck W. Spong
, executive director of
Love Out Loud
, a nonprofit organization designed to connect leaders and resources to meet the needs in the city. Spong started the ministry while he served with
Winston-Salem First Assembly
under then-pastor
Mike L. Rakes
.
When COVID-19 arrived in 2020 and the city's schools shut down — leaving many children without necessary meals — Love Out Loud partnered with local pastors and a food bank to coordinate 14 emergency food sites across the city where families could pick up meals. Madrigal served at one of the sites near his home, and started working with other food distribution networks in the city through food pantries and churches.
Though Semra still helped when she could, she stepped back during the coronavirus pandemic to care for the couple's three young daughters, one born the previous fall. When schools went virtual, she started home-schooling the couple's kindergartener and second-grader. Over Christmas, a home-school group she participated in provided personal care packets for families in the food ministries living in difficult situations.
Housebound seniors then came to Madrigal's notice. Funds provided by the city helped him organize and coordinate volunteers to deliver food or prepared meals to the elderly. Many of those who had been previous recipients became volunteers along the way.
"It's empowering when the people receiving become the volunteers," Madrigal says. "It helps to build the community spirit."
Recipient-
turned-volunteer Carol E. Benton developed a friendship with Madrigal. They met in March 2020 when she came to a giveaway. She appreciated how he handled the drive-through, stepped in to help and not just supervise, and treated everyone with respect.
"He always pays attention and helps each person get what he knows they will need or want in their box," says Benton, 73. "He cares and it shows."
Madrigal has participated in other Love Out Loud ministries, including "Cycle Recycle" in which 87 families received refurbished bicycles. This month, he began representing Love Out Loud as the organization partners with the
CityServe
North Carolina affiliate-in-progress location at
Renaissance Church
in High Point. Food boxes are being distributed to families and seniors, especially households with health or transportation barriers that keep them from coming to regular food pantries. He also still serves in a pair of neighborhood food pantries registering families and coordinating volunteers.
"Many people I work with have had their trust broken numerous times over the years," Madrigal says. "Listening deeply and earning trust is the most important thing I can do to be like Jesus to my neighbors and make a difference."