Shattering Female Stereotypes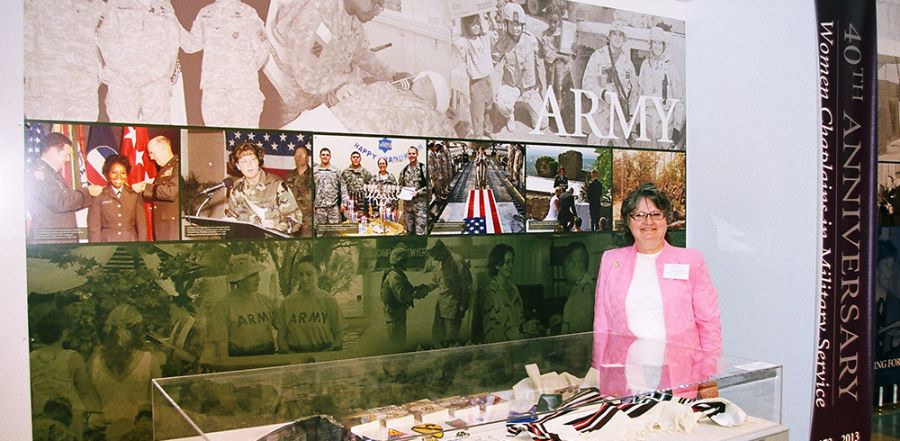 Don't miss any stories. Follow AG News!
When Priscilla A. Mondt told her father on her 18th birthday that she wanted to join the military, he didn't react with enthusiasm. After a lengthy pause on that 1974 day, Priscilla pointed out that her mother Hazel -- Glenn's wife -- had served in the Army in World War II. However, Glenn Elwin Mondt didn't accept Priscilla's decision until she graduated from seminary and became ordained and endorsed as a chaplain.
For more than 40 years, simply because of her gender, Mondt has been overcoming similar attitudes that she really shouldn't try to change the status quo. Along the way, she became the first Assemblies of God female Army chaplain, the first female chaplain of any denomination to be a part of the 82nd Airborne Division, the first AG female paratrooper, and the first woman AG Veterans Administration chaplain.
"There was a time that I believed I was called simply to fill the ranks," Mondt says. "But I began to step into what God had for my life, to boldly address the belief systems within the Assemblies of God that lead women -- and men -- to marginalize God's calling on a woman's life."
Mondt, with her mother's approval, actually joined the Army at 17 in a delayed-entry program.
In her Army career, Mondt deployed to Saudi Arabia, Kuwait, Germany, South Korea, Haiti, and Iraq -- twice. A lot of men who initially doubted Mondt's place changed their minds when they saw the permanent badge on her uniform from foreign paratrooper jumps during Operation Desert Storm and Operation Iraqi Freedom.
In 2003, she was awarded the Bronze Star for combat valor and in 2005 she received the Legion of Merit.
In addition to leading Bible studies, conducting counseling, and advising on spiritual matters, Mondt chose to accompany recruits and soldiers on training drills and exercises that had a clear and present danger.
"If the chaplain is there in good times and bad, recruits believe God will be also," Mondt says. "They become much more open to allowing God in their lives when chaplains are with them during their most vulnerable moments."
Mondt learned to smoothly navigate the ongoing tension between being a chaplain and a soldier. She never forgot how to do either job.
"I made a commitment that I would always be able to minister first," Mondt says. "But it's imperative that a chaplain understands what a soldier does, for survival, especially in combat. When I came underneath fire, I had been very well trained on how to react and maneuver in that situation."
After her second tour of duty in Iraq, Mondt figured she would leave the running, jumping, and dodging bullets up to younger soldiers. Her degenerative arthritis made being an active duty soldier difficult, and she retired in 2005 after 31 years in the Army.
With encouragement from then-AG Chaplaincy Director Lemuel McElyea, Mondt established the Hazel Marsh Mondt Scholarship at Assemblies of God Theological Seminary as a way to invest in the next generation of female leaders. The scholarship is in memory of her mother, whose service in World War II was classified. In 2007, Mondt started sponsoring a scholarship at AGTS, where she obtained her master's in divinity. The award is designed to groom women pursuing leadership roles in the military chaplaincy or VA.
In 2010, the benevolent Mondt also began financing full scholarships at Native American Bible College in Shannon, North Carolina, for a female AG student or any veteran demonstrating leadership.
Mondt certainly has been an inspiration to others. She knows of five people who became chaplains because they read her story in a departmental tract. One of those is Lisa Northway, who contacted Mondt in 1989 while the chaplain served in Operation Desert Storm. The two corresponded for years, while Northway finished her education, married, had a son, and served on Christian university and pastoral staffs.
Mondt warned Northway that the chaplaincy road would be difficult because some in the church and in the military would question her qualifications due to her gender.
Northway, who considers Mondt a mentor, became an AG Army chaplain in 2005, and has been deployed to Iraq.
"She didn't have anybody go before her the way she did for me," says Northway, who was promoted to major in 2014. "By the fact that she existed I realized I could do it. She is a legend."
In her current role as chief of chaplain services at the Veterans Affairs Medical Center in Fayetteville, Arkansas, Mondt is responsible for a comprehensive spiritual care program meeting the needs of 55,000 veterans and their families. As with all VA hospital chaplains, Mondt holds services and study classes, preaches, administers Communion, conducts funerals, counsels, and serves as a liaison between the hospital and civilian community.
In 2013, Mondt was honored in a White House ceremony as a "Women's Veterans Champion of Change."
Mondt isn't sure that veterans returning from Iraq and Afghanistan have fared all that much better than those coming back from Vietnam a generation earlier.
"There is a lot of great intention of 'let's support our veterans,' but not a lot of follow-through," Mondt says. "I tell Vietnam vets to put their arms around those guys coming back now and don't let them have 20 years of estrangement from society like they did."
Battles, physical and psychological, profoundly impact the participants, Mondt says.
"Just being exposed to the challenges of war creates a hole in the soul that affects every warrior, regardless of specialty," Mondt says. "Chaplains attend to wounds of the soul not visible to the human eye."