Sing unto the Lord a New Song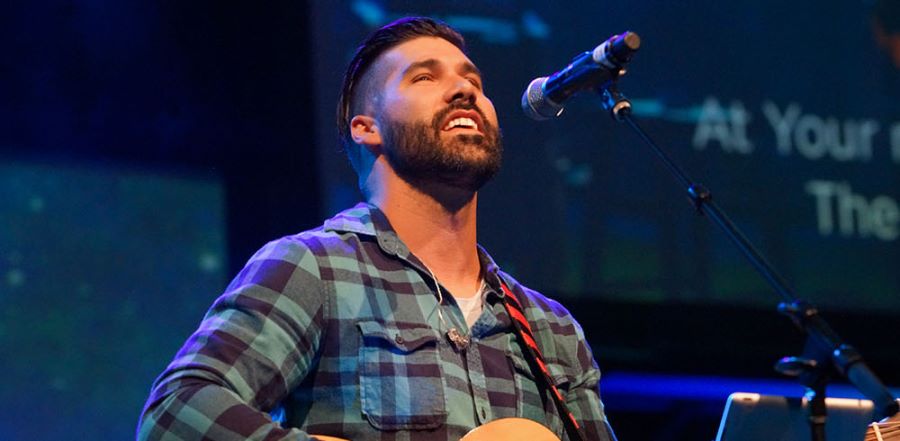 Don't miss any stories. Follow AG News!
At the age of 13, Kurtis Parks began leading worship at the church where his father pastored. At 22, he made the final 50 cut for American Idol. By age 27, Parks started directing worship at National Community Church, (NCC) eventually overseeing 150 musicians and singers on eight campuses of the Assemblies of God megachurch led by Mark Batterson in Washington, D.C.

Last year, at 33, Parks wrote SoundCheck: How Worship Teams Can Pursue Authenticity, Excellence, and Purpose.

All along the musical odyssey Parks has toured the country, sharing the stage with the likes of Reliant K and Gungor, plus sponsoring conferences where he nurtured budding musicians and songwriters. He has composed 1,200 songs, including "Revive," "You Alone," and "We Believe."

Parks married Sarah in 2005 and moved to Nashville, Tennessee, using the country music epicenter as a base for touring the country in a van with a band. Sarah worked as a nurse at the time.

So perhaps no one was more surprised recently than Parks himself when he sensed God prodding him to put his music on the back burner in order to plant a church.

"God began to lay on our hearts to return to Nashville," recalls Parks, who plays both guitar and piano. "I thought it would be for music, but God said to start a church. It shocked me. I never wanted to be a pastor, but I could only run so long before God tackled me."

But Parks has been in church all his life. His pastor-father, Terry Parks, gave him his first worship leading experience at a Virginia nondenominational charismatic church, the Rock of Roanoke.

"For much of his life Kurtis wanted to be a rock star on center stage in the spotlight," says Heather Zempel, who heads discipleship efforts at NCC and has known Parks even before he joined the staff seven years ago. "It's been a journey for him to realize it's not about him. He has really infused our team with values that worshipping God isn't just what happens on Sunday morning, but also when no one else is looking."

The new Nashville church, to be called Bridges, will be launched next year at a still-to-be-determined site. Kurtis and Sarah, and their children, 4-year-old Nora and 2-year-old Moses, moved to Tennessee on June 13.

"We are called to bridge culture to the Kingdom," Parks says. "The Cross is the greatest bridge of all time. We want to see God's people and His presence connect."

Parks will try to penetrate the rock-star-wannabe culture that he succumbed to years ago. He knows the narcissistic bent running through the personality of many singers and musicians.

"We want Music City to become worship city," Parks says. "Music is the medium to communicate."

Parks served as worship leader at Oasis Church during part of the five years he lived in Nashville before moving to NCC.

Initially he will preach — and lead worship — at Bridges. But he is confident God will provide a skilled musician to take over the singing.

"God has given us vision," Parks says. "Now we're believing in God's provision."

Parks is cognizant of the temptations revolving around both the limelight of leading worship on stage and the pedestal of preaching from a podium.

"I want to strategically surround myself with people who will keep me hungry and humble," Parks says. "I don't just want to be in a room with people who keep telling me I'm the best. That will stagnate growth and go to my head. If I can get in a room with people who coach me, pour into me, and give me the hard talks, it will make me better."

Kurtis and Sarah attended a Church Multiplication Network training and launch event in March in Bristow, Virginia, even before Kurtis left NCC. He considers the early jump a good investment.

"Now we know where to start," Parks says. "The facilitators and coaches were incredible."
Parks led worship at 2013 General Council in Orlando, Florida. His songs have been featured on Influence Music albums such as SOAR. As a producer, he has worked on more than 50 albums in the past decade.

Zempel says Parks will be missed at NCC, which draws an average of more than 3,400 attendees each weekend.

"He took us to another level in worship, both in terms of talent on the team and a hunger and passion for the entire congregation," says Zempel, 43. "He brought a desire for a skill in songwriting, which reflected the heart of the people of NCC and the unique work God was doing in our midst."
Zempel, whose books include, Amazed and Confused: When God's Actions Collide with Our Expectations, believes Parks has a long-dormant preaching gift that now will be realized.