Spreading the Story of a Christ-like Football Hero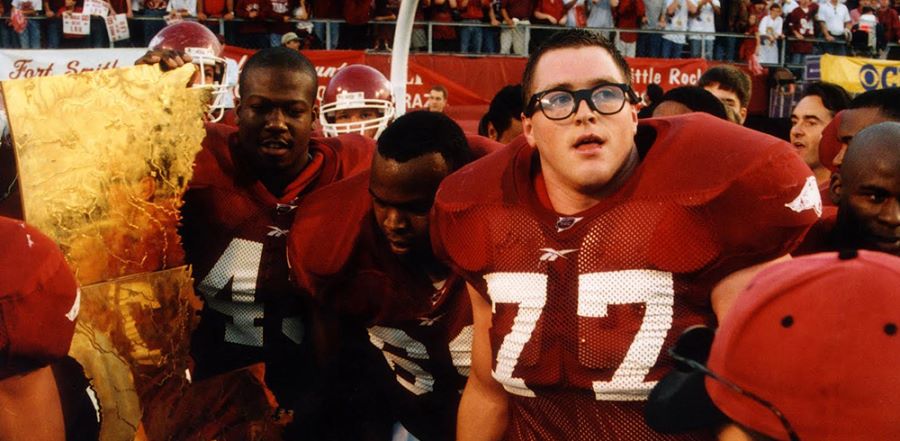 Don't miss any stories. Follow AG News!
Had life turned out differently, Marty Burlsworth might be reflecting on his brother's pro football career during Super Bowl weekend. Instead, Marty is looking forward to next season, when the story of Brandon Burlsworth's astonishing rise to National Football League draftee will reach movie screens nationwide.
Thanks to charity initiatives established in his name, Brandon's story is already widely known across his home state. After dreaming for years of playing for the University of Arkansas, he made the Razorbacks' starting line-up in the mid-1990s as a non-scholarship player. Burlsworth excelled as a walk-on, and as he graduated from college the Indianapolis Colts selected him in the third round of the 1999 NFL draft.
Tragically, 11 days later, Brandon died when his vehicle collided head-on with a tractor-trailer as he drove home for a midweek service Faith Assembly of God in Harrison, Arkansas.
The original Jan. 29 premiere date of Greater has been postponed until summer so more movie theaters can book it.
"We've gotten such a positive response from screening audiences, churches, and theater owners that we feel like we would be doing the movie a disservice by not waiting and releasing it when more screens are available," says Brian Reindl, the Fayetteville, Arkansas, businessman who wrote and produced the film.
Initially, 400 theaters were slated to show Greater, a number that is sure to increase. Several audiences watched it last month at a private premiere in Little Rock and a pair of screenings at the Pro Football Hall of Fame in Canton, Ohio.
"It is a blessing that the national theater chains recognize what a powerful picture it is," says Marty, a real estate broker in Harrison.
Although not specifically a faith-based film, Greater includes mentions of Brandon's belief in Christ, developed as a youth at Harrison First Assembly.
The year after Brandon enrolled in college, Barbara began attending Faith AG, which became her youngest son's home church, too. Nearly 17 years after his death, the church still has a poster encased in glass and a display of memorabilia.
"My favorite memory centers around him always being in church and sitting by his mother," Faith AG Pastor Arlis Thrasher says. "It was a shock when he was killed. The family had tremendous faith through it all. I encourage young people to live the kind of faith he exemplified."
Naturally, to see his brother memorialized in a major motion picture is a bittersweet experience for Marty, who coached Brandon in youth baseball and later served as his agent.
Although he was nearly 16 years older, Marty and his brother were always close. Marty applauds Reindl for making the kind of film that makes sense of why bad things happen in life.
"It's not like there isn't pain," says Marty, who established the Brandon Burlsworth Foundation two months after his brother's death. One of the initiatives developed after Brandon's death is Burls Kids, which provides free tickets to underprivileged kids for Razorbacks' and Colts' home games.
The foundation also sponsors youth football camps, offers scholarships to the university, and operates Eyes of a Champion. Launched in 2007 with cooperation from Walmart and independent optometrists, Eyes of a Champion provides free vision exams and glasses to children from low-income families in Arkansas.
Barbara Burlsworth, who raised Brandon as a single mother, hopes the movie about her son will be blessing to viewers. She credits prayer and the support of her immediately family and church members with enduring the loss of her son.
"I could either fall apart or do something productive through this," says Barbara, who worked in Faith's bus ministry for a decade and last year organized a monthly seniors' luncheon at the church. "His death made me stronger because I know where he is and that it's not over. I will see him again."