Strawberry Field Forever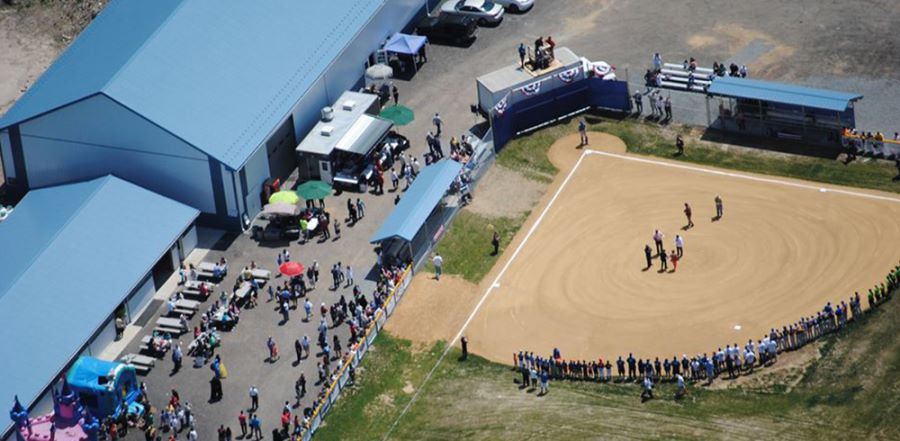 Don't miss any stories. Follow AG News!
Peckville Assembly of God (PAG) in Blakely, Pennsylvania, turned an unsightly 4.5-acre, 80-foot dirt mountain into a winning sports evangelism base launched recently with the help of major league baseball players Darryl Strawberry and Roy White. 
Four years ago, Senior Pastor Terry Drost struggled with removing the ugly dirt mountain. It was an eyesore and safety hazard leftover from an old coalmine on the church's 25-acre campus. The estimated cleanup bill was $250,000, an impossible amount after construction of a new 1,000-seat sanctuary in 2008.
"There was no money left over until God intervened, increasing our faith to believe that God can move mountains literally," Drost says.
Out of nowhere, a local industrial firm needing soil to fill in a huge canyon on its property offered Peckville AG $40,000 for the dirt and removing the mountain, a faith-building win-win offer. 
Established in 1916, PAG continually has emphasized evangelism as a priority, especially through creative community outreaches such as car shows, family festivals, drama productions, concerts, fireworks, and sporting events.
"People that will never walk into a church service will attend these events, and come to faith in Christ," Drost says. "We never hide the gospel and are always up front talking about Jesus."
The reclaimed land eventually became home to a family picnic pavilion, food pantry distribution center, and now a first-class baseball field. While all three were built debt-free thanks to unexpected donations and volunteer labor, the baseball field story deserves special attention.
Drost and the church board anticipated that the church would receive a $50,000 "adopt a field" grant from a Triple-A minor league team. But at the last hour, the grant fell through. As the bad news raced through the church family and community, Drost was overwhelmed by 50 local businesses raising the funds within weeks. When an executive from the New York Yankees saw the completed baseball diamond, fences, home run wall, and collegiate-level dugouts, he was impressed with the upscale design and beautiful appearance.
The opening ceremonies included a community dinner on May 23 and a special church service and dedication May 24 featuring a 60-piece high school marching band and football team cheerleaders. More than 1,000 people attended.
Former National League Rookie of the Year Darryl Strawberry, who is now an evangelist, spoke at the dinner and church service. Strawberry made the All Star team seven years in a row with the Mets, and finished his 17-year career with the New York Yankees in 1999.
Drost says Strawberry understands that the sports complex can be an evangelism tool.
"This isn't about baseball, it's all about Jesus," Strawberry, who was on four winning World Series teams, said at the dedication.
"Darryl has been at our church before and is a changed man through the power of Christ," Drost says. 
A longtime Peckville member rejoiced when one of his brothers, who always rebuffed invitations to church services, gave his life to Christ at the dinner. The man paid $750 for a table and invited his four brothers.
About 60 percent of those hearing Strawberry were fans from the community who wanted to see him and Roy White, a two-time All Star who played his entire 15-years career that finished in 1979 with the Yankees.
PAG's plans for the field include Little League games, sports camps, and baseball clinics. Drost sees the new facility as an incredible opportunity to share the hope of Christ.