The 360Man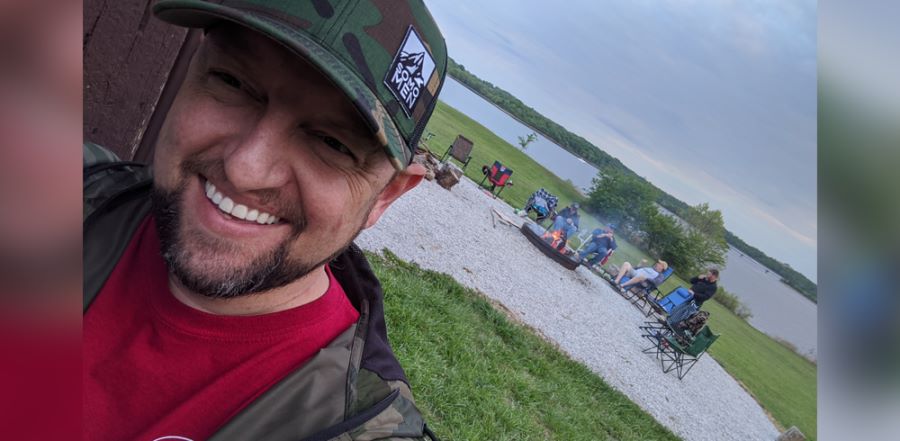 Don't miss any stories. Follow AG News!
Jason W. Jacques recalls accompanying his father, Don Jacques, on a missions trip to Honduras at the age of 14. At the end of the evangelistic tent campaign in 1991, Jason wept for the souls who didn't know Jesus. He sensed the Lord birthing a ministry calling in him.
The soft-spoken Jason has been involved in lay ministry since his childhood, helping his dad with Light for the Lost cooking outreaches to raise funds for the ministry that provides evangelistic resources for Assemblies of God missionaries. As a lay volunteer, Don, starting in 1974, drove a steak cook wagon around the Southern Missouri District and beyond as a means to generate income for LFTL. Along the way, Don, a longtime member of Central Assembly of God in Springfield, Missouri, served as district and national director of LFTL when it functioned as a lay-driven network of men.
For many years, Jason didn't feel qualified to seek full-time ministry. So he joined the Springfield-based family real estate firm, The Jacques Company, founded by his parents, Don and Jan, who are both still at it at 75. His siblings Michael and Janeé also have worked for the firm for many years.

But in 2019, at a men's summit in Texas, speaker Michael Todd paused and looked directly at Jason.

"You've been called," said Todd, pastor of Transformation Church in Tulsa, Oklahoma. "Now it's time to walk in that call."
Subsequently, Jacques connected with AG Men's Ministries, which planned to launch its 360Man initiative. The concept resonated with Jacques, who led men's ministry at the church he attends, Peace Chapel in Fair Grove, Missouri.
"I've long desired to see a network of men who want to be a part of something bigger than themselves and to make a global impact," says Jacques, 44.
In January, Jacques began the process to become a U.S. Missions "district advancement missionary" in AG U.S. Missions. This is a new collaboration between the U.S. Specialized department and AG districts/ministry networks. In the case of Jacques, he'll be working in the Southern Missouri District to revitalize men's ministries at the local level.
"Our goal is to engage men in Kingdom conversations, to engage men to go out and evangelize and disciple men around them, then mobilize them to reach churches, families, and communities," Jacques says.
He brainstorms with local pastors on how to start, revitalize, or strengthen ministry to men. He is careful to use the term ministry to men in emphasizing the need to draw nonchurchgoers in contrast to men's ministry, which typically is confined to programs inside the four walls of the church.
Jacques utilizes mentoring materials developed by ordained AG minister R. Michael Oney, executive director of the Paul to Timothy Institute in Ozark, Missouri. Working with three to five key leaders, Jacques aids local congregations in refocusing their ministry to men.
Adam R. Logan, pastor of Arcadia Valley Assembly of God in Ironton, Missouri, calls Jacques a solid guy with a sterling character.
"God has given Jason an incredible vision and heart for ministry," says Logan, 39. "God is using him in a mighty way."
Logan says Jacques helped Arcadia Valley AG cast vision for how to shift direction on ministry to men.
"He has helped men learn to walk in the fullness of what God created us to be as His sons, and as fathers, husbands, and leaders in our church and community," says Logan, who has been pastor of the church since 2018.
Discipleship and ministry involvement won't happen unless men are interested in walking through the door in the first place. So Jacques urges pastors to try to make their church interiors appear a little less feminine. Like many facilities constructed 40 years ago, his home church Peace Chapel aesthetically appealed to women, with pink padded pews and carpet in the sanctuary, elegant sconces on the wall, and artificial flowers decorating the altar.
That has changed under lead pastor Brad D. McAtee, Jacques's brother-in-law. McAtee started showing slides on the screen prior to the beginning of the Sunday morning service of boys and men posing with deer and turkey they had shot. He says it's a point of entry to get males who normally wouldn't attend through the church doors.
"Before churches go to a deeper spiritual level, they must convey to men that they are wanted there and valued for who they are," Jacques says. In his sessions with local church leaders, Jacques strategizes what might best appeal to the most men in that locale: hunting, fishing, classic cars, motorcycles.
Jacques says his wife, Melissa, is a supportive encourager for him, especially when he senses Satan telling him he's not equipped to lead such an endeavor. His sons, 18-year-old Jacob and 16-year-old Jayren, are part of the ministry. The rest of the family participates in annual men's summits and "man tours," plus travel to six locations each year, aiding with registration, setting up, and tearing down.

Jacques's sons help their grandfather Don with LFTL cook teams. Don received the AG general superintendent's medal of honor in 2009. Although he retired in June as Southern Missouri District LFTL director, Don continues to grill meat to generate money for the ministry.
Jason's connection with LFTL goes back even further. His maternal grandfather, Hollis Lawson, was one of the six businessmen who joined Sam Cochran to form what would become Light for the Lost in 1953 at Orange County First Assembly of God in Santa Ana, California.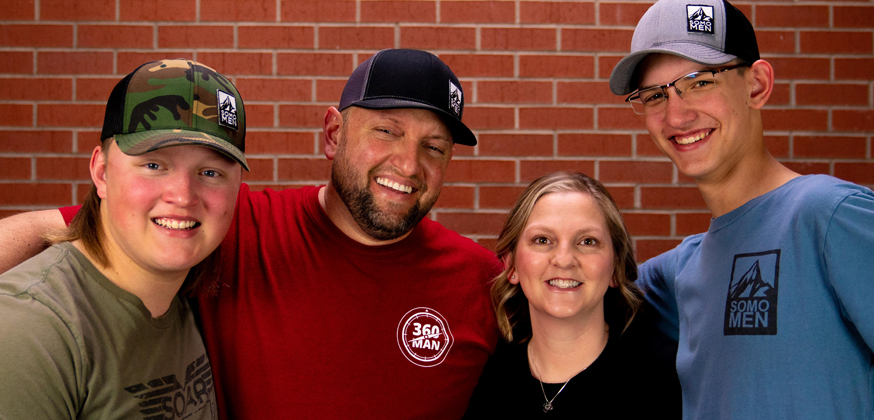 PHOTO: Jason Jacques (second from left) credits son Jacob (from left), wife Melissa, and son Jayren with sustaining him in ministry.