Trafficked: Unspeakable Atrocity Meets Unfathomable Love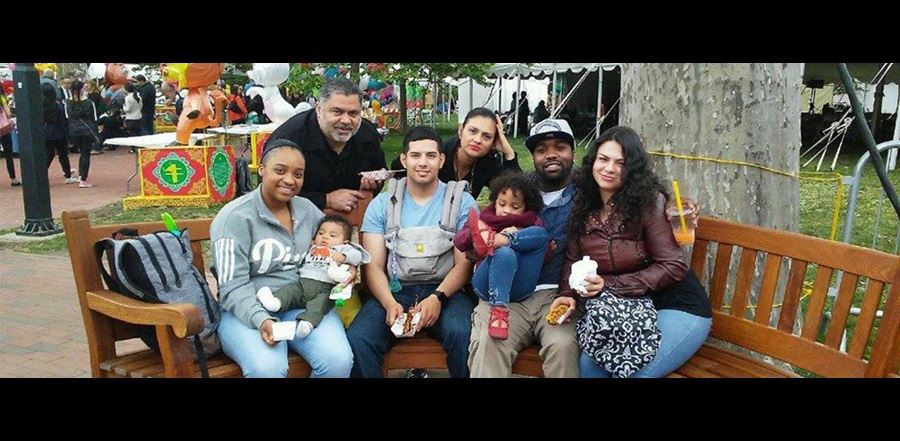 Don't miss any stories. Follow AG News!
Her name was Sioni — as beautiful and cute as any bright-eyed 5-year-old girl. Only the smiles and giggles were no longer nearly as frequent as they once were. Born in Mumbai (Bombay), India, Sioni, her younger brother, and mother had moved to Costa Rica to join their father.
That's when life changed for little Sioni. Her father was a "mean" alcoholic and her mother, who was also an alcoholic, started practicing witchcraft.
Sioni's world continued to fall apart. Within a short time of arriving in Costa Rica, another man came to live with the family — Sioni later realized this man was her mother's lover.
"Because of my mother being a witch, my father was afraid to try to do anything about this man," Sioni says. "And then this man started to sexually abuse me."
When the attacks first began, little Sioni went to her mother in tears, telling her what had happened, but she wouldn't believe her. Unimpeded, her mother's lover began to rape Sioni on a daily basis. Not long after, Sioni's mother introduced her to a teenaged brother she never knew she had. Becoming aware that Sioni was being sexually abused, instead of working to protect his sister, he too began regularly raping her.
Although her parents did not sexually abuse her, the physical abuse was intense, especially when they were drunk. "To punish me, they used to hang me from the ceiling with my hair, like a piñata, for hours. My daddy once pulled out all the finger nails from my hand for accidentally breaking something. And my younger brother and I would often be chained in the closet without food or water over the weekends . . . sometimes we were able to escape and we hid in the forest — we ate all kinds of animals and things to survive."
When she was nine years old, Sioni's mom attempted to sell her to a brothel. Mercifully, that attempt failed, though the raping continued at home.
It was an unexpected sound of a tambourine that foreshadowed the distant future for Sioni. She was 12 years old when the welcoming sound drew her to a home. Inside, people were holding a church service.
"The people there made me feel safe and welcome — they showed me a lot of love," Sioni recalls. "That night, I accepted Jesus Christ as Lord and Savior. I was not sure what I was doing, but I felt happy and safe."
Not long after this, when Sioni was nearly 13, her mother took her to the city on the pretense that Sioni was to do some babysitting. "I was so excited about going to the city and being a babysitter . . . ," she says with a mixture of joy trailing off to dread. "That was the second time my mother sold me."
For the next three years, Sioni was trafficked, five to six times a day. The other young women in the brothel used drugs to deaden their realities, but Sioni refused.
"I told them that God was going to take me out of that place," she says. "I didn't know much about Christ, but the few things I learned at the church gave me hope. The other girls asked me how I could talk about God, 'look at where we are,' they would say. But I knew God was going to do that for me."
Finally, when she was 16, Sioni was able to escape. She made it back to her mother's home . . . her mother was infuriated that she had left the brothel. Soon afterwards, she once again sold Sioni — only this time a man from the United States purchased her outright for some cash and a cow, and Sioni was forced to marry him. When her "husband" went back to the United States, working to get a visa for Sioni, her mother began bringing men home and forcing Sioni to sleep with them.
Sioni's husband returned twice to visit her over the next four years. When she was 18, she became pregnant and had a daughter, followed by a son 18 months later. In between the two births, her mother killed an unborn child by performing a "back alley" abortion on Sioni. The only reason her mother allowed her to keep the two children and didn't force her back to the brothel was because Sioni's husband was giving her money.
After four years, the visa finally came through and Sioni was seemingly blissfully headed to the United States. "I was so happy," she says. "Even though I was with a man who purchased me, I thought my life would change and be so much better in America."
But the "land of promise," seemed to hold little promise for Sioni. Soon after entering the United States, her husband abandoned her. Unable to speak English, left with a 2-year-old daughter and a 6-month-old son to raise, no job, and not knowing how to get assistance, she barely survived. Her husband treated her like a prostitute, periodically coming by and giving her money for sex.
Sioni used the money to buy food for her children, while she subsisted on bread and water — and sometimes just water. After two years, she found a housekeeping job. To feed her growing children, she started sleeping with various men to buy food. Even then, her refrigerator rarely had more than a few items in it — bread, cheese, and maybe some ham.
But one day, she heard a familiar sound coming from a small church — the sound of a tambourine! Instantly in her mind she was transported back to that house church where she first learned about Jesus. She went inside and found it was a Hispanic church. She could feel God's love!
Sioni started attending the church and her relatively dormant relationship with Christ found new life and began to blossom. The church, which suspected something was wrong with Sioni and her rarely present husband, became fully aware of the true reason for Sioni's often-bruised body, when one day, enraged by something the minister said, he dragged her out of church, threw her into his car, and began to beat her. Not long after that, he divorced her.
Life turned a corner after that. Even though she at first was too embarrassed to go back to the Hispanic church, God had a hold of Sioni's heart and she was drawn back. She also knew that God had forgiven her so much that now it was her turn to forgive in order to be right in His eyes.
"My older brother called me in 2003 from Costa Rica," Sioni says. "He told me to come right away — mother is dying. I left the children with a friend from church and was in Costa Rica by Friday."
Sioni knew what she had to do. When she entered the hospital room, her mother was nearly unrecognizable, as her lifestyle had aged her beyond her years and tubes and hoses were connected to her body, keeping her alive. Doctors told Sioni her mother had four heart attacks in the last 48 hours and was unresponsive. A priest was already in the room, preparing to give last rites.
"I grabbed my mother's hand and I said, 'Mom, I forgive you,'" Sioni says. "Immediately, her body started jerking and jumping on the bed. I told her that I forgive her for all the things she did to me — my children need her and I need her."
Suddenly her mother's body calmed and doctors now had hope for her where before there was none. Sioni would return day after day to pray over and take care of her mother. A month later, she and her mother walked out of the hospital.
Sioni returned to the United States and although she had forgiven her mother and had even encountered her older brother and had hugged and forgiven him for the atrocities he had committed against her, she had little love for men. She, understandably, didn't want anything to do with men.
But then, she met Richard Rodriguez. Richard was serving in the military and had been a Christian for nearly 20 years. "He stole my heart," Sioni admits with a laugh.
Although Richard admits that as a young man he wasn't fully aware of what to expect in proposing to and marrying Sioni — due to her suffering through nearly two decades of abuse — he knew her history and loved her for who she was.
"Her personality, her friendliness, and her laughter drew me to her," he says. "She was transparent and not only beautiful on the outside, but on the inside as well."
In 2005, the couple wed. The bombshell? On Sioni's insistence, they honeymooned in Costa Rica so Richard could meet her parents.
"Forgiving her parents and family was definitely not easy for me," Richard says. "I seemed to have some hate and anger towards people in her family that I had never met before, but I knew of all the horrible things they had done and allowed in my wife's life."
Richard knew he needed to forgive them to keep bitterness from taking root in his heart, but he wasn't sure he could — at least not on his own. So, he surrendered it to God.
When they arrived in Costa Rica, Sioni drove the four to five hours to her home while Richard fasted and prayed the entire way, desperate for God to intervene.
"When we arrived at her parents' house, I got out of the car, walked up the steps, looked up at them, and gave them each a hug and a kiss," Richard says. "A minute or two into the moment I realized, Wait, what just happened to all the anger and resentment that I've had for months toward them? It was at that moment that I realized the Lord had taken all that sin in my heart away. It was gone, just like that."
Not only would the anger be gone, but a love for her family developed in Richard's heart. Originally intending only to visit, the couple ended up staying with Sioni's parents for four or five nights — Richard says God healed his heart.
Sioni says her father came to Christ in the little house church she first attended when she was 12, and a few years later, Richard led her mother to the Lord — though her commitment seemed to fade.
For Richard and Sioni, life together starting out was not all a golden pathway of victories. Sioni, even with forgiving those who traumatized her, still was damaged and had deep challenges to work through. And Sheila, Sioni's 13-year-old daughter, having witnessed and experienced so many negative and traumatic things in her young life, was living a life of anger and rebellion.
"She did everything in her power to destroy her life," Sioni says. "She finally committed a crime that put her into jail, where she was facing 7 to 14 years of prison."
At first Sioni struggled and questioned God — why was all this happening to her? But then the Holy Spirit encouraged her and she determined to send Sheila letters nearly every day telling her of God's love for her and pray that God would send someone to reach out to her.
And God responded. God sent a Hispanic pastor to minister to Sheila, who in turn gave her life to Christ. Richard and Sioni bathed the court case in prayer and the judge "unexpectedly" let Sheila off with just a six-month sentence. The public defender was so impressed by their faith and how God had miraculously answered the Rodriguezes' prayers, that he told Sioni he wanted the God that she served. She led him to the Lord that very day.
From that point on, Sioni's life started to change dramatically. Sergio, her son, and Sheila were now active Christians, God was providing emotional healing and restoration in her life, and a blessing seemed to be placed upon their family. She now works with a ministry called A Time to Heal Beyond Survival International Ministries, founded by AG minister Sue Willis, that assists victims of rape, sexual abuse/assault, or sex trafficking.
"I became a grandmother, I learned how to speak English (watching the soap opera General Hospital), God blessed me with a great job with a good company, a beautiful family . . . everything the devil took away from me, God gave me in abundance. Not in money, but in a spiritual way," Sioni says.
Scott Carver, 42, is a firsthand witness to God working in and through the Rodriguezes' lives. As pastor of the 300-member Pleasant Valley Assembly of God in Brodheadsville, Pennsylvania, where Richard and Sioni attend, the gratitude in his heart for the couple is difficult for him to fully express.
"Their godly character and willingness to serve has been very impactful in the church and even in my family," he says. "Everything they do, they do it not to please me or please people, but to please God."
Carver says that, among other things, the Rodriguezes lead the church's prison ministry, often holding up to four services on Sundays in high security prisons. "The women love Sioni and flock to her," Carver says. "Walls come down because they're speaking to someone they can relate to."
Recently, Sioni published a book, Three Times Sold, detailing in far greater detail her life experiences and how God has shown himself faithful. She is now using the book and speaking opportunities to minister love and hope into lives of victims of abuse.
On Jan. 15 she joined with Project Rescue, an Assemblies of God ministry for victims of sex trafficking, to share about the tragedy of human trafficking and hold a "Spirit Night" fundraiser for Project Rescue at a New Jersey Chick-fil-A restaurant. What struck her in talking with people at the event was the number of young people who were totally oblivious that human trafficking takes place in the United States.
Richard now believes God is just starting to reveal what He has in store for them, as Sioni has so much to offer hurting women and children.
Carver agrees. "She is so grateful and so passionate about what she does because she recognizes the goodness of God compared to what her life could have been, and that's what makes her story so amazing."
"She is my hero," Richard states. "She has taught me a Love that has melted and captivated my heart."
IMAGE:
Richard and Sioni standing behind their children and their families.