Training to Handle a Crisis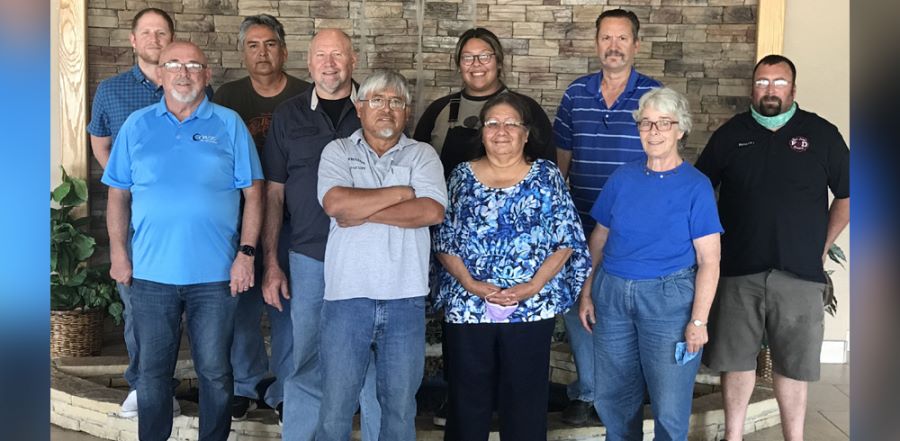 Don't miss any stories. Follow AG News!
Assemblies of God pastor Nathan Lynch is part of the Navajo Nation Christian Response Team, which, early on in the pandemic, arranged for organizations such as Convoy of Hope to deliver food to needy residents.

But once he finished delivering more than 4,000 boxes of food across the reservation, Lynch realized he needed to arrange for a second phase of ministry to help in the ongoing COVID-19 crisis. After contacting his U.S. missionary friend Duane Gryder, Lynch learned of crisis intervention training offered by 461 Response, the Chaplaincy Ministries program preparing for and ministering after catastrophes.

Earlier this month, Mike L. Reighard, 461 Response director and Chaplaincy Ministries critical incident ministries representative, conducted five three-day training sessions across Navajo Nation. The certification training benefited pastors, missionaries, first responders, counselors, psychologists, teachers, and chaplains, who learned how to handle a crisis, with an emphasis on fallout from the novel coronavirus pandemic.

Reighard taught an intensive curriculum that involved both group and individual settings. He instructed the assembled how to gain active listening skills in order to help people going through a crisis. A trained individual in an intervention can facilitate a traumatized person's recovery, Reighard says.

In addition, Reighard devised a separate supplemental training specializing in COVID-19 recovery and re-entry. This training included instruction for caregivers on how to assist people in closure with their loved one's death.

"Pastors are dealing with church members who have endured COVID deaths, fear, and closure issues related to not being able to say goodbye to family members," says Reighard, 64. He taught classes in Pine Dale and Farmington in New Mexico, as well as Flagstaff, Tuba City, and Chinle in Arizona. During the training, he also held a devotional with ministers also attended by Navajo Nation President Jonathan Nez and Vice President Myron Lizer.

COVID HOT SPOT
By mid-May, Navajo Nation became a COVID-19 hot spot. The population has sustained more deaths per capita — 498 through Aug. 26 — than any U.S. state. The rate has been dropping since, with Navajo government leaders stressing the need to wear masks, wash hands, and maintain physical distancing.

Navajo Nation is comprised of 110 chapters around a reservation that includes 17.5 million acres (larger than West Virginia) on sections of northeastern Arizona, northwestern New Mexico, and southeastern Utah. The indigenous reservation population numbers around 350,000, divided into five agencies.

Residents deal with myriad related issues that exacerbate COVID-19, including a dearth of grocery stores and a lack of intensive care unit hospital beds. Many homes lack running water or indoor plumbing. Multigenerational families densely living under the same roof is common. Cancer, heart disease, and diabetes rates are much higher than the national average. Native Americans have the highest hospitalization rate from coronavirus among all racial groups.

Navajo Nation rescinded a strict shelter in place order on Aug. 16. But daily curfews and weekend lockdowns remain in effect in an effort to curb the infection rate. Churches have been unable to meet since March and will remain shuttered for the foreseeable future.

Fifty participants, including 11 AG pastors, received critical incident instruction. Lynch, who has been pastor of New Life Christian Assembly in Pine Dale, New Mexico, for 20 years, says it opened his eyes in multiple ways.

"Pastors on the reservation are always dealing with trauma and grief, often related to suicide and alcoholism," says Lynch, 63. "But how do we find the way to minister other than saying, I'll pray about it? This training already has affected the way I talk to people."

Since the onset of COVID-19, Lynch has officiated at 13 funerals, more than twice as many as normal in an entire year.

"Death has really become a part of our community," says Lynch, who is Anglo but whose wife of 41 years, Marietta, is Navajo. "The number of cases is staggering."

The timely, much-needed critical incident classes will benefit the ministers, chaplains, lay ministry leaders, and others who attended, Lynch says.

"To have this crisis intervention training will empower ministry to a new level," Lynch says.

RELIVING MEMORIES
In addition to critical incident stress and COVID-19 training, Reighard also provided 461 Response training.

The discussion stirred long-dormant emotions in Rudy Martinez, pastor for the past two years of New Life Assembly of God in Dulce, New Mexico. Martinez had to fight back tears as he recalled vivid images from an incident when he pastored another Native American church 12 years ago:

With dozens of men gathered around the altar after Martinez preached a Father's Day sermon, a bleeding teenage boy from the youth group stumbled into the sanctuary, a knife lodged into his cheek. Hysteria ensued.

Congregants screamed and cried. Some fled. A few restrained the assailant, another member of the youth group. Friends and relatives of the two teens chose sides and yelled at each other before police arrived. All those memories came flooding back to Martinez as Reighard led a session.

"In taking the course, I relived it," says Martinez, 62. "It was a bad day in our church that will never be forgotten. It would have helped us a lot if we had some de-escalation."

Instead, some families left the church that day, never to return. Martinez, a Mexican-American who has been involved full time in Native American ministry for two decades, felt ill-equipped to handle the aftermath, even though the injured youth recovered. He found no one to seek help from at the time.

But through the training this month, Martinez is ready if anything again like that ever happens.

"I can't say enough about the course; it's a tremendous tool," Martinez says. "I wish we'd had it when we went through that intense, chaotic event. I would advise every pastor to take this training."

In September, Reighard will provide similar training to the White Mountain Apache tribe in Arizona.
Photo: Mike Reighard (fourth from left) and some of the ministry leaders he trained in Navajo Nation.