Treating Forgotten Forest People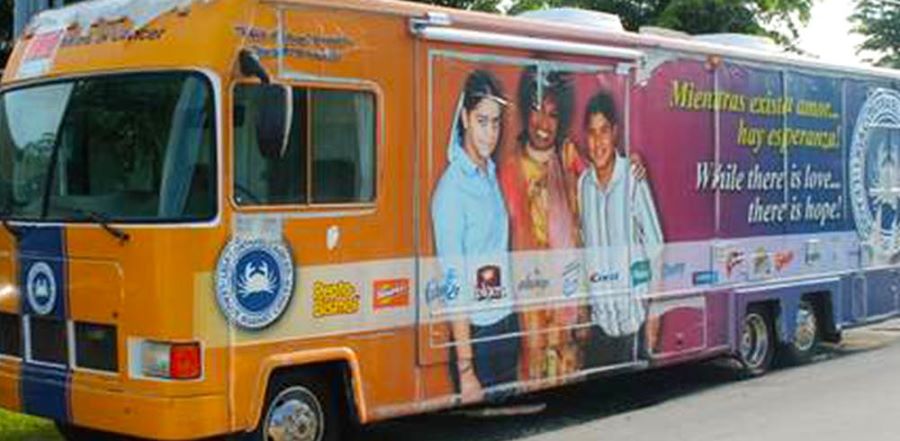 Don't miss any stories. Follow AG News!
Missionary dentists have traveled to the far corners of the world for generations.
But what if the need is in your backyard, and you are a pastor and not a dentist? This is the dilemma that faced David W. Houck, pastor of Salt Life Church in Salt Springs, Florida.
The Assemblies of God church serves the "forest people" of central Florida's Ocala National Forest, 600 square miles of rivers, lakes, vast marshes, sand pines, and a bombing range for the U.S. Navy.
Despite the photogenic landscape, the forest has a dark reputation as an ideal place to operate a hidden methamphetamine lab, dump the bodies of murder victims, or live as a squatter. But Houck and a corps of Christian volunteers have made it their mission to bring hope and help to the estimated 8,000 forest-dwelling children and their families.
'HONDURAS' IN FLORIDA
In the forest, extreme poverty is widespread. Some squatter families live without indoor plumbing and electricity. They survive by hunting, fishing — and charity. Different state and federal programs provide extensive services, but some people don't apply due to immigration status or to avoid law enforcement.
From Salt Springs in the heart of the forest, it's a 30-mile drive to the nearest dentist. The dental needs of forest people include everything from preventive care for children to treatment of "meth mouth," an affliction of methamphetamine addicts that rots out their teeth. In 2015, a local nonprofit hosted a free dental clinic in Ocala and across five days, dentists saw 3,000 patients. Few dentists take Medicare, and the poor usually don't have dental insurance.
"It's like Honduras," Jay B. Schwab says, comparing the poverty around the national forest to one of the poorest nations in the Americas. Schwab, until January lead pastor for Life Church in Belleview, has known Houck for years. Houck served as Schwab's youth pastor.
About a year ago, Houck, who is also an AG U.S. missionary with Intercultural Ministries, shared a grand idea with Schwab: A mobile dental clinic able to travel the back roads of the forest, providing free dental care to forest families. As soon as Houck finished his pitch, Schwab said, "We're in. This will be our home mission project."
A consummate networker, Houck persuaded Operation Blessing to donate an aging school bus. Houck and Schwab then recruited volunteers to clean out the bus and prep it for rehab. Last summer, Schwab's three sons spent hours gutting the bus and grinding out hundreds of bolts that held seats in place.
"They did all the dirty work," Schwab says. "We went through 25 grinding wheels to get bolts out."
Houck, who completed studies at Global University, spoke with local dentists about designing the interior. The bus will have one exam chair, two work chairs, and new equipment for cleaning, X-rays, drilling and filling teeth, plus tooth removal. In remote areas, a propane generator will supply power. At other locations, the forest's four community centers will provide electricity and schedule visits. Houck received a $33,000 grant from the Marion County Hospital and has raised $75,000 in private support.
The rehab has been moving forward slowly for months. But a plot twist occurred when the 79-year-old retired dentist who was a lead medical volunteer pulled out due to declining health.
This set Houck to prayer for a replacement. There are 157,000 retirees living in The Villages, the fastest-growing U.S. city according to the Census Bureau, located less than an hour southwest of the forest.
Six years ago, A.J. Montacelli, a retired dentist from western New York with 35 years of experience, moved to The Villages. He retired early after surgery on his neck and back. But he was restless.
After hearing about Houck's outreach, Montacelli called him.
"He said he had been praying for someone to come forward," Montacelli remembers. "Sometimes you are just pushed in a direction, God opens doors for you. There comes a time in your life to give back. I love dentistry. When you are trained in a profession, you just don't want it to go unused."
Montacelli says he expects that the mobile clinic at first will do emergency care for people in pain. The state has granted him a limited license to provide indigent dental care at no charge. This will allow the ministry to provide services without full-blown malpractice insurance.
"We have an uphill climb on this," Montacelli says. "Hopefully we catch patients at a time where you can teach them oral hygiene and give them self-esteem. This is a forgotten population."
MISSIONARY ENTREPRENEUR
The mobile dental clinic is Houck's latest venture. Over the past 24 years, the 44-year-old has developed a reputation as a missionary entrepreneur.
"He's a networking guy," Schwab says. "He grew up in the forest. He runs a camp, pastors a church, has a health agency. He has a restaurant and a restaurant school." The food banks that Houck's church volunteers help operate feed 7,000 people per month.
"The food bank is a bandage and a fishing lure," he says. "The food meets an immediate need. Once clients show up for food, volunteers question them about their underlying problems."
The back story on Houck is that his father was disabled and the family lived a squatter-lifestyle, living off the land for years. Houck says at the age of 17, God spoke to him in a vision, which he wrote down and then hid the paper in his mother's desk. Houck moved to California and dreamed of never again living in poverty.
At 21, he was back home and discovered that paper, setting in motion his passion for the poor. He finished his pastoral training and headed right back into the woods.
His strategy is to start ministry first prior to planting a church. That way, the surrounding community already benefits from Christian mission before attending a single worship service. Houck and his wife, Tammy, also have adopted seven children, adding to their four birth children.
Houck says among some forest families poverty goes back five generations. One of his goals is for young girls to finish their education and not have a baby at age 15.
"We don't shun people with issues, we embrace them," Houck says. "That's the only way real change comes. Our message is that God has a plan for your life no matter who you are or used to be."