Warfare in the Inner City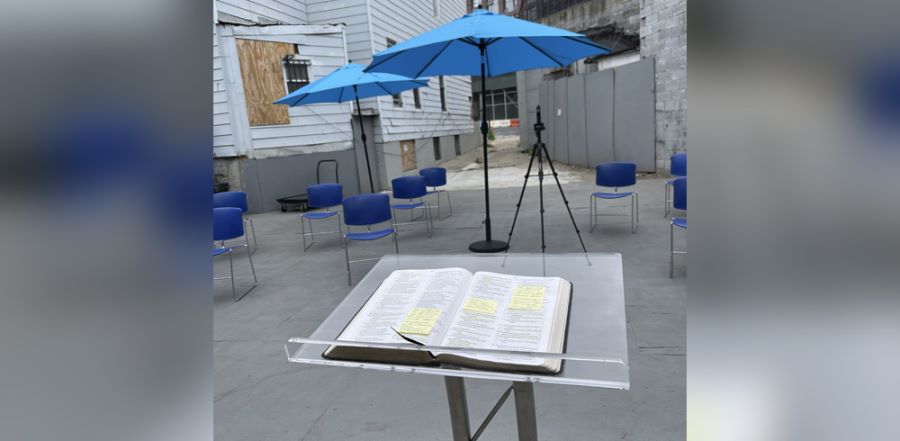 Don't miss any stories. Follow AG News!
Reggie L. Stutzman, U.S. missionary with Intercultural Ministries and senior pastor of Real Life Church, is a street smart warrior in the South Bronx of New York City.
His war zone is the Hunts Point neighborhood, one of the neediest communities in the U.S., according to Fernando Cabrera, New York City councilman and pastor of New Life Outreach International.
"Reggie makes a tremendous spiritual impact, providing leadership in fighting the forces of dire poverty, homelessness, drug-related crimes, gang-turf conflicts, and sex trafficking," says Cabrera, 57.
Stutzman, 49, and his wife Ibelsa, 52, fluent in Spanish, planted Real Life Church (RLC) in 2010. Before launching RLC, Reggie gained 13 years of inner-city experience working for the New York School of Urban Ministry and the Bowery Mission.
"God put a love for the city in my heart and I learned to love people in their mess, which still holds true today," he says.
Challenges often lurk in urban missions. RLC had to find a new location for worship services during the summer of 2020, just after the Empire State led the nation in COVID-19 virus cases. The theater where the church had been meeting for five years abruptly canceled its rental contract.
Then out of nowhere, a local owner of multiple buildings offered a rent-free solution: a vacant and filthy former crack house and backyard lot. However, both required drastic cleaning, and squatters needed to be removed.
Nick A. Hanson, an AG U.S. missionary and campus pastor of Chi Alpha Christian Fellowship at the City College of New York, quickly volunteered a clean-up team.
"While Reggie is a great leader and friend, we had no clue of the disgusting job facing us," Hanson says.
For two days, the team loaded two large trash receptacles with rotting food, deteriorated clothing, dead rats, animal feces, beer bottles, soiled diapers, broken furniture, condoms, and drug needles. They gasped at the pungent odors. Yet the team keeps returning to help RLC outreaches.
The cleaned-up building has been secured. The church holds outdoor services and events in the backyard lot, cleaned and painted. It broadcasts the Sunday service via Facebook Live, reaching up to 500 visitors.
The church's other vital ministry is The Prodigal Center, a food pantry and clothing distribution center founded in 2017. It operates from a former automotive garage.
Every Tuesday morning, Stutzman navigates congested avenues, arriving to unload pallets of fresh produce and nonperishable edibles in cans and boxes provided by food banks. While driving, he prays for strength, peace, and opportunities to share the love and hope of Christ. He never knows when a strange incident may happen.
For example, a transgender prostitute recently arrived at the garage and suddenly fell to the floor in front of Stutzman and his wife. Crying as his wig slid off his head, the man exclaimed, "I had to come today because there is peace here."
"We prayed for him and sensed the presence of the Holy Spirit," Stutzman says. "God intervened that day."
Volunteers aid the food distribution and help set up tables and tidy up afterward. Evangelism covers prayer, distributing Bibles and gospel tracts, and personal encounters. Drug and alcohol abusers are referred to Christian programs such as Adult & Teen Challenge.
As many as 500 neighborhood residents crowd the center, snaking around several blocks. Desperate people line up hours before the official opening. This February through June, the center served almost 11,000 residents. They included seniors, single mothers, street people, the unemployed and homeless, drug addicts, and prostitutes.
Hunts Point has a 39.6% poverty rate with 42.7% of households existing on annual incomes less than $20,000.
An unemployed man with a back injury and unable to get adequate public assistance recently told Stutzman, "What you give me is all I have."
Besides dodging embedded street violence, the ministry experiences regular burglaries. Soon after RLC opened the new location last year, Stutzman arrived to find all the sound equipment stolen from the house. Thieves also ripped copper piping from the building's walls.
"These kinds of incidents come with the territory," says Stutzman, who is a New York Ministry Network sectional presbyter. "But you just keep on giving and trust the Lord, or you walk away. And that's something I refuse to do."