When Aging Out Is No Option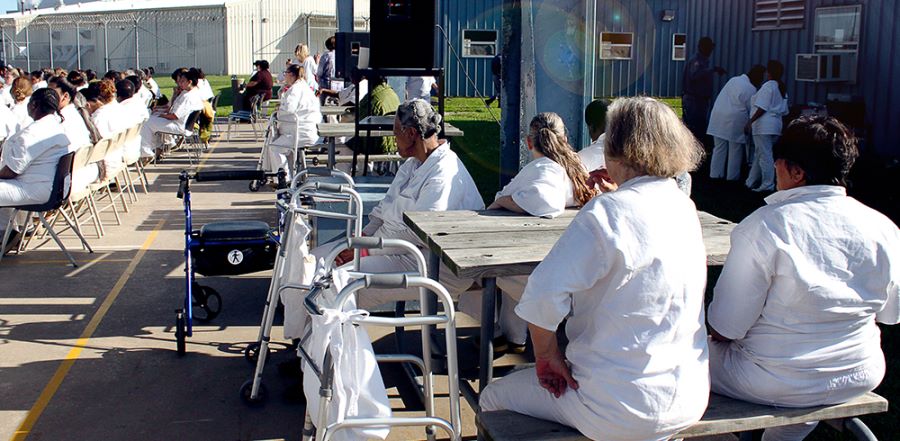 Don't miss any stories. Follow AG News!
The nation with the highest incarceration rate is dealing with an unprecedented aging inmate population.
While the overall inmate population declined one percent in the five years ending in fiscal 2013, the number of inmates aged 50 and older rose 25 percent, according to a Federal Bureau of Prisons report released in May.
As a result of indeterminate sentences being meted out, decades-long terms for nonviolent crimes, and implementation of three-strikes-you're-out laws, some of those behind bars might not be eligible for parole for half a century -- if then.
Between 1980 and 2014, the federal prison population mushroomed to 214,149 from 24,640, primarily due to tougher sentences for drug offenses. There are an additional two million people in state prisons, plus around 200,000 in county jails. In all, an estimated 246,600 prisoners are age 50 and older, costing more than $16 million annually to keep incarcerated.
Bureau of Prisons statistics show that 17.6 percent of prisoners are older than 50. When a penitentiary must house older inmates, it increases the need for additional wheelchairs, walkers, and daily doses of medication -- all provided at government expense. Showers and dorms have to be retrofitted for handicapped accessibility.
"It costs taxpayers more money to house aged inmates because they have more medical problems," says Michael Reighard, who heads the Assemblies of God U.S. Missions Chaplaincy Ministries 46:1 Response program.
According to the Justice Department report released in May, it costs $58,956 a year to incarcerate an aging inmate, twice as much as a younger one.
Studies suggest that a 50-year-old inmate has the body of a 60-year-old person on the outside. It's worse for those who are incarcerated compared to the general population because they are likelier to have a history of abusing their body with alcohol and drugs, as well as not seeking health care as much because of poverty. Medical conditions plaguing elderly inmates most often include cancer, HIV, liver disease, and chronic renal failure.
While more states are backing off life terms and long sentences for drug offenses, that doesn't necessarily mean there will be fewer older inmates. More middle-aged and even elderly people are committing crimes that land them behind bars for the first time, ranging from selling heroin to possessing child pornography.
Christine Lowry is an Assemblies of God chaplain at the Louis C. Powledge Unit, a geriatric facility near Palestine, Texas, that features 57 wheelchair-accommodated cells. She earlier served as chaplain at the Mark W. Michael Unit in Tennessee Colony, Texas, which has 22 hospice beds. Lowry says she has seen 700 prisoners die in hospice care.
"There now is a large population of geriatric offenders, including inmates who are 80 and even 90 years old," Lowry says. The Justice Department report released earlier this year found that the fastest-growing segment of inmates are those 80 and older, up 76 percent in the five years ending in fiscal 2013.
Prison reform backers recommend that nonviolent aged inmates would be better cared for outside prison walls.
"Typically criminal behavior peaks in the late teens and early adulthood," says Sam Dye, senior vice president with Prison Fellowship. "Most people who work in corrections say as people get older they tend to age out of the behavior that got them into trouble."
The Justice Department report published in May indicated aging inmates are "generally less of a threat during incarceration and less likely to be a threat to society once released." The study advocated that the Federal Bureau of Prisons revise its compassionate release policy to allow additional older inmates to qualify.
On Oct. 1, U.S. Sen. Chuck Grassley of Iowa introduced the Sentencing Reform and Corrections Act of 2015. Among other proposals, the bill would allow inmates 60 or older with no record of violence, as well as terminally ill offenders, to be released from prison.
Chaplains such as Lowry sometimes have a difficult time locating relatives for long-termers in hospice care. Their parents and perhaps siblings have died, and they may be estranged from their children.
"We try to help re-establish contact with kids who aren't in their lives anymore," says Lowry, 58. "It's vital as a chaplain to try to find their next of kin so they can make amends before they die. Sometimes they haven't had any family contact for years."
Many inmates never have any visitors, Lowry says, whether relatives or otherwise. She has spent the final minutes with hundreds of inmates so they don't have to die alone. Volunteers are needed for hospice programs, according to Lowry, who spent a decade as a volunteer before becoming a state employee.
"Prisoners who are about to die just need to have contact with another person," Lowry says. "Just to sit and watch a movie with them helps."
"The best thing a chaplain can do is to encourage inmates to talk about memories that have values," says Reighard, 59. "Listening to stories means a lot."
Reighard spent 15 years as a supervisory chaplain at the U.S. Medical Center for Federal Prisoners, a facility in Springfield, Missouri, where numerous federal inmates go for end-of-life care. He says prisoners near death may be more open to making a salvation commitment to Jesus. When chaplains or volunteers are in short supply, other inmates often end up serving as a surrogate family to dying inmates.
"As the prison population ages we will see more of trained inmates being the care providers in hospice units," says Dye, 60.
While it seems logical to release a prisoner who seemingly isn't a threat to care for on the outside, Dye says, protection of lives must be the overriding factor.
"It would be important to consider the safety risk to themselves and others who have been diagnosed with a severe mental illness before release," says Dye, who lives in Knoxville, Iowa.
Victims of violent crime also should have a voice in whether an inmate in declining health is released early, Dye believes.
"With proper training and proper supervision, volunteers can be a great asset to a chaplain," Reighard says. "But caution must be exercised because inmates will take advantage of volunteers more so than staff members."
Reighard says prison chaplains, while being compassionate, still need to be wary. Even for a dying convict, the will for freedom can be strong enough that an escape attempt might be made.
"Chaplains want to trust people, but they must be cautious not to let their guard down," Reighard says. "They can get conned as much as anyone else. One of the worst fears of an aging inmate is dying in prison. What dying people wish for the most is to have their family back again."