YGardens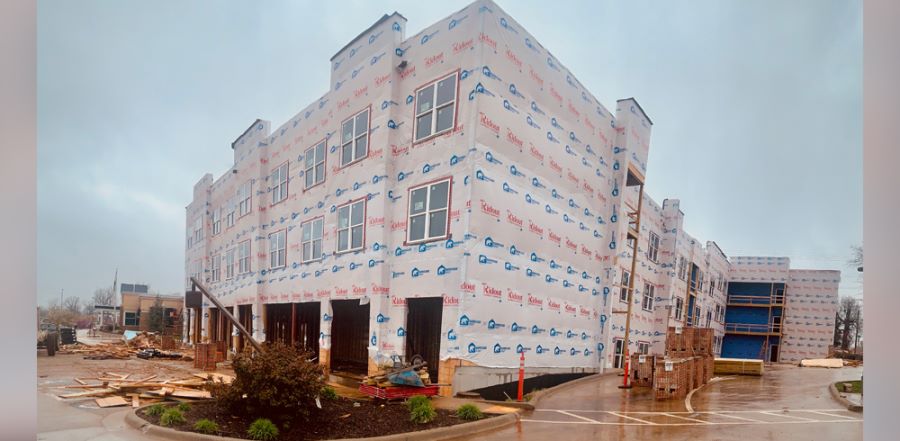 Don't miss any stories. Follow AG News!
When lead pastor
Ted L. Cederblom
joined Life360 Church in Springfield, Missouri, he outlined a 30-year vision for church planting through serving, including in more impoverished areas of the city.
In 2015, Jeremy S. Hahn, then a staff pastor at the church's ParkCrest campus and a missionary associate through U.S. Missions
Missionary Church Planters & Developers
, launched
Life360 Fairbanks
in a low-income north side neighborhood. The campus began holding a Sunday evening "dinner service" and partnered with other organizations in renovating the former Fairbanks Elementary School building into a community center.
"We wanted to make a lasting impact," says Cederblom, 55. "Not just Sunday morning church attendees, but the entire community."
As the church got more involved in the neighborhood, the need for transitional housing — with affordable rent and access to social services — became apparent.
Now Life360 Community Services
— with Hahn serving as executive director, even as he continues to pastor the Fairbanks campus — is taking steps to meet that need. Life360 YGardens, currently under construction, will provide 41 stylish, comfortable apartments conveniently located near Ozarks Community Technical College, Missouri State University, and income-based health services.
A minimum of eight apartments will be designated for teens aging out of the foster system. The name, YGardens, symbolizes the "fork in the road" encountered by these youth, who often end up homeless, in poverty, or incarcerated if they are not directed toward resources. Project partners include several local nonprofits serving at-risk youth, and these agencies will continue to provide life skills training and mental health services to residents.
Brent E. Tiemann, a 2020
Evangel University
graduate with a bachelor's degree in government and church relations, recently joined Life360 Community Services as youth programs specialist. His duties will include coordinating delivery of services to YGardens youth in addition to summer and after-school programs.
"I grew up in a minister's household and learned the value of helping kids in need," says Tiemann, 22. "After volunteering at the Fairbanks as part of Evangel's launch week, I was hooked."
The Fairbanks project helped give traction for developing community partnerships and learning to utilize government funding in order to create self-sustaining projects.
"Separation of church and state is sometimes interpreted incorrectly," says Hahn, 40, noting that Life360 Community Services participates in Department of Health and Senior Services and U.S. Department of Agriculture food programs for day camps and child care. YGardens will utilize tax advantages for assisting former foster youth.
"We can't proselytize, but we can show the love of Jesus," Hahn says. "We've been asked to open our summer camp early in response to the COVID-19 crisis. We're doing child care and drive-through food lines, according to health department regulations, as a needed supplement to what schools are doing."
In addition to youth-related nonprofits, YGardens has other community partners. Arvest Bank helped arrange a favorable purchase of the project property.
Life360 views YGardens as the middle piece of a progressive housing picture. The first step is emergency housing through Life360 House — established by Brooke Dizmang in 2015 — then continuing to build life skills at YGardens, and later, more independence as a responsible renter. Five homes have been donated for that purpose. The church eventually hopes to help people gain their own housing by working with programs like Habitat for Humanity.
In addition to former foster youth, YGardens residents will include families and older adults for a multigenerational, holistic view of life and family. Families on the upper end of qualifying, nearly ready for the next step, can serve as mentors to newer residents. To build community, a resident life director will coordinate weekly dinners and activities. Youth will meet one-on-one with the director to set goals, including the establishment of an individual development account through which the young person's savings are matched toward a major purchase. Mentorship continues through selecting the item, often a car, and learning to maintain it. Volunteers from the church, with particular skills or just a listening ear, are welcomed.
Life360 hopes to replicate the housing project in nearby Branson, where many seasonal tourism workers or people in recovery live paycheck-to-paycheck in extended-stay motels.
"While we are a family of churches, we are distinct in our expression to each unique community," says Cederblom. At the Fairbanks, in addition to child care and food programs, Life360 partners in a community garden, teaching healthy eating and practical skills. In Dexter, Missouri, the church is helping build a resource and care center for single parents. After-school care and food are frequent needs, and
Rural Compassion
, a ministry of Convoy of Hope, helps with training pastors and obtaining resources.
According to Laurel Harvey, a
U.S. missionary
with Rural Compassion through Missionary Church Planters & Developers, school leaders welcome church involvement.
"It becomes a relationship," she says. "In Conway, Missouri, the church had held so many school workdays that when they worked on their own facility, the superintendent and principal showed up to help!"
Hahn summarizes the goal of Life360 Community Services as showing the love of Christ by identifying needs and finding ways to meet them.
"When people see you're there to serve, trust happens," Hahn says.