Feeding Customers, Blessing Souls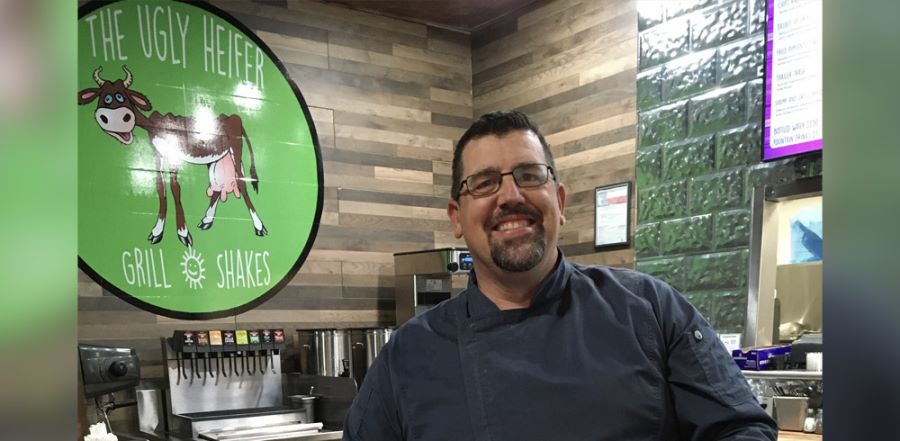 Don't miss any stories. Follow AG News!
WAXAHACHIE, Texas — When Assemblies of God
North Texas District
leaders and office staff recently gathered for lunch at the
Ugly Heifer Grill
in Waxahachie, delicacies on the menu included grilled bison chopped steak, chicken and waffles, as well as Mississippi mudslide shakes. Assistant Superintendent and foodie
Kermit Bell
opted for the eatery's signature mouthful: a half-pound Angus beef patty and the usual fixins along with red onions and cheddar cheese.
The giant gourmet-style burger left him too full to enjoy the "Hub Cap" dessert — a
giant cinnamon roll
.
"I'm going back to get one," Bell says.
The restaurant is part of a ministry plan created by
John A. Stout
, an AG
U.S. missionary
serving with
Intercultural Ministries
. Stout designed it to fulfill needs for funding and a learning environment for those in
Runners Refuge
, the Dallas-based homeless compassionate care ministry he founded with campuses also in Alamogordo, New Mexico, and New Orleans. Thirty percent of profits from the Ugly Heifer, named after Stout's doofus English bulldog, finance the Runners Refuge program, a broad outreach that includes a job- and life-skills component for hitherto unemployable men.
Stout, 44, a
chef by trade
, and his wife, Rachel, for 16 years served as AG children's and youth pastors. He retired with medical disability from the U.S. Army following four combat tours in Afghanistan and Iraq as a combat scout and member of the military culinary team.
Using GI Bill of Rights benefits, he earned a
church ministry degree
from
Southwestern Assemblies of God University
. For four years, the couple
provided meals after disasters
through the compassion ministry
Mercy Chefs
.
But the Lord shifted Stout's heart to help the homeless, whom he calls "outdoor friends." The Holy Spirit planted in him a God-sized vision that included
Nehemiah's House
, a halfway residence with multiple options for helping people find new starts in life.
That program, however, carries a $20,000 monthly operating budget, an exorbitant amount for churches to supply, especially during the pandemic.
"If we don't raise that from donors, we have to find another way to fund it," he says.
To launch the Ugly Heifer, Stout emptied his savings account and prayed:
God, here's $20,000, and You provide the rest
.
Then COVID-19 hit. Overnight, the $20 donations, which had made up the bulk of Runners Refuge support from ordinary people, dried up. Restaurants shuttered right and left.
In the natural, 2020 seemed the worst time to launch. Moving forward took a big dose of
Hebrews 11:6
.
"I started believing God would bless and multiply it," Stout says. "We've got to learn to step out in faith. When God says something, do it and believe He'll provide it."
He needed a team. For leaders, a relationship with Jesus is non-negotiable.
"If we're a Christian company, our staff needs to be Christian," Stout says. He hired someone in the know about burger restaurants: his son Cameron, a district manager for the Jack in the Box fast-food chain. Adept at management, Cameron oversees the business end. Employees are a mix of community people and Nehemiah's House residents.
The restaurant is in a strip mall on a rural Waxahachie highway where developers are building 10,000 homes.
The Ugly Heifer's initial opening date, Sept. 1, was scrapped when the builder Stout hired up and quit. Guys from Nehemiah's House helped Stout finish the 3,600-square-foot building that seats 54, teaching each other job skills along the way. For instance, one halfway house resident tutored Stout on how to lay tile.
But opening day, Dec. 4, proved to be a nightmare. The power went out. When it came back on, the surge fried the restaurant's breakers. Stout had to shut down the restaurant the second day.
The disaster proved to be a potent lesson for all involved.
"I told my staff the enemy doesn't want us here," Stout says. "The end result is men's lives are going to be changed, addiction is going to be ended, women will be rescued from prostitution. We're going to keep fighting through it."
By February, the restaurant had gained in popularity, receiving positive reviews and return customers. Beyond the 30 percent of profits designated for Runners Refuge, tables have Quick Response donation codes linking to the homeless ministry. Customers also may donate by rounding up their bills to the nearest dollar.
Patrons have been generous, including a $3,500 donation one day in January. One man Stout had never met contributed $1,200 by using his phone.
"He gave us a good review and left a note that said
Love what your ministry is doing and love the burgers
," Stout says. "It's probably the most expensive burger he's ever had."
In Stout's mind, that validated the concept of melding a restaurant with charity.
"People see the value in what we're doing," Stout says. "They understand it's a ministry, and they donate."
In the strip mall adjacent to the Ugly Heifer is Giovenca's (Italian for "heifer"), Stout's Italian eatery, which will seat 32 and open in March. The restaurants share a kitchen and managerial staff, thereby reducing costs.
Additionally, the dining spots serve as a donation point for clothing and goods. In mid-February as workers moved forward with completing Giovenca's, shoes, bedding, clothing, and other items filled its entry.
Meanwhile, it's likely folks from the North Texas District office will be back for more meals.
"Everyone said their food was outstanding," says Bell, who notes he'll return for his Hub Cap soon. "It's a great menu, a great ministry."