Pentecostal Research 2.0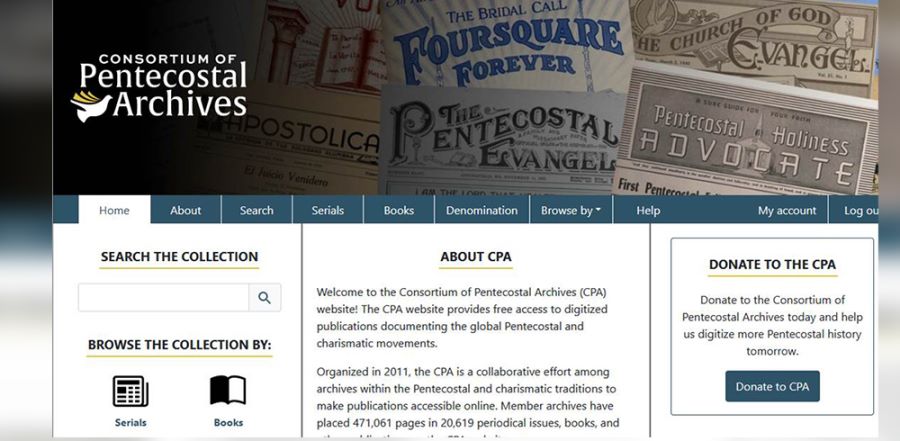 Don't miss any stories. Follow AG News!
The Flower Pentecostal Heritage Center (FPHC) soon will have a new, upgraded website, thanks to a $100,000 grant from Alletha M. Barnett and the Christian Fidelity Foundation. The FPHC is housed in the Assemblies of God national office in Springfield, Missouri, and staffed by AG employees.

The grant included a $30,000 allotment dedicated to the Consortium of Pentecostal Archives (CPA) website. The CPA formed in 2011 as a joint endeavor among the denominational archives of the AG, the Foursquare Church, the International Pentecostal Holiness Church, and Church of God based in Cleveland, Tennessee.

The refurbished website formally launched March 18 at the annual meeting of the Society for Pentecostal Studies, the largest Pentecostal academic organization in the world.

"The new website is user-friendly and allows full-text searches and browsing through almost 500,000 pages of periodicals and books," says Darrin J. Rodgers, FPHC director. "It will become a backbone of global Pentecostal studies, providing countless church leaders, ministerial students, people in the pew, other researchers, and web browsers free access to print materials promoting our Pentecostal heritage, theology, and testimony. It's a game changer."

Rodgers expects CPA digital content to expand rapidly. The Dr. Mattie McGlothen Library Museum, joined the CPA in March and added its collection of over 33,000 pages of publications from the largest Black Pentecostal denomination in the U.S., the Church of God in Christ. Additional archives from the United States and other nations are in the pipeline to join and place materials on the CPA website.

"This website gives a platform to Pentecostal archives to place their digitized publications on a top-tier site alongside other Pentecostal collections, all at a minimal cost and without giving up their intellectual property," says Rodgers, 49.

Rodgers explains that online researchers will be able to search through hundreds of thousands of pages of AG publications, including Enrichment, Paraclete, Advance, Assemblies of God Heritage, and virtually all weekly issues of the flagship Pentecostal Evangel, published for 101 years ending in 2014. The website includes 90 additional magazine titles, as well as books, from the AG and other Pentecostal groups.

As enthused as he is about other American Pentecostal groups loading their materials onto the platform, Rodgers is also ecstatic that Pentecostals from around the world can find ministry educational resources at one convenient location.

"As archives from other nations join and place their materials on the CPA website, this will allow ministerial students and pastors to access materials in their own language, from their own country, telling their own stories alongside those of English-speaking Americans," Rodgers says.
Rodgers says the free easy-to-use full-text-search site will be a boon to distance-learning institutions, such as the AG's Global University.

David G. Roebuck director of the Dixon Pentecostal Research Center in Cleveland, Tennessee, is chairman of the CPA. Roebuck says he appreciates the generosity the AG has shown in supporting the consortium, which the FPHC has hosted for the past 12 years.

"Early on, Darrin came to understand the importance of making documents available online," says Roebuck, who also is an ordained bishop in the Church of God and assistant history of Christianity professor at Lee University. "His commitment to the Pentecostal movement has meant, at times, tireless work trying to build the collection."

Since 1997, Roebuck has been director of the Dixon Pentecostal Research Center, which launched in 1971. It is the second largest Pentecostal archives, after FPHC. Roebuck is enthused about the future of the CPA.

"This Consortium of Pentecostal Archives has become the best place for scholars of Pentecostalism to go to learn about the Pentecostal movement, particularly in North America," says Roebuck, 63. "With this new search engine, we're going to see a great deal of excitement about its ease of use."

The retooled FPHC website has an August target launch date. It will include a new audio/visual repository and upgraded photo interface.

The FPHC (initially called Assemblies of God Archives) was organized in 1977. Since 1999, FPHC has operated a 3,000-square-foot interactive museum in the AG national office. Through last year, FPHC had catalogued 155,115 items, up from 49,000 when Rodgers arrived in 2005. The catalog includes materials in 164 languages. At least 10% of new catalog records each year are for non-English language acquisitions. In addition, the heritage center has been supplying a weekly "This Week in History" column toAG Newssince 2010. The FPHC blog, started in 2007, now reaches over 100,000 viewers annually.