Flying, Cycling, and Translating . . . So All Can Hear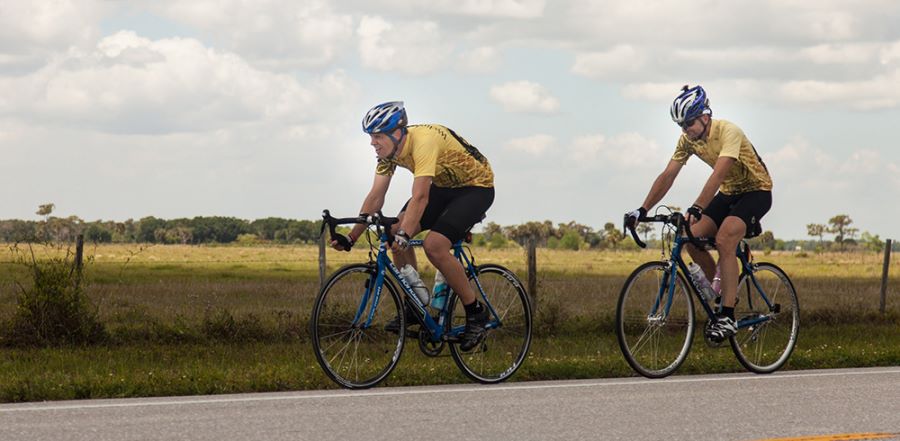 Don't miss any stories. Follow AG News!
Doug Haag — a licensed Assemblies of God minister currently serving with Wycliffe Bible Translators — is not the average missionary. Since the early 1990s, he has filled the roles of pastor, pilot, cyclist, and activist and has no plans to slow down.
Trained at Moody Bible Institute's missionary aviation training center, Doug began his missions career in Papua New Guinea in 1997. He flew single-engine Cessnas for the extremely busy missionary flight program there, logging over 1,200 flight hours in his first three-year term.
In 2001, Doug and his wife, Jo, transitioned to Wycliffe's headquarters in Orlando to be a part of Wycliffe's Vision 2025 initiative.
"Vision 2025 is a God-sized vision to see Bible translation started by 2025 in every language that still does not have its own Bible. Accomplishing that would shave 125 years off the currently projected years remaining to accomplish that task," Doug explains.
The question of how to keep the larger church body informed about and increasingly engaged in Bible translation became an ever-present one and a driving force for the Haags.
In 2013, Doug and his Wycliffe colleague Dan Moury, both avid cyclists, began to dream of doing a long-distance bike ride to promote and fund a Bible translation project. But what project should they choose?
The two men decided to do a 24-hour ride on April 10, 2015, but were overwhelmed trying to choose the right project to promote with their ride. Doug also hoped to use social media to draw attention to the ride and project, so searched for a group led by a translator who was willing to interact on Facebook and who had consistent Internet connectivity.
"Lord," Doug prayed, "help me fall in love with the right people group."
In November 2014, as he scanned the vast database of Wycliffe's current projects, a name jumped out at him. Akebu. Then Doug realized God had answered his prayer 10 years before he prayed it.
"In 2002 Wycliffe published an A-Z children's book of Bibleless peoples with one people group for each letter of the alphabet," explains Doug. "It is called From Akebu to Zapotec. When my daughters Ashley and Emily were younger, we would pick one or two people groups from the book and pray for them each night before bed. That's why the name Akebu leapt off the database page at me. I had been praying for that group for years."
As Doug and Dan looked into the Akebu project, they discovered the leading translator was a Togolese man, Jacques Sossoukpe. Most residents of Togo, West Africa, are French-speaking, but Jacques was also fluent in English and able to communicate with Doug and Dan on Facebook. In fact, he was already actively promoting his work on the site.
Doug was amazed to find that, like himself, Jacques was an Assemblies of God pastor turned Bible translator.
On December 7, 2014, Doug and Dan launched Spoke and Word (One Day for the Akebu) — their Facebook page dedicated to the promotion of the Akebu translation project through their bike ride. Momentum built as April 10, 2015, approached, and Jacques organized a 24-hour prayer rally in Togo for the ride.
At 10:07 a.m. on April 10, 2015, Doug and Dan launched their bike ride from the Wycliffe parking lot in Orlando. 23 hours and 49 minutes later they rolled up to the southernmost point of the continental U.S. in Key West, having met both their distance goal of 363 miles and their funding goal of $15,000.
One hour after the ride, Jacques messaged Doug from Togo. "Hi Doug — you made it! Thank you! I am moved to tears. We are so grateful."
In the months since the bike ride, the Haags' home church (Faith Assembly pastored by Carl Stephens) has adopted the Akebu translation project. Doug launched a missions prayer class focusing on intercession for the Akebu project and also for all the missionaries Faith Assembly supports worldwide.
In the summer of 2015, Jacques and his team translated the script of the JESUS film into Akebu. Plans are underway to debut the JESUS film later in 2016 as part of the dedication of a new building Faith Assembly plans to construct for a church plant in an Akebu village.
The most exciting part of the Akebu story, Doug remarks, are the chapters yet to be written.
Doug and Jo give all glory to God and rejoice at the fulfillment in their lives of His promise in Isaiah 55:5: "Behold, you shall call a nation you do not know, and a nation that did not know you shall run to you" (ESV).
"Our prayer is that we inspire others to lay hold of God's promises and that more churches will call on God for the nations and for specific people groups," Doug concludes. "We pray that churches will do whatever it takes to see others come to Christ and be discipled — and how can they be discipled without the Word of God in their language?"