Momentary Trials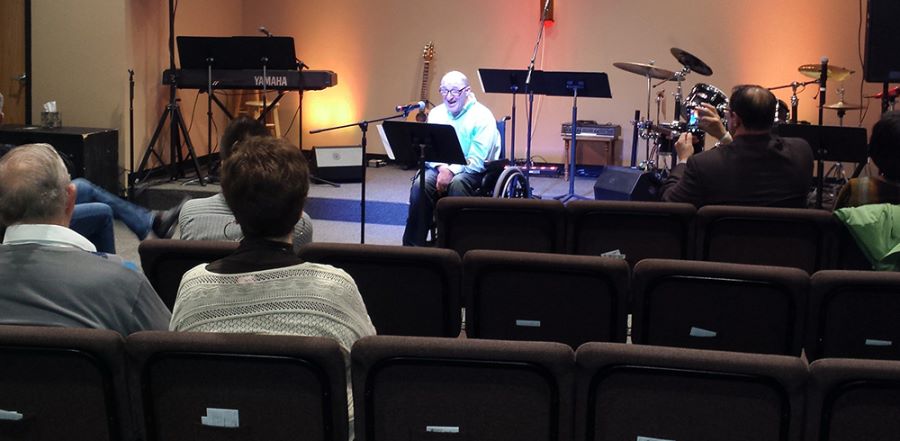 Don't miss any stories. Follow AG News!
He uses PowerPoint to project the text of his messages when he preaches and his sister Beth interprets during phone calls. Yet Bradley Mattrisch doesn't let his speech or mobility challenges — direct results of developing cerebral palsy soon after his birth — stop him from proclaiming the gospel and teaching Scripture.
Mattrisch, ordained as an Assemblies of God minister since 2006, serves as an Intercultural Ministries U.S. missionary associate with Special Touch Ministry. STM, based in Waupaca, Wisconsin, is a ministry founded in 1982 by Charlie and Debbie Chivers. STM is a ministry to people with disabilities, both physical and intellectual.
At age 12, Mattrisch attended STM's first Summer Get Away camp, and sensed a ministerial calling.
"After he spent some significant time at the altar, I went up and asked him what God had for his life," Chivers says. "He said he felt God calling him to help people understand the Bible."
Mattrisch remained plugged in to the ministry from then on, participating in as many events as he could. He also excelled at Teen Bible Quiz competitions, graduated from Southeastern University, taught Sunday School, got involved in singles' ministry, and took further studies from Global University. He joined STM full time about nine years ago. Though his day-to-day focus is the information technology needs of STM, Mattrisch also follows up with those who make new salvation commitments at camp and guides the curriculum program of the ministry, writing many of the lessons himself.
"He is very intelligent and understands the Word," Chivers says. "I sensed early on that he would be involved in our ministry." While Chivers didn't doubt Mattrisch's calling or ability, he wondered whether Mattrisch would have opportunities within the Church to use his gifts.
"People with disabilities are rarely given platforms," Chivers says.
Mattrisch knew his difficulty with speech could prove a hindrance, but he reflects on how Moses overcame his own impediment.
"I knew it wasn't an excuse," he says. His biggest challenge has been the pressure he sometimes feels from those who suggest he doesn't have enough faith to be healed.
"When I go to different places, people want to pray for me to be able to walk, to receive a miracle," Mattrisch says. He reminds such folks of Daniel's friends thrown into a fiery furnace. They believed God could deliver them, but declared that even if the Lord didn't, they would still serve Him.
"I trust in God whether a miracle comes or not," says Mattrisch, adding that he views his physical challenges as only temporary. "God will reveal His glory in the future. Heaven will be so much better!"
Chivers says many people who encounter Mattrisch for the first time — especially those who might have hesitated to invite him to speak — are shocked by his knowledge, wisdom, and spiritual leadership.
"It opens their eyes to who God is and His power," Chivers says. "It either convicts them of making excuses for not doing things, or it motivates them to rise above their own challenges."