Movable Ministry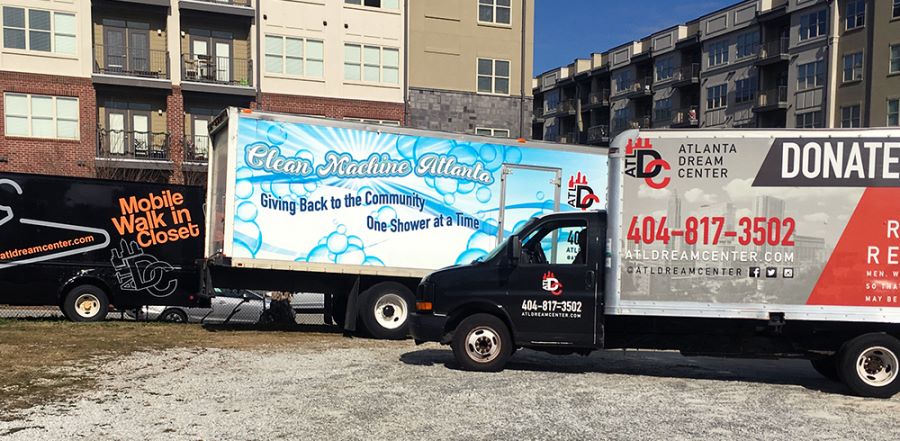 Don't miss any stories. Follow AG News!
Staff and volunteers at the Atlanta Dream Center have been putting hands and feet to homeless ministries for more than a decade. This year, they're getting some added help from two sets of wheels.
For the past year, Atlanta Dream Center representatives have driven a "mobile walk-in closet" truck to needy areas on the streets of the Big Peach, outfitting the homeless with new or slightly used outfits as part of the ministry's weekly compassion nights. In the autumn, the Dream Center will also begin providing free showers through a companion truck dubbed the "Clean Machine."
Paul V. Palmer, senior pastor of Atlanta Dream Center Church and the Dream Center's founder, says both vehicles will help not only meet practical needs faced every day by the homeless, but also expand the number of connections they make to help people get off the streets and connect with Jesus.
"It is not only giving them clothes and soon giving them a shower, but what it's really doing is giving them an opportunity to completely change their life," says Palmer, a U.S. missionary with Church Planters & Developers.
Opened in 2003, the Atlanta Dream Center reaches out to homeless men and women, at-risk children, and sex trafficking victims, connecting them with long-term care in a Christ-centered environment.
The Dream Center's ministry has incorporated clothes closets in the past, but Palmer says staff saw a need to provide a better way to bring the clothing to the people in need. So, the Dream Center purchased a used box truck and installed cabinets, mirrors, shelves, air conditioning, and heating. Now, during outreach nights, several people can go through the truck and take two sets of clothes apiece. Everyone who receives the apparel also receives a Bible.
Palmer says the staff, volunteers, and homeless people are making the most of it, treating the ministry at times like a fashion show.
Adili Kea, the Dream Center's outreach director, says the Dream Center clothed 560 people in 2016, an effective addition to its ministries.
"We have been able to see an increase in salvations since using the clothing truck and have been able to more effectively disciple those on the streets," Kea says.
The new shower truck, financed mainly by a generous gift from donor Doug Parson, is equipped with four showers and instant hot water tanks. Shampoos and soaps used will be biodegradable so the water can empty right into the gutters.
Kea says the Dream Center plans to offer showers, breakfast, and ministry outreach to areas of high homelessness on select mornings. Palmer says the two trucks will be able to work in tandem to provide a more complete experience.
"We're going to take the shower truck out with the barber chair in it, with mirrors, cut hair, let them shower, and they'll have clean clothes to put on when they walk out," Palmer says.
Kea says the additions will help the Dream Center continue to grow its homeless ministries, reaching an anticipated 2,000 more people this year in addition to the 7,000 it reached last year.