Order to Go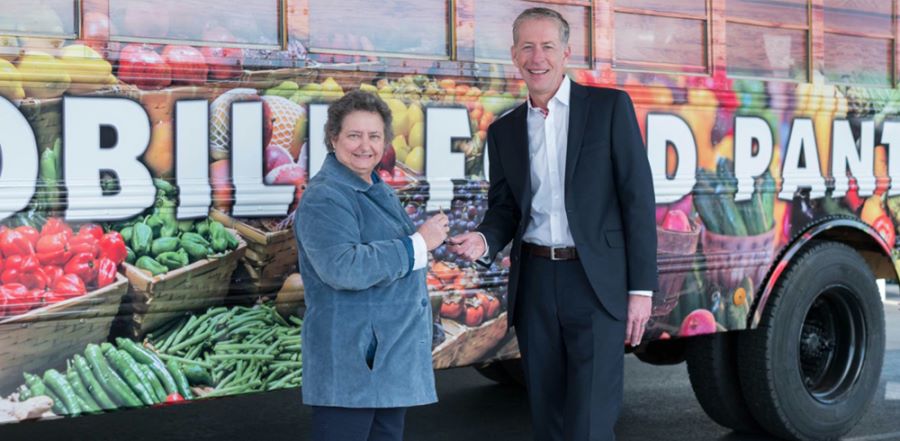 Don't miss any stories. Follow AG News!
When a school bus passed then-Arkansas U.S. Department of Agriculture Director Buster Lackey on a Little Rock highway, he shared a spontaneous thought with his wife, Crystal:
I could make that school bus into a feeding bus.
For Lackey, who attends North Little Rock First Assembly, the notion seemed peculiar. Although his dad, David, owned an automotive business, Lackey had never been hands-on growing up.
"I don't even own a set of tools," says Lackey, 45.
But two years after the episode, Lackey took part in a NLR First AG partnership with Arkansas Children's Hospital and Helping Hand, a Catholic charity, to retrofit a bus as a mobile food pantry.
"When God tells you to do it, you do it," Lackey says.
Lackey holds a doctorate in counseling psychology. His résumé includes serving as a senior hospital chaplain and as a school administrator. But all the while his heart has been drawn to the plight of the hungry, especially those without transportation, and thus without access to food.
USDA statistics rate Arkansas among the most food-insecure states, especially among children; statewide, 250,000 of 450,000 kids in kindergarten through 12th grade receive free or reduced lunches. Lackey says the USDA spends $100 million each year to feed Arkansas children.

Lackey's then-boss, Arkansas Gov. Mike Beebe, liked his idea and sent him to Orlando, Florida, to see examples of old buses transformed into mobile kitchens. He came home and created one for a secular nonprofit.
About that time, NLR First AG Senior Pastor Rod Loy delivered a sermon about hunger titled "Share Your Lunch," which launched a nine-week food drive.
"Buster told us that one of the needs was a mobile food bank for Arkansas Children's Hospital," Loy says. "A significant percentage of patients who come to their clinics are food insecure or simply hungry."
To that end, the hospital provides meals to those in need. But it needed a way to connect to Helping Hand, a charity that provides 40 sacks of groceries per month to hospital patients and their families.
When the church offered the hospital a 1991 Blue Bird 71-passenger school bus it had retired from its fleet, the hospital suggested the church donate the bus to Helping Hand of Greater Little Rock.
"We're small, we needed a bus," says Helping Hand Director Gayle Priddy. "We didn't have the funds for that. But the Lord knows what we need. First Assembly said they'd retrofit it."
The church raised around $30,000 and tasked Lackey to renovate the bus inside and out. Lackey, his dad David, and his father-in-law Curtis Smith equipped it with new flooring, heating and air conditioning, refrigeration, food bins made from recycled wooden pallets and bushel baskets, and a desk. He hired a company to create a beautiful produce mural around the bus he named Lion Chaser, based on 2 Samuel 23:20-23.
The concept of a mobile food pantry is biblical, Lackey believes.
"Nowhere in the Scriptures did Jesus say, 'You come to me.' He went to them," says Lackey, who on March 1 became chief executive officer at the Lonoke County Council on Aging. "He met them where they were."
As Lackey worked on the bus, he also linked the church and USDA to sponsor "Food Fight," a statewide hunger awareness summit attended by 150 representatives, including Priddy, from Arkansas hunger-fighting nonprofits and government agencies.
"He's a very giving and very talented guy," Priddy says of Lackey. "His is a labor of love."
Loy handed the bus keys to Priddy on Feb. 23.
Lackey wants to show others how to repurpose old buses, vans and other vehicles.
"I've got a vision to turn just about anything into a mobile something," he says. "We can rebuild one for far less than $30,000."