Renewed Fervor to Fight Opioids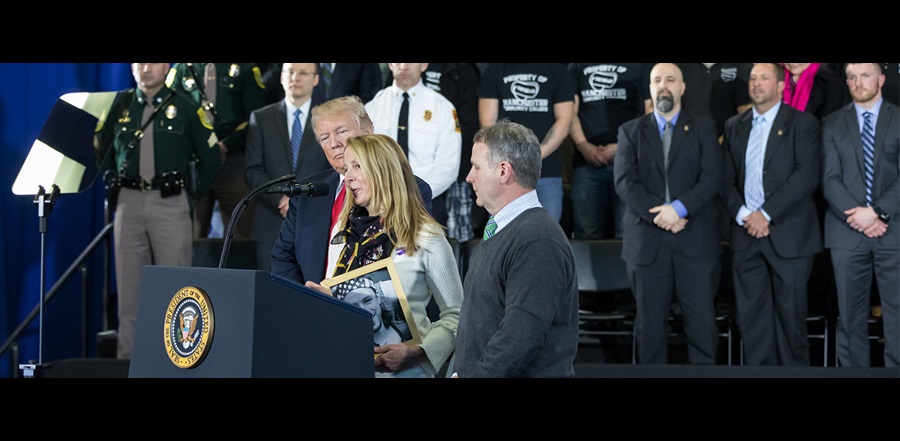 Don't miss any stories. Follow AG News!
President Donald J. Trump Monday afternoon unveiled his Initiative to Stop Opioid Abuse, and Adult & Teen Challenge USA President Joe Batluck is making a pitch that the Assemblies of God ministry be considered part of the administration's solution.
Trump, in a 35-minute speech at Manchester Community College in New Hampshire, reiterated the administration's threefold plan of action against the opioid emergency: prevention, treatment, and recovery.
"This scourge of drug addiction in America will stop," Trump announced. "Addiction is not our future."
In October, Trump declared opioids a public health emergency, outlining plans to spend an additional $6 billion to combat the crisis.
In his Monday speech, Trump focused on cutting off the supply of illegal drugs and getting tough with drug dealers, including a call for the death penalty. Trump, however, also urged legislative changes to a 40-year-old law that prohibits Medicaid reimbursements for residential treatment at facilities with more than 16 beds.
Earlier this month, Batluck attended a White House invitation-only summit with his wife, Irene.
Five Cabinet members on two panels met with 200 individuals representing agencies such as Teen Challenge, individuals in recovery, and family members who have lost loved ones to addiction.
Batluck and others engaged panel members with questions on topics related to how the president's initiative will impact the field of recovery.
At the March 1 summit, Trump also addressed the group for 15 minutes. The president expressed his gratitude to agencies that are helping in the fight, and he voiced support for faith-based groups.
Last fall, New York Teen Challenge Director Jimmy Jack made a personal appeal to the administration to consider faith-based entities as the solution to the opioid crisis.
At the White House summit earlier this month, Secretary of Housing and Urban Development Secretary Ben Carson touted the faith-based community holding the key to solving the deadly drug plague. Carson suggested that 18 months is the optimum period for someone addicted to drugs to regain stability.
Secretary of Health and Human Services Alex Azar promised that a portion of the $6 billion in proposed new funds to fight the epidemic will be used to build and improve medically assisted facilities to help those in need of recovery.
Batluck says he came away from the summit with a renewed appreciation for the number of people waging war in the trenches. He says he remains convinced that a gospel-centered approach is the solution to recovery.
"Now more than ever before, Teen Challenge has been raised up for such a time as this," Batluck says. "It is important to incorporate new ways of reaching and helping the addicted, while retaining our original core values and DNA."
After the summit, Batluck wrote a letter to the president and eight key advisers, primarily Cabinet members, requesting support in obtaining funding for Adult & Teen Challenge, a department of U.S. Missions, as a grassroots solution to the crisis.
"Adult and Teen Challenge is the most successful, one-of-a-kind, oldest, long-term residential, Christian drug and alcohol recovery program in existence," Batluck wrote. He explained that 227 centers in the U.S. house over 6,000 students and residents.
"These programs are funded, in whole or in part, by donations from individuals, churches, and sympathetic businesses," Batluck wrote. "Government assistance is minimal. Funding is the main roadblock to helping more individuals."
Image by Andrea Hanks; Official White House Photo (The White House) [Public domain], via Wikimedia Commons