Stunts Aid Speed the Light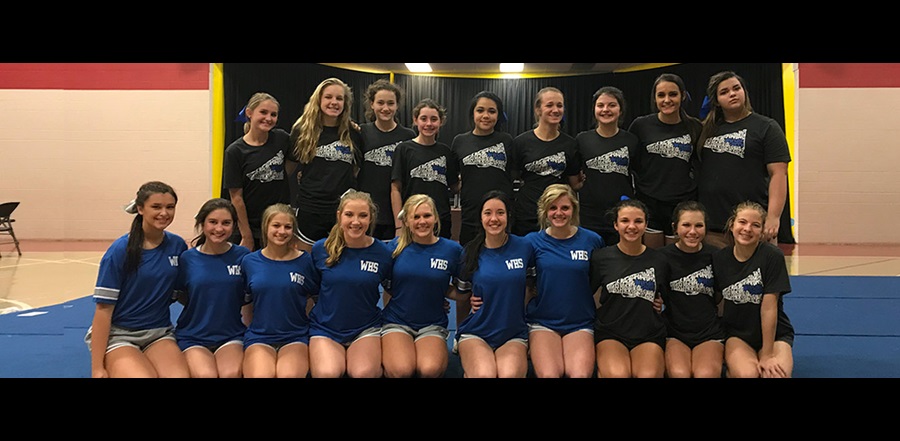 Don't miss any stories. Follow AG News!
"Five, Six, Seven, Eight!"

That was the call heard at least 1,000 times in the Florence (Alabama) First Assembly of God gymnasium as 18-year-old Rachel Phillips led an unlikely effort to raise money for Speed the Light (STL), the Assemblies of God national Youth Ministries missions program. Phillips and 19 girls from her high school cheer team spent hours doing 1,000 stunts as a STL fundraiser — a challenging endeavor made even more impressive by the fact Phillips was the only girl on the team who attends an AG church.
The idea of doing 1,000 cheer stunts began when Steve Mason, the Alabama District Council Youth director, spoke about the One in One Thousand Speed the Light challenge to youth at last summer's district youth camp in Springville. That message struck a chord Phillips' heart.
The One in One Thousand challenge is for one student or youth group to do one thing 1,000 times to raise $1,000 as a fundraiser for STL. STL funds are then distributed to missionaries in the form of vehicles and communication equipment needed to share the gospel around the world.
Prior to youth camp, Phillips had joined other youth in a missions trip to Honduras, where the impact of STL became real to her. "It's one thing to give a few dollars in a Speed the Light offering," observes Anthony Martin, the former Florence First AG youth pastor, "but on that trip, I could see her heart ignite for missions — she could see some of the Speed the Light vehicles and how the money was making a difference."
Following camp, Phillips knew in her heart she had to do the STL One in One Thousand challenge.
However, for Phillips, shooting 1,000 three-point baskets, shooting 1,000 arrows, or splitting 1,000 logs really wasn't something she was capable of doing. The one thing she felt really confident about was cheer. But it wasn't possible to do cheer stunts by herself . . . and how could she ask her teammates to attempt something so challenging for an AG missions program?
"I shelved the idea," admits Phillips, who's the captain of the Wilson High School cheerleading squad. "I just didn't see how the other cheerleaders would go for it." But when a co-worker brought up the idea of Phillips doing cheer stunts to raise the money, she felt it was confirmation to pursue the idea.
Anthony Martin and his wife, Lisa, who have since felt God calling them to other ministry following more than 14 years at Florence First, backed Phillips' idea. Then, somewhat to Phillips' surprise, her principal, cheer coaches, cheer team, and their parents also supported the idea.
"I will admit, behind the scenes, I was a bit apprehensive at first," Anthony Martin says. "That's a lot of stunts, there's the liability issue, then working with the public high school and parents . . . , but everything fell into place!"
Yet even Phillips was uncertain. Despite promoting the event on the local Christian radio station, social media, and through other means, very little money had been pledged toward the $1,000 goal. Then, just a week before the Oct. 21 event, five varsity cheer team members had to drop out.
"It came to the point that I started to think it wasn't going to work," Phillips says. "But then I just decided we were going to do it anyway — that God was going to come through for us."
She was right.
The day before the event, her phone began to light up. People were calling to volunteer, others were calling to let her know they would be coming by, and still others were calling to pledge support.
That Saturday, charts were put up in the gym and the cheer teams, in groups of fours, began to check off stunts performed, one by one, with Phillips participating on multiple teams. "We only checked the stunt off if we were successful in performing it," Phillips says. "Of the 1,000 stunts, we hit on 949 of them!"
Performing stunts from 9:30 a.m. to about 2 p.m., the effort was a stunning success — going from a feared failure to raising $1,668.30 for STL.
Yet, beyond the money raised was a life directed. Phillips will be attending the University of South Alabama this fall. "I plan to become a nurse practitioner and specialize in women and children," she says. "I want to help the movement to end human trafficking — perhaps joining with F.R.E.E. International or Project Rescue. And as a nurse practitioner I will have more opportunities than a regular nurse would."
"She's a great, great girl who just has an incredible heart," Martin confirms. "She's one of those people who gives their all."