ATC Continuing to Upgrade Training, Curriculum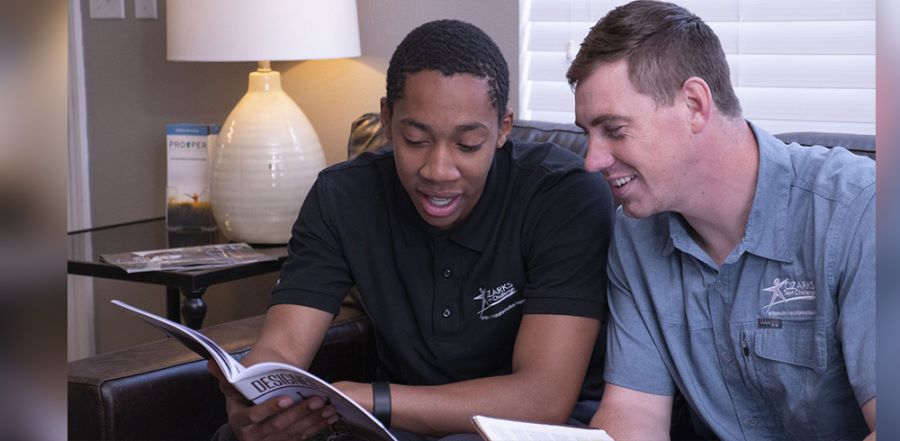 Don't miss any stories. Follow AG News!
For decades,
Adult and Teen Challenge
(ATC), a ministry of
AG U.S. Missions
, has set the standard in helping those with life-controlling challenges overcome addictions through its Christ-centered program. However, when your life — or the life of someone you love — is on the line, it's beyond reassuring to know that not only are those working to save your life Christ followers, but they are also well trained.
ATC leaders and counselors fit that description — and now, better than ever.
In March, just as the pandemic started closing down the country, ATC launched a new online training system for directors and counselors called ATC Bridge.
"Every ATC center in the U.S. and Canada receive 10 free licenses as part of their accreditation fees," explains Mitchell Easter, ATC Learning Technology manager. "We currently have over 2,300 individuals actively learning through ATC Bridge."
ATC Bridge provides directors and counselors with online training that can be used wherever they have access to the internet. As ATC requires that every employee completes annual Continuing Education Credits (CEUs) through courses such as Universal Precautions (caring for someone with open wounds, understanding pathogens, handling needles, etc.) and Confidentiality (what is and is not confidential) — ATC Bridge offers access to its courses at the learner's convenience.
But the accreditation-required CEUs are just the beginning.
"We also offer an entire gamut of courses that counselors and directors can access," Easter says. "Courses include program development, theological education, ATC DNA, direct care topics — such as understanding addiction in the family context and understanding and supporting healthy grief — 60 programs in all created and taught by experts in the field."
Other benefits to the ATC Bridge system include streamlined tracking for the accreditation process of individuals and centers, easy and convenient access, and far less time spent with paperwork. Easter notes that the ATC Bridge system also makes it easier for centers to be accredited by other agencies.
"We are creating and cultivating a healthier environment, where anyone can come through our doors and have a healthy encounter with Jesus Christ and know that we not only love Jesus and love them, but we're professionals," Easter states.
Over the course of the last 12 months, Easter says that Teen Challenge has seen improved outcomes in staff training through the use of the ATC Bridge system and managers are excited about the ease in accessing the required training as well as how robust the learning libraries have become.
"We've seen more than 11,000 learning hours logged in the system over the last 12 months," Easter notes.
Despite many organizations struggling through COVID, ATC did not have a single center permanently close down due to the pandemic, but instead opened several new centers. Easter says that the ATC national office is going to continue to add to the available resources, first with a new program specific to training new directors followed by an advanced executive development program.
But leadership isn't the only place ATC is continuing to invest resources. Two new tracks are being prepared on personal leadership and life skills for students. These tracks are to be added to the addiction education curriculum, which already includes "
Breaking Free
" and "Intimacy with Purpose."
In late summer the first three portions of the new personal leadership "Finding New Strength" track are to be released, with the remaining studies expected to be ready by year's end. The life skills track, Preparing for Success, is expected to be completed in 2022.
"Each track that we're writing has six books, 100- to 600-level," explains Wendy Buttacy, ATC chief learning officer. "But the new curriculum isn't just for those struggling with addictions. We're also making the studies available to individuals churches, counselors, similar ministries, and small groups for use in mentoring and discipleship."
Buttacy says that the reasoning behind the creation of the new ATC curriculum is, in essence, one word: communication.
"Over the last few decades, our culture has changed
quite a bit
," Buttacy says in an intended understatement. "And even though biblical truths remain the same, we recognize that we also need to express those truths in a way that the next generation can understand and take them in."
What is of some note is that the materials that Buttacy and Easter are creating are literally training the ATC leadership of today
and
tomorrow. As a majority of ATC leaders, from counselors to executives, are ATC graduates, the materials used in their programs pave the way to ATC's future.
So, as thousands of men and women do return to society as productive and Christ-serving believers through ATC, a significant number remain with the program for years after they graduate.
"We're working to make sure that we're raising up the next generation of leadership in ATC," Easter says. "These two new leaderships programs and the new curriculum will definitely help us do that."
Gary Blackard, president and CEO for ATC, confirms that over the next few years the focus at ATC will be on implementing world-class leadership training for staff across North America and around the world.
"I am a firm believer in the leadership principle of taking care of your people [directors, counselors, etc.] first, then your students," Blackard states. "Our 2021 national conference reflects this. We will have leadership experts like John Maxwell, Ryan Hawk, and John Townsend investing their wisdom and tools into ATC staff. Our future is extremely bright and we feel the Lord is positioning ATC for greater impact in a world desperate for help."