An Unlikely President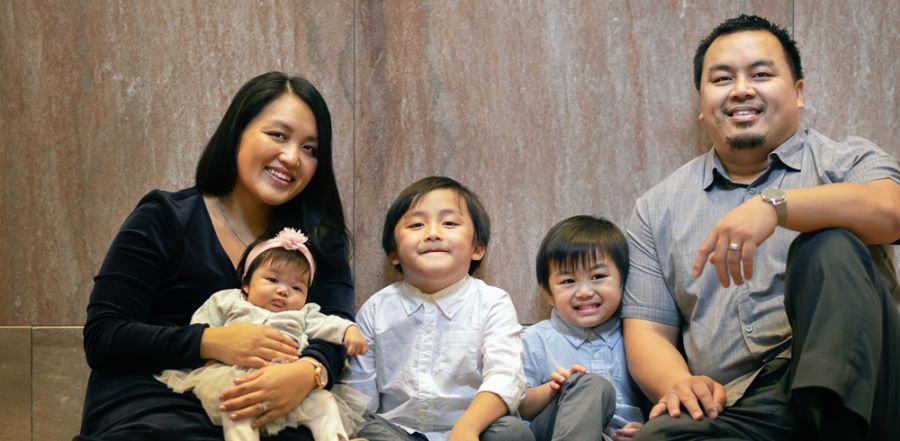 Don't miss any stories. Follow AG News!
As the new president of the Assemblies of God
Hmong Fellowship
, a network of 15 churches primarily in Minnesota and Wisconsin, Teng Vu says his goal for the ethnic minority community is simple: revival.
"There is a need for revival in the Hmong community, an explosion of people converting from animism and shamanism," says Vu, 37. "I believe God will bring healing, miracles, and signs and wonders among the Hmong people, that they will come to know Jesus."
Vu has experienced radical change in his own life. Born in south Minneapolis to a nominally Christian Hmong family, Vu grew up in a church where he never learned he could have a personal relationship with God.
"I was always so curious about this person hanging on the Cross," Vu says. "But the gospel was never presented to me."
At a young age, rebellion hit hard. By 12, Vu was drinking alcohol, doing illicit drugs, stealing cars, and shoplifting. A move to a better neighborhood in Minneapolis did not help. Vu dropped out of school permanently in eighth grade and swiped vehicles, committed burglaries, and took part in home invasion robberies to support his driving motivation: methamphetamines.
"I snatched purses from elderly women," Vu remembers. "I broke into homes, stole cars, anything I could do to get money to get high."
He even pilfered from his own family, picking the lock on his parents' bedroom door and stealing thousands in cash and family heirlooms. Banished from the house, Vu slept at parks, in friends' closets, and on floors.
In 2003, at age 20, he and a cousin robbed a Walgreens at gunpoint. While fleeing, police nabbed Vu's cousin. Police later apprehended Vu, who carried $1,000 cash hidden in his sock. The encounter, a desperate Vu later realized, turned out to be a turning point.
"I'm so glad the officer frisked me a second time," Vu says. "If he didn't, I would not be here today; I would be dead."
Facing up to 10 years in prison for his fifth felony as an adult, Vu called his mother, Me Yang, from the county jail where he awaited sentencing. At first she ignored his messages. When she finally did respond on the phone, she gave a stern message.
"We don't know how to help you anymore," Me Yang told him. "You need to pray and talk to God. That's the only hope you have right now."
A bewildered Vu asked his mother how he could pray to God.
"You just talk to him like you talk to me," Me Yang said, and hung up.
Vu took her advice. For 10 years, his mother had cried out to God as she commuted to work. She often had to drive slowly because she couldn't see through the tears. Vu followed her example for five months, kneeling every morning in his cell and asking God to free him from his destructive lifestyle. In addition to the crimes, Vu had overdosed twice on methamphetamines and almost died
One day, Wendy Torkelson Lowry, a
Minnesota Adult & Teen Challenge
staff member, visited the jail to tell inmates about the drug and alcohol recovery ministry. She returned every week, and Vu decided to apply for a residential stay. He had accepted a plea deal, and on sentencing day as the judge prepared to hand down a five- to 10-year term, Lowry stood up and asked permission to speak on Vu's behalf. She asked the court to release him into the Teen Challenge program instead of making him go to prison.
"I believe God has something for Mr. Vu," Lowry told the judge.
"I felt something change in the courtroom," says Vu. "I couldn't explain it, but I knew I wasn't going to prison."
After a brief recess, the judge released Vu to the Adult & Teen Challenge facility in Minneapolis. Within days, Vu gave his life to Jesus.
"When I got baptized in the Holy Spirit and began to speak in tongues, that's when I began to really hear the voice of the Lord," he says. "I had a hunger to pray and be more in God's Word."
During a year in the program, Vu reconciled with his father and mother and gave his testimony at local churches. On his last Sunday in the program, Vu and other residents ministered at an area church. Vu told about robbing Walgreen's and how God had changed his life. After the service, a man in attendance introduced himself.
"Mr. Vu, do you know who this is?" the pastor asked. "This is the man who owns the store you robbed."
"I wanted to crawl under a rock," Vu recalls. "But the Holy Spirit told me to reach my hand out and ask forgiveness."
The man, whom Vu had never met before, shook his hand and told him that since the night Vu robbed the store, the proprietor and his wife had been praying for him.
After helping to start the
North Dakota Adult & Teen Challenge
program in Mandan, then graduating from
North Central University
in 2013 with his bachelor's degree in pastoral studies, Vu planted his first Assemblies of God church in 2015. He also became treasurer for the Hmong AG Fellowship. This April, he was elected president. In addition, Vu serves as executive pastor at
Life in Christ Church
, in Maplewood, Minnesota. It is the largest Hmong AG church with 700 adherents. Vu and his wife, Nhia, have three children.
Vu wants to ensure that Hmong church ministers are resourced and otherwise supported.
"If we have healthy pastors, we'll have healthy churches which evangelize and do missions," Vu says.
When Vu looks back at his life before Christ, he credits his Me Yang's prayers for helping to rescue him.
"I wouldn't be where I am today without the prayers of my mom," Vu says. "I didn't think I would live this long, because of the drugs and the lifestyle. Sometimes I weep before God because I used to be homeless and begging for food from friends and restaurants. I'm really, really, grateful to God."