Martial Arts Ministry Mix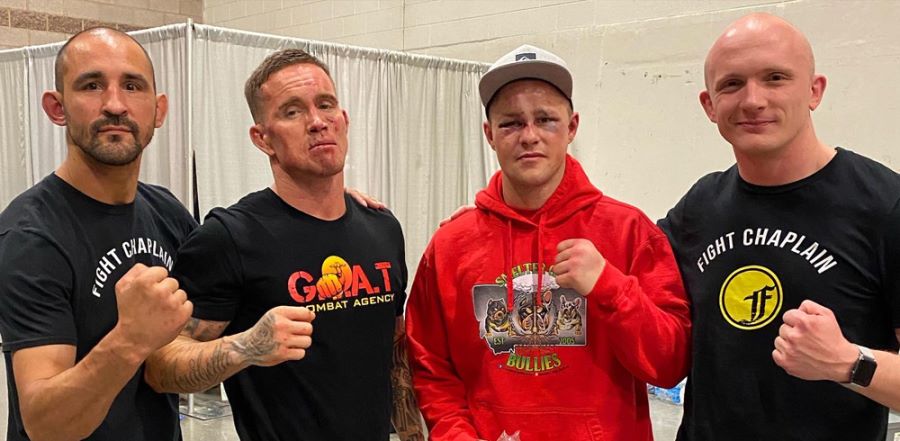 Don't miss any stories. Follow AG News!
The bell rings. The punching begins. The crowd roars. The opponent is knocked down. Any martial arts match could result in an injury.
Even though martial arts often involves aggressive physical contact, Zachary James Anderson believes it presents an incredible opportunity for ministry.
Anderson, 28, is both a martial arts instructor and an endorsed Assemblies of God
chaplain
missionary associate based in Butte, Montana. He grew up with a single mother, who got him involved in karate, thinking of it as "focusing a little boy's testosterone," in 1997.
Anderson did focus, receiving his black belt in hapkido and gōjū-ryū as a young teen. Hapkido is a hybrid Korean form of self-defense that involves kicks, punches, and throwing techniques. Gōjū-ryū is a Japanese form of karate. Eventually, he started competing in jiu-jitsu tournaments, as a few
other AG ministers
have done. That involvement paved the path to competing in mixed martial arts cage matches.
During high school, Anderson sensed God calling him to be involved in martial arts as a form of ministry. In 2010, Anderson started
The Fight Life Ministries
(TFL), which incorporated small group Bible study material that answers basic questions such as Who is Jesus, and Why did He come to earth? Five of the first nine people involved in the eight-week study accepted Christ as Savior as a result.
Anderson is an ordained AG minister, but he sought chaplain endorsement as another layer of credibility as he made inroads in the community as a mixed martial arts instructor in combat sports. He attends
Journey Church
, an AG congregation in Butte.
TFL is useful in preparation for ministry. One of the core members of the group, Anthony Curtiss, had a unique opportunity to serve this summer in Billings when Muhammad Ali's grandson Biaggio Ali Walsh was injured during a fight. Walsh wound up on a stretcher and Curtiss asked if he could pray for him.
Anderson's friend Matthew Muns participated in a jiu-jitsu class. Muns warmed to Anderson's suggestion that he start attending church, even though Muns didn't come from a religious home. Muns enjoyed the experience, dedicated his life to Jesus, and felt called to serve at TFL. Eventually, he joined the small group and wanted to reach the lost in the fighting community. Curtiss, 38, and Muns, 39, are now part of the six-member chaplain team.
Currently, TFL members serve at matches as chaplains and work with local churches to help get fighters connected. Most importantly, TFL strives to point people to Jesus and have a lasting discipleship impact.
"As chaplains, we flexibly serve and sincerely build connections with competitors and trainers, staff ,and volunteers," Anderson says. "We are available to pray and be a non-anxious influencing presence. Our goal is to represent the sweet joy of God's love as we network and set in motion long term discipleship opportunities."
Anderson views combat sports like any other sport — but one in which contestants especially need to know Jesus.
"The Church is minimally present in the fight world, and we look to change that as conduits for God's glory in a dark place," Anderson says.
"It's amazing to go to matches and see the reaction to the love we have for fighters," Muns says.