This Week in AG History -- Feb. 17, 1963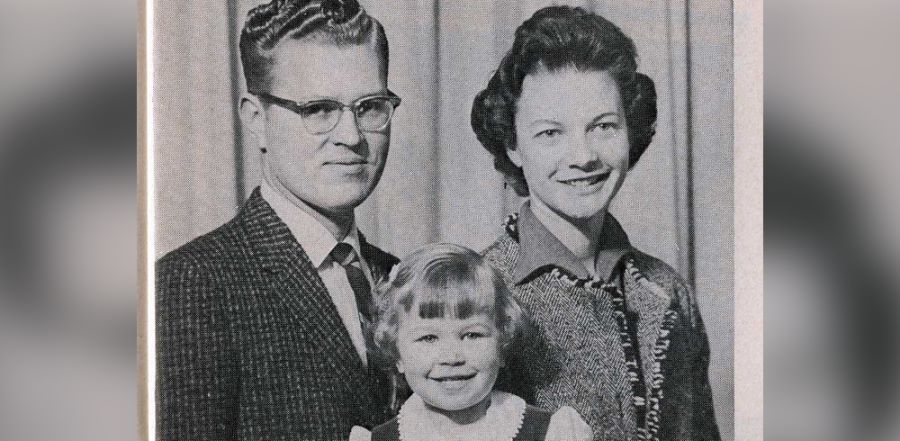 Don't miss any stories. Follow AG News!
When Assemblies of God missionary Sidney Goodwin (1936-1963) arrived in Ghana, West Africa, it was a homecoming he had been looking forward to for many years. Raised by missionary parents Homer and Thelma Goodwin, Sidney grew up in Ghana, knew its languages and customs, and loved its people. After studying in the United States, he returned to his family and friends shortly before Christmas of 1962 as a fully appointed missionary, bringing his own wife, Sandra, and their 3-year-old daughter, Gwenda.
Excitement was in the air for Goodwin's African friends. The presbyter for the Bawku area, where Sidney grew up, requested the entire Goodwin family to come to a village called Tili for a mass "welcome home" service and outdoor Christmas revival. On Christmas Eve, the Goodwin families arrived to find their friends had spared no expense to show their love and appreciation. Sidney and Sandra were presented with six live chickens, dozens of eggs, yams, and other fruits and vegetables. Water had been transported in abundance, a grass shelter had been erected, and an estimated 600 had gathered for the evening service.
Because the service was to be held in the evening, Sidney brought along a portable light plant in the Speed-the-Light (STL) vehicle. When they tested it earlier in the day,it was not functioning properly, but as service time approached it seemed to be doing better, though still not up to par. Just as the service was scheduled to begin, Sidney went to check on the light plant.
Suddenly, there was a flash of light and the church shelter went dark. Homer Goodwin rushed to the STL vehicle to find that the portable generator in the pickup tailgate had exploded. Sidney was trapped in the camper that covered the pickup bed. Homer quickly rolled Sidney onto the ground to extinguish the flames. There were no witnesses so there could only be speculation as to the cause of the explosion.
The African church went immediately to prayer and Sidney was rushed to the hospital, 22 miles away. With burns over 60 percent of his body, the doctors did not offer the family much hope. For eight days, Sidney exhibited exceptional bravery, patience, and concern for those around him while many worked tirelessly to save his life. Ghanaian Christians trekked through the night over unmarked bush trails to donate blood to the boy they had loved since he was a child. One devoted African friend stayed at the door of Sidney's room, 24 hours a day, sleeping on the cement floor. The Ghana Air Force, British Royal Air Force, and American embassy did all they could to supply much needed plasma from as far away as New York. Many cried out to God for help as three generations of Goodwin missionaries waited in the hospital for a miracle.
Sidney realized the gravity of his situation and told his family that he loved them but needed to say good-bye. When his father insisted that God had more for him to do, Sidney replied, "Daddy, I'm not afraid to die. This is God's will."
On Jan. 1, 1963, Sidney quietly slipped away and was buried the next day on the western edge of the Assemblies of God Mission plot in Bawku where he had played as a child. The area presbyter, Abiwini Kusasi, said to those who were gathered there, "Many years ago, when all of us Kusasis were in spiritual darkness, Reverend and Mrs. Goodwin came to bring us the light of the gospel. Our brother Sidney came with them as a baby. Through the years he prepared himself and had returned with his wife and baby to help us further. We do not understand why God has taken him, but we know God does all things well."
The Feb. 17, 1963, issue of the
Pentecostal Evangel
carried the story of Sidney's death. After the publication of the article, additional details were later provided by the family that gave a fuller picture of the incident.
Sandra and Gwenda moved to the central Ashanti area with Sidney's parents and his younger siblings. For two years they ministered as a family to the Ashanti people until, reluctantly, Sandra and Gwenda returned to the States for a furlough and the opportunity to seek God for the future. After receiving more education and ministerial ordination, Sandra moved to Tanzania, East Africa, where she taught in the Bible training school.
Twelve years after Sidney was buried, Sandra and Gwenda returned to Ghana for the dedication of a memorial library at the North Ghana Bible School in his honor. Sandra was touched to hear story after story from pastors, evangelists, and leaders who told of passing by the young missionary's grave each day on the path as they walked to school. Many of them, at different times, had paused to kneel there and dedicate their lives to continue the work the young man had begun.
Sandra spent 20 years as a single parent and saw her daughter graduate from Evangel University in Springfield, Missouri. Sandra later married Myron Clopine and served the Assemblies of God as National Women's Ministries Director from 1986 to 1994. She also provided leadership to the founding of the National Prayer Center and served as chaplain for Maranatha Village in Springfield. After Myron passed away, Sandra married David Drake, long-time professor at Central Bible College. The Goodwin/Clopine/Drake families have exemplified what God can do with a family willing to consecrate all to His service.
Read the report on Sidney's homegoing on page 8 of the
Feb. 17, 1963, issue
of the
Pentecostal Evangel
.
Also featured in this issue:
• "A Dramatic Deliverance" by Louise Nankivell
• "Take My Best," by G.F. Lewis
• "Building Churches in India," by Elton Hill
And many more!
Click here to read this issue now
.
Pentecostal Evangel
archived editions courtesy of the
Flower Pentecostal Heritage Center
.